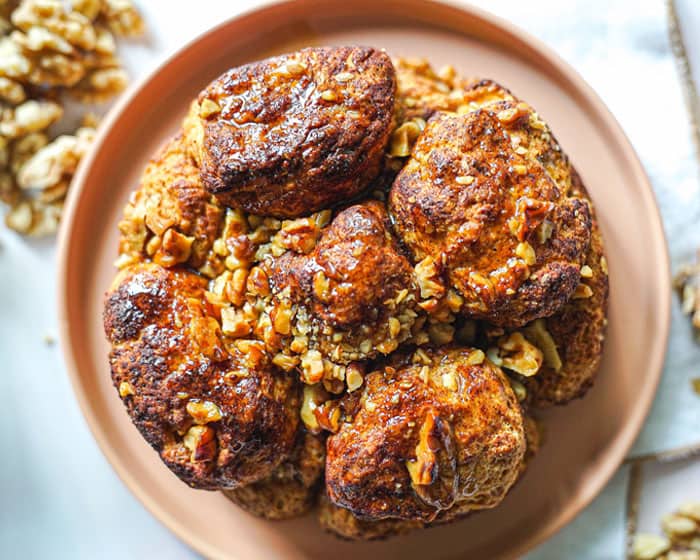 Vegan Monkey Bread Recipe
Looking for a vegan monkey bread that is soft & sweet for breakfast or a treat, this monkey bread recipe can be made in 35 mins using simple ingredients!
I love the concept of monkey bread, a load of pull-apart gooey dessert bread. I'm going to show you how to make monkey bread with added protein! Breakfast is one of the many ways that I love to add protein powder into my recipes
Related Post: Vegan No-Bake Cookies

Vegan Monkey Bread
This vegan monkey bread dough only uses 7 ingredients. I love adding extra protein to my vegan recipes and this recipe is perfect if you're looking to add extra protein with vegan protein powder! All you have to do is mix together the dough, I find it easiest to do in a stand mixer, then create dough balls and the toppings! Making sure everything is covered in cinnamon sugar and melted vegan butter. And voila! Bake and enjoy!
The thing I love about this monkey bread recipe is that it can easily change to your own taste by switching protein flavours and nuts of your choice.
Related Post: Strawberry Lemon Cookies
INGREDIENTS FOR PROTEIN MONKEY BREAD (VEGAN):
Monkey Bread Dough
Monkey Bread Toppings
KITCHEN EQUIPMENT I USED:
Protein Monkey Bread
Looking for a vegan monkey bread that is soft & sweet for breakfast or a treat, this monkey bread recipe can be made in 35 mins using simple ingredients!
Ingredients
Dough
Toppings
Instructions
Preheat an oven to 350F.
In a large bowl, mix together flour, protein powder, sugar, baking powder, and salt.
Using a fork (or your stand mixer) cut in the butter, until your dough is slightly crumbly (like scones).
Add the yogurt and mix until the dough begins to form. Be careful not to over mix. There should be some remaining flour in the bowl.
Knead the dough on a flat surface with your hands, working everything together until no crumbs remain. Set aside. In a stand mixer you can do this with your paddle attachment.
In a small bowl, mix the coconut sugar and cinnamon together. Set aside.
Divide the dough into 10-15 small pieces/balls.
Sprinkle half of the sugar mixture over them, give them a gentle roll or toss, and sprinkle the remaining mixture to coat them.
Grease the bottom of a 6.5 inch cast iron skillet or baking dish, and place half the dough balls.
Sprinkle half of the nuts on top, then add another layer of the doughballs, and top with remaining walnuts.
In the same small bowl, the coconut-cinnamon sugar was in, stir together the ¼ cup butter and maple syrup.
Pour the butter mixture over the top in an even layer, and bake for 25-30 minutes, or until the dough has risen and cooked through.
Nutrition Information
Serving size:
1 serving
Calories:
260
Fat:
12.5g
Carbohydrates:
30g
Sugar:
6.5g
Protein:
15.5g
---
Hey I'm Candice aka The Edgy Veg – I veganize popular food recipes for vegans, plant-based diets, eco-conscious eaters & people who are trying to eat more plants over… y'know animals or their by-products. I hope you enjoy this tasty vegan recipe!
---
Looking For More Vegan Protein Recipes?
Made this recipe? Let me know what you think by leaving a ★★★★★ star rating & comment below. It truly helps me & I really appreciate any support! Feel free to share your food photos on social and tag me @edgyveg so I don't miss it! 
Share My Recipe on Pinterest