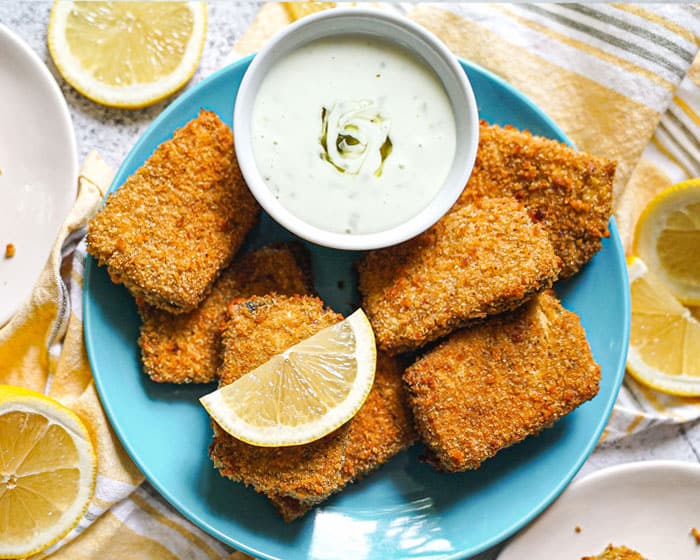 Vegan Fish Fingers Recipe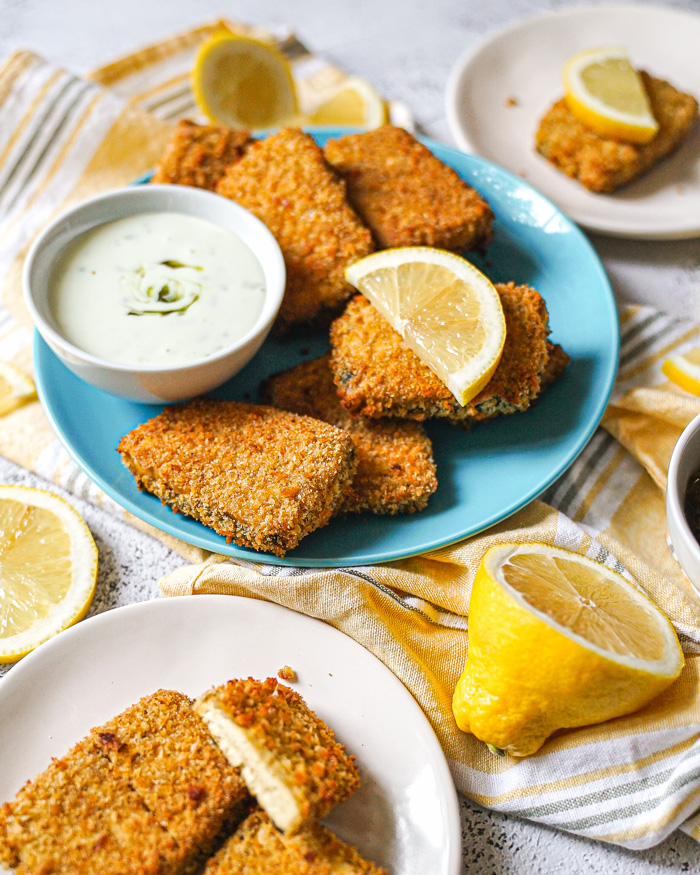 I'm going to show you how to make my easy vegan fish fingers recipe! You can have these vegan fish fingers baked or fried! This nostalgic high protein recipe can be eaten with vegan tartar sauce, used in a vegan fish sandwich or even in vegan fish tacos.
This is a fun way to switch up the way you use tofu and enjoy something most of us loved as kids. All you have to do is marinade the tofu then batter and cook them.
Related Recipe: Crispy Breaded Tofu
Vegan Fish Fingers
I pride myself on fulfilling my community's need for vegan versions of their favourite foods from before they were vegan! Some people are allergic to fish or seafood so this vegan fish finger recipe is perfect for those with allergies. I also find that tofu takes on marinade and batter perfectly. If you found yourself missing fish fingers, this one is for you. 
Related Post: Vegan Fish Sandwich
INGREDIENTS FOR FISH FINGERS (VEGAN):
KITCHEN EQUIPMENT I USED:
Full Recipe Down Below
Watch me make this on YouTube!
Vegan Fish Fingers
I'm going to show you how to make my easy vegan fish fingers recipe! You can have these vegan fish fingers baked or fried!
Ingredients
Marinade
Fish Fingers:
Instructions
Cut the tofu into 1 inch thick slices and arrange into a line.
Place a chopstick on either side of each piece and make little slices all the way across. (roughly ⅛th inch apart).
Add all the marinade ingredients to a blender and blend on high speed until smooth.
Pour ⅓ of the marinade into a casserole dish (that can fit all the tofu pieces of course) or Tupperware.
Add tofu cut side up and pour the rest of the marinade over them.
Marinate for one hour or overnight.
Get three shallow bowls: In the first place the flour, to the second bowl add whisked aquafaba or soy milk, in the third bowl whisk together 2 tsp old bay, panko and regular bread crumbs together.
Brush a nori sheet with some of the marinade, then place it on a cutting board. Gently place the tofu on the nori, close, but not touching. Using a pizza cutter, slice the nori along the open space between the tofu.
Press a tofu stick in the flour, covering all sides. Shake off excess. Then place in the aquafaba or soy milk and let the excess drip off. Finally, press it in the breadcrumb mixture, patting to help the coating stick.
Place the tofu onto the baking sheet (if baking) or a wire cooling rack (if frying) and repeat the process with the remaining tofu.
If baking: Heat oven to 400F and line a baking sheet. Grease the baking sheet with cooking spray, or vegetable oil. Place the tofu onto the baking sheet and repeat the process with the remaining tofu. Spritz the tofu with cooking spray and bake in the oven for 6 minutes. Turn the tofu and bake for another 6 minutes, or breading is golden brown.
If frying: Heat ½ cup vegetable oil in a large skillet over medium-high heat. or heat your deep fryer to 350F. Working in batches fry tofu until golden brown and crispy, about 3 minutes per side, or 3 minutes in total if deep frying.
Nutrition Information
Serving size:
1 fish finger
Calories:
165
Fat:
5.4g
Carbohydrates:
20g
Sugar:
1.3g
Fiber:
1g
Protein:
7.7g
---
Hey I'm Candice aka The Edgy Veg – I veganize popular food recipes for vegans, plant-based diets, eco-conscious eaters & people who are trying to eat more plants over… y'know animals or their by-products. I hope you enjoy this tasty vegan recipe!
---
Looking For More Vegan Fish Recipes?
Made this recipe? Let me know what you think by leaving a ★★★★★ star rating & comment below. It truly helps me & I really appreciate any support! Feel free to share your food photos on social and tag me @edgyveg so I don't miss it! 
Share My Recipe on Pinterest