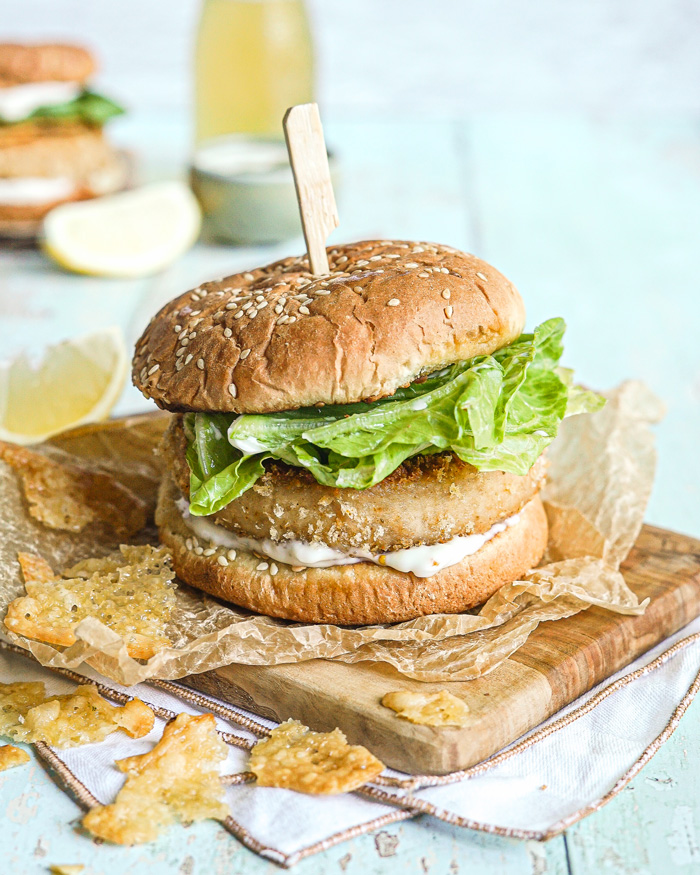 I'm going to show you how to make the best vegan fish sandwich using a store-bought vegan fish patty. This vegan burger recipe truly makes a restaurant-quality vegan fish sandwich with vegan mozzarella crips!
This simple yet impressive burger recipe takes under 30 mins to make vegan using a breaded and fried vegan fish patty, vegan mozzarella crisps and vegan tartar sauce. You can also use a vegan chicken patty if that's what you have available to you. 
Related Recipe: Grilled Potatabello Steak Sandwich
Vegan Fish Sandwich
To make the best vegan fish sandwich, all you have to do is dredge your thawed patty, fry it, whip up your simple vegan tartar sauce, cook the vegan cheese crisps, then assemble and enjoy.
I believe that store-bought vegan alternatives are an amazing way for new and long-term vegans to enjoy the flavours they grew up with! They can sometimes be expensive and a little plain, but if you have some sitting in your freezer and you want to make an easy and incredible meal, I'll show you how to do this.
Related Recipe: Vegan Club Sandwich
INGREDIENTS FOR FISH SANDWICH (VEGAN):
Vegan Fish Patties (of choice)
Oil, for frying
KITCHEN EQUIPMENT I USED:
Best Vegan Fish Sandwich
I'm going to show you how to make the best vegan fish sandwich. This vegan sandwich recipe truly makes a restaurant-quality vegan fish sandwich!
Instructions
Prepare vegan tartar sauce and place in the fridge.
Make mozzarella crisps: Preheat oven to 400F and line 1 baking sheet with parchment paper. Arrange cheese in 4 small piles and bake until golden brown, about 7-10 minutes. Allow them to cool for 5 to 10 minutes before removing them.
Heat oil in a large skillet over medium heat, then mix together panko and old bay seasoning. Place flour, aquafaba and seasoned panko in 3 shallow bowls.
Dredge each burger in flour, and dust off the excess. Then, coat in the aquafaba, allowing the excess to drip off. Finally, coat both sides with panko.
Fry both burgers until golden brown and heated through, about 3-4 minutes per side. Transfer to a wire rack and allow excess oil to drip off.
To assemble the sandwiches: Spread tartar sauce on both sides of each bun. Place 1 piece of lettuce on the bottom of each bun, then top with the Breaded Nabati Fish Burger. Place a cheese crisp on top, then the top of the bun.
What can I make with vegan fish?
---
Hey I'm Candice aka The Edgy Veg – I veganize popular food recipes for vegans, plant-based diets, eco-conscious eaters & people who are trying to eat more plants over… y'know animals or their by-products. I hope you enjoy this tasty vegan recipe!
---
Made this recipe? Let me know what you think by leaving a ★★★★★ star rating & comment below. It truly helps me & I really appreciate any support! Feel free to share your food photos on social and tag me @edgyveg so I don't miss it! 
Share My Recipe on Pinterest!