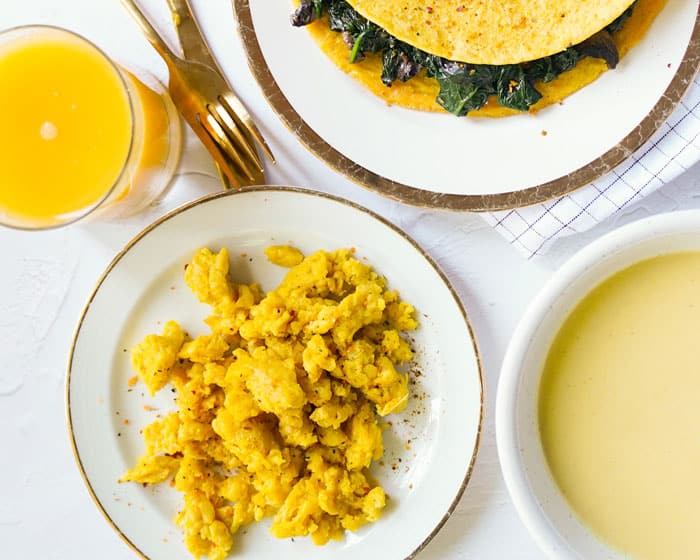 Mung Bean "Egg" Recipe | Mung Bean Scrambled Eggs
I'm going to show you how to make my easy vegan mung bean egg recipe in 7 mins! This simple yet delicious high protein breakfast recipe can be made ahead and cooked into easy and nutrient-dense mung bean scrambled eggs or omelets.
This is one of my favorite ways to make vegan scrambled eggs for breakfast. All you have to do is blend everything together then pour it into a pan and cook into vegan scrambled eggs.
Related Recipe: Tofu Scrambled Eggs
Mung Bean Egg
VEGAN | EGG-FREE
Most vegan scrambled eggs are made using tofu, but this vegan egg recipe uses mung bean! Some people are allergic to soy so this vegan egg recipe is perfect for those with allergies (I do find soy milk is best for this recipe though, so use your preferred alternative to make it soy-free). I also find that mung beans are better for shelf stability and last longer. If you need a new way to do vegan scramble, this one is for you. 
What are yellow mung beans?
Yellow mung dal is made from whole mung beans that have been hulled and split, resulting in a delicate lentil-like legume that is easy to cook and easy to digest. It is high in dietary fibre and an excellent source of protein, making this a healthier choice for vegans, vegetarians and omnivores alike.
Source: https://www.banyanbotanicals.com/yellow-mung-dal-11/
Related Post: Vegan Fritatta
INGREDIENTS FOR MUNG BEAN EGG (VEGAN):
KITCHEN EQUIPMENT I USED:
Full Recipe Down Below
Mung Bean "Egg"
I'm going to show you how to make my easy vegan mung bean egg recipe in 7 mins! You can make mung bean scrambled eggs or vegan omelets.
Instructions
Drain your soaked mung beans, and rinse them. Then, to the blender, add soy milk, black salt, regular salt, olive oil (or coconut oil), turmeric, garlic powder, onion powder, nutritional yeast, baking powder (and tapioca starch if you have it). Blend on high until smooth, thin and pourable.
Heat a non-stick pan over medium-high heat and heat up with oil (i use about 1 tbsp).
Pour in the bean mixture, use a rubber spatula to stir and move the mixture around. Cover for 1-2 minutes.
When parts of the mixture start to look like they're "drying", use a spatula to stir and move the mixture around to create a scrambled texture. Cover and cook for another 2 minutes.
Season with salt, pepper, and paprika to taste.
Try this mung bean scrambled egg with veggie mix-ins like tomatoes, green onions, mushrooms, or vegan cheese.
Notes
You can keep the uncooked egg mixture covered in the fridge for up to 7 days.
Nutrition Information
Serving size:
1 serving
Calories:
146
Fat:
7.75g
Carbohydrates:
6.75g
Sugar:
1.1g
Fiber:
5g
Protein:
7.75g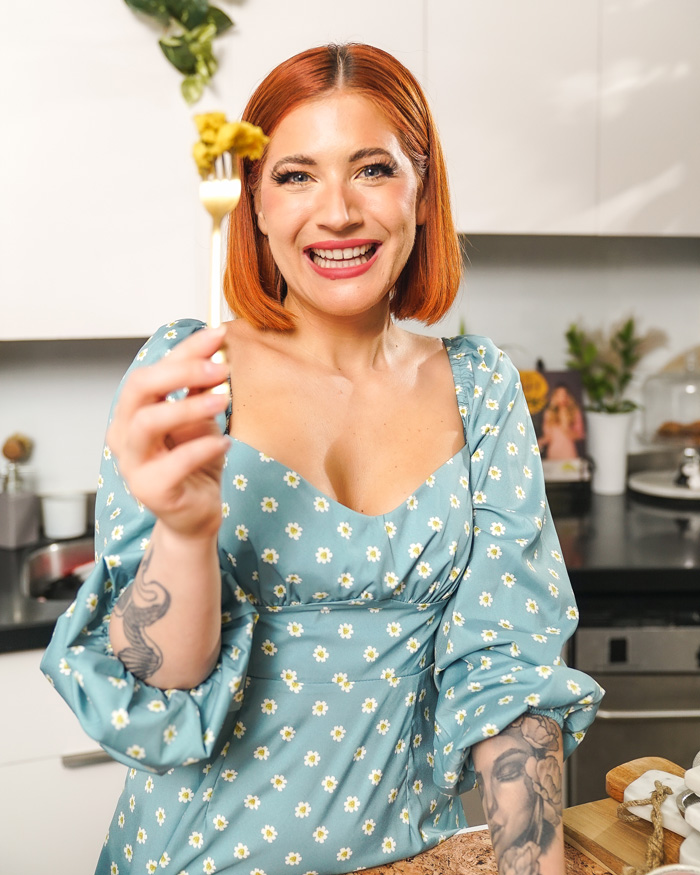 ---
Hey I'm Candice aka The Edgy Veg – I veganize popular food recipes for vegans, plant-based diets, eco-conscious eaters & people who are trying to eat more plants over… y'know animals or their by-products. I hope you enjoy this tasty vegan recipe!
---
Looking For More Vegan Egg Recipes?
Made this recipe? Let me know what you think by leaving a ★★★★★ star rating & comment below. It truly helps me & I really appreciate any support! Feel free to share your food photos on social and tag me @edgyveg so I don't miss it! 
Share My Recipe on Pinterest