Here are vegan spring recipes to celebrate the warming of weather and spring holidays like Easter & Mother's Day! 15+ tasty vegan recipes for spring!
Whether you're vegan recipes or looking for egg-free, dairy-free or gluten-free spring recipes, these plant-based recipes for springtime will please everyone.
VEGAN SPRING RECIPES
My goal with making spring vegan recipes is for everyone at the table to enjoy (and when a non-vegan goes "this is vegan?!", it's usually a sign that my vegan recipe was delicious!)
Here is a list of a ton of my vegan springtime mains, appetizers, and desserts to make your season dairy-free, egg-free, and perfect for anyone with allergies to animal products as well! To me, spring cooking means fresh ingredients and simple flavours. Let me know which recipes you make in the comments section!
This simple Easter treat is perfect to celebrate the start of spring. When you see creme eggs on the store shelves, you know that Easter treats and spring weather are here to stay. Get the recipe here!
Healthy cranberry oatmeal bars that are vegan, gluten-free & easy to make as they are no-bake cranberry oatmeal bars! Perfect for breakfast! Get the recipe here!
This fresh cucumber salad is perfect to pair with other spring recipes to add a nice freshness to a meal. Packed with herbs and crunchy fresh vegetables, this cucumber salad with dill is perfect for any season! Get the recipe here!
These vegan Funfetti Waffles are a party on a plate and are perfect for celebrating spring holidays or someone's birthday breakfast. These vegan waffles are a super fun take on the classic funfetti cake recipe and are a piece of cake to make! Get the recipe here!
This quick broccolini pasta recipe uses 6-ingredients including garlic, pasta of choice and broccolini (or broccoli if you prefer). It's the perfect spring recipe for any quick lunch or weeknight dinner and uses simple ingredients you have at home. In just 10 minutes, you can make this easy vegan pasta dish in just one pan.  Get the recipe here!
This simple protein veggie smoothie tastes like a milkshake but full of nutritious green veggies and protein! Quickly blend it & sip it for a simple grab and go breakfast to keep you fueled! Get the recipe here!
Looking for a bread recipe to make at home this spring? Make this simple, no-knead bread the night before and serve it freshly-baked in the morning to impress the family. Super easy just needs time overnight to rise before baking. Get the recipe here!
This is my guide to building the ultimate vegan grazing table. Think charcuterie but bigger. You can add absolutely anything to a grazing table, making it easy to adjust to your dietary restrictions and access to ingredients. Find it here!
Looking for a super easy vegan creamsicle cake recipe? Well, you've come to the right place! This moist and fruity vegan cake, topped with rich vegan buttercream is the easiest vegan birthday cake you will ever make. Get the recipe here!
This recipe is all made on one sheet pan in the oven. So, whether it's a busy school night or you got home from work late, or you just want something quick and healthy, these One-Pan Tofu Veggie Bowls are perfect for any occasion! Get the recipe here!
This vegan tahini toast is easy to make in under 5 mins and contains fresh peppers, tomatoes, parsley, and lemon juice. This tahini toast recipe does not contain honey, like many tahini toast recipes. It's one of my favour vegan spring recipes to make! Get the recipe here!
This vegan lox recipe is so fast and simple. It's great to make on the weekend to use for Sunday brunch or as a food prep for the rest of the week! Get the recipe here!
This easy air fryer broccolini recipe uses broccolini and simple seasoning to make delicious air-fried broccolini in 4 minutes. Get the recipe here!
Spring is all about starting up the BBQ and a grilled casar salad is one of my fave spring recipes! There's definitely a misconception among my meat-eater friends that vegans don't BBQ, but we absolutely do! Salad included! Get the recipe here!
A Portuguese friend of mine used to call these "Pastéis de sol", which means "sunshine pastries". They are little yellow tarts that always remind me of sunny days and sweet treats. Get the recipe here!
This vegan steak tacos recipe only takes 22 mins to make and you can be topped with my vegan chimichurri sauce! To make vegan steak strips for the tacos, all you need is soy curls (or any dried soy chunks), boullion cube and seasonings to get an authentic steak strip look and taste. Get the recipe here!

Vegan Spring Recipes
Here are vegan spring recipes to celebrate the warming of weather and spring holidays like Easter! 15+ tasty vegan recipes for spring!
Instructions
Plan what vegan spring recipes you want to make.
Gather all your ingredients.
Choose recipes you can make ahead of time
Enjoy springtime with delicious vegan food!
Happy Spring to you & your family!
What springtime dishes are you whipping up in the kitchen this season?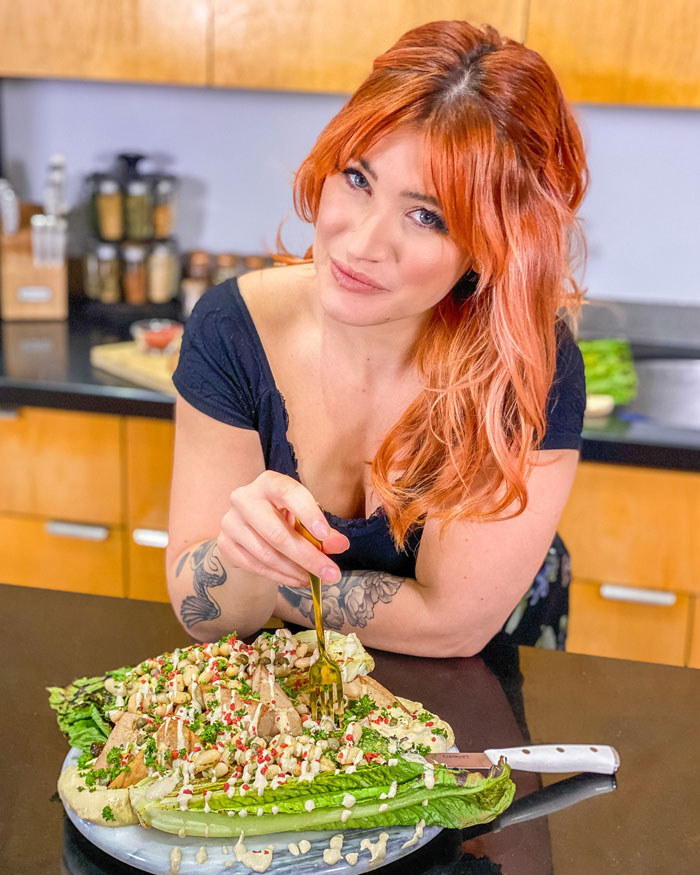 Hey I'm Candice aka The Edgy Veg – I veganize popular food recipes for vegans, plant-based diets, eco-conscious eaters & people who are trying to eat more plants over… y'know animals or their by-products. I hope you enjoy this tasty vegan recipe!
---
Looking For More Vegan Recipes?
Made this recipe? Let me know what you think by leaving a ★★★★★ star rating & comment below. It truly helps me & I really appreciate any support! Feel free to share your food photos on social and tag me @edgyveg so I don't miss it!
Share My Recipe on Pinterest!