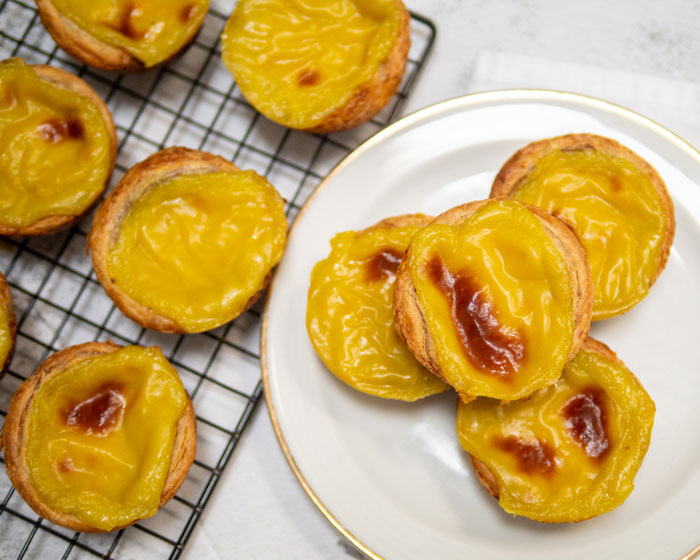 Vegan Portuguese Custard Tarts | Eggless & Dairy-Free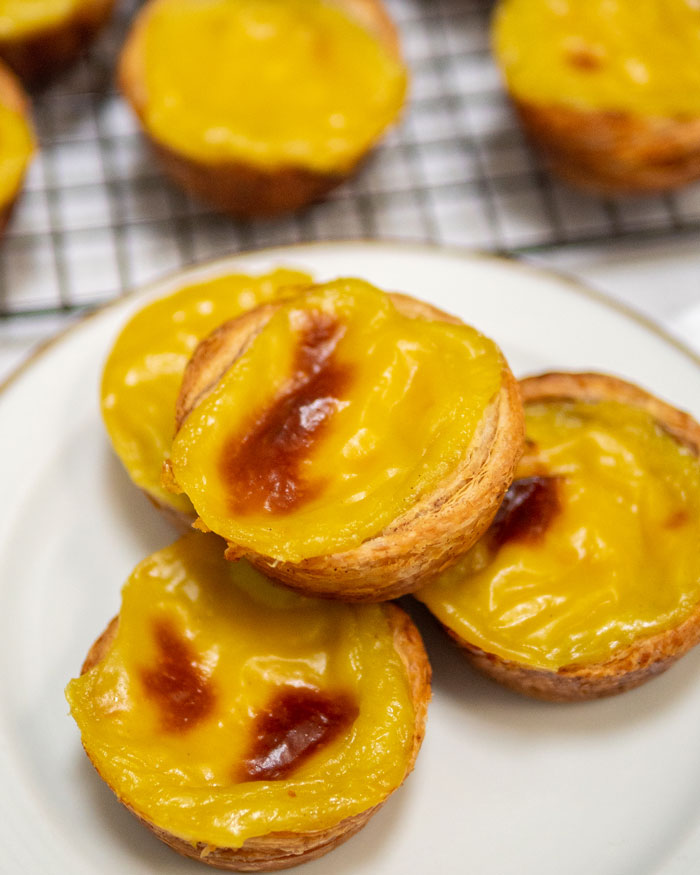 Looking for a vegan custard tarts recipe? My recipe for vegan Portuguese custard tarts (pastel de nata) is authentic and truly delicious!
Even if you're not vegan, this recipe is perfect for someone looking for dairy-free Portuguese custard tarts or eggless custard tarts!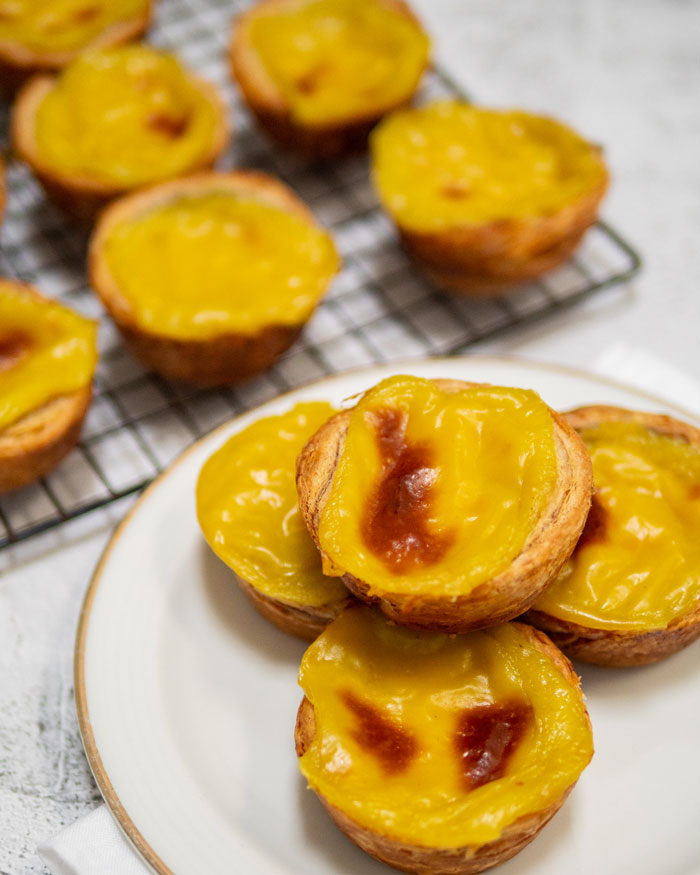 You can make puff pastry from scratch, but to save time, there are many store-bought prepared puff pastry that is "accidentally vegan". Meaning they use oil instead of butter, even if it's labelled "butter puff pastry". So check your ingredients and save time!
Related Recipe: Vegan Meringues
VIDEO
Portuguese Custard Tarts
VEGAN | DAIRY-FREE | EGGLESS
So many of my followers have requested I vegan-ize Portuguese custard tarts for a while now, and now that I've truly nailed the recipe done, I'm so excited to share my authentic vegan pastel de nata, which is what they are called in Portugal.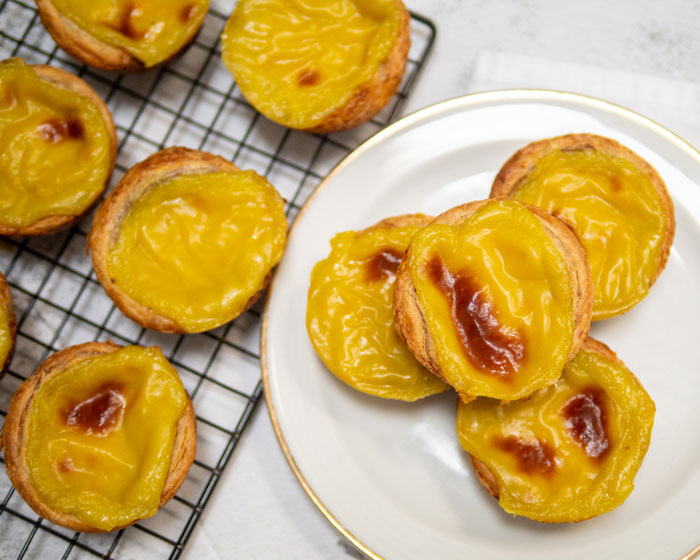 INGREDIENTS FOR CUSTARD TARTS (VEGAN):
KITCHEN EQUIPMENT I USED:
Vegan Portuguese Custard Tarts
Instructions
In a small bowl combine the cinnamon and 1 tbsp sugar.
On a clean and then flour-dusted work surface, roll out your puff pastry.
Sprinkle the rolled out dough with the cinnamon-sugar mixture.
Roll the pastry dough into a tube/log shape, and transfer onto a sheet or cutting board, cover with plastic wrap and refrigerate for at least 30 mins.
Preheat oven to 400F and lightly grease a large muffin tin.
Cut the pastry log into ½ inch slices.
Place each slice into the muffin tin, cut side down, press the center of the spiral into the bottom of the pan, and press to evenly flatten the dough against the sides of the tin, extending slightly above the rim of the muffin tin about ¾ inch. Place into the fridge until the custard is prepared.
Meanwhile, in a medium saucepan, combine ½ cup sugar, coconut milk and cinnamon stick over medium heat. Bring to a simmer, and for 1 min, then remove from the heat and let sit, ensure the sugar has dissolved.
In a small bowl, whisk together the soy milk, corn and tapioca starches until combined.
Remove cinnamon stick.
To the hot coconut milk mixture, add nutritional yeast, turmeric, vanilla and whisk until smooth. Slowly bring back to a simmer.
Slowly drizzle in the starch mixture, whisking constantly.
Continue to whisk, for 10-15 minutes until the mixture is thick & creamy. (add nor corn starch if your mixture does not thicken)
Remove from heat. Add black salt and taste. Add more if necessary to get a slight eggy (sulphuric) flavour.
Remove the tarts from the fridge, and spoon the now custard into each pastry shell. You will need roughly 2 tbsp per tart.
Bake the tarts for 15-20 mins or until the shells are golden brown, and the custard is set. The tops should have some blackened in spots, but keep an eye as to not burn the pastry.
Remove from oven, and allow to cool in the pan on a wire cooling rack for at least 5 mins.
Remove each tart from the pan and transfer to the cooling rack.
Nutrition Information
Serving size:
1 tart
Calories:
97.5
Fat:
4.3g
Carbohydrates:
13g
Sugar:
9.25g
Sodium:
12mg
Fiber:
0.83g
Protein:
1.25g
Hi! I'm Candice aka The Edgy Veg!
 I veganize popular food recipes for vegans, plant-based diets, eco-conscious eaters & people who are trying to eat more plants over… y'know animals or by-products of animals. I hope you enjoy this tasty vegan recipe!
---
Looking For More Vegan Baking Recipes?
Made this recipe? Let me know what you think by leaving a 
 star rating & comment below. It truly helps me & I really appreciate any support! Feel free to share your food photos on social and tag me @edgyveg so I don't miss it!
Share My Recipe on Pinterest!