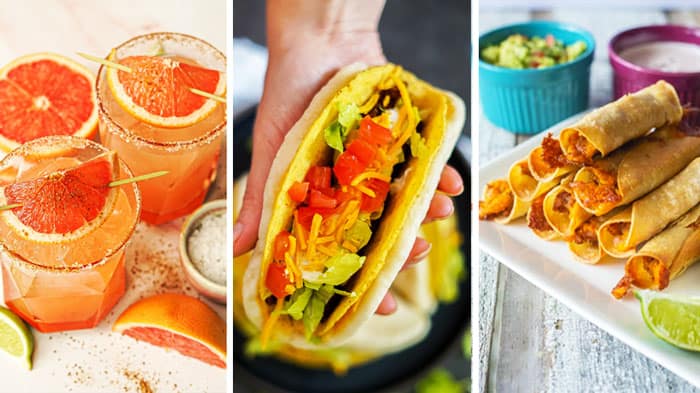 Looking for vegan Cinco De Mayo recipes? You found the right website! Finding vegan recipes to celebrate Cinco de Mayo used to be challenging… but nowadays, it's easy to make vegan tacos, vegan taquitos or vegan dips! I wanted to make vegan recipes of Mexican-Inspired dishes for anyone looking to make vegan Cinco de Mayo recipes. 
VEGAN CINCO DE MAYO RECIPES
Whether you're looking for plant-based alternatives because of an allergy, vegan diet, or ethical standing and you're looking to cut down on your meat, egg and dairy consumption, here is a list of vegan Cinco De Mayo recipes you will love! Leave a comment letting me know what you plan to make!
I wish all of my Mexican readers Feliz Cinco de Mayo!
These rolled corn tortillas filled with refried beans and vegan cheese are baked until crisp and make the perfect party snack. Serve as an appetizer or side dish with salsa and guacamole, or serve as the main course. These vegan taquitos make a quick and snack! Get the recipe here!
These vegan mexican-inspired street corn, also known as Elotes, are a fun and delicious way to celebrate the coming of spring and summer! Perfect for your vegan Cinco de Mayo party, or if you're looking for some fresh and easy vegan BBQ ideas this summer. Whether you roast them in the oven or atop your grill, these are going to be a crowd-pleaser! Get the recipe here!
This fresh cocktail uses freshly squeezed grapefruit juice to give you a hit of citrus and cayenne for a hot twist and features tequila and triple sec for that classic margarita flavor! Add a salted rim for full effect! Get the recipe here!
The easiest way to be the cutest and coolest person at your Cinco de Mayo party is by shaking up some of these fresh and light margaritas. They go down so easy you'll be hitting the dancefloor before drinking 3 of them. Get the recipe here!
Orange you glad this is the last margarita on the list? If you want an easy vegan margarita to make, try this the recipe here!
I had a request from an Edgy Veg follower to make vegan ceviche, so I used chayote to mimic the texture of ceviche! Chayote is from Mexico and is a type of summer squash but with the taste and texture of a cucumber and potato combined, kind of like jicama. It has a light flavor and crunchy texture, making it a very interesting substitute for fish when cooked and marinated properly. Get the recipe here!
Potato's natural starch blended with cashews and soy milk will give you the gooiest, velvety cheese texture. The Nutritional yeast and queso seasoning mix-ins will give you a queso dip so rich and flavourful, you won't miss the dairy. Get the recipe here!
This spicy strawberry mango salsa recipe is a colourful and fresh way to use up extra fruits and vegetables in your fridge. Bright, fresh & a little picante, this tasty salsa has mango, strawberries, avocado, jalapeno, onion, cilantro, and lime! It's the perfect snack with a side of tortilla chips to dip into.  Get the recipe here!
This Mexican street food-inspired corn salad is a simple recipe for a classic side or snack. You can make esquites with canned corn if that's all you have at home, but I recommend corn from the cob. Get the recipe here!
Vegan enchiladas like these are full of spices and easy to sneak in extra veggies. By chopping everything small, you can add greens, peppers, and any other vegetables that may need to be used up from your fridge. Perfect for a Cinco De Mayo that falls in the middle of the week. Get the recipe here!
Learn how to make delicious breaded vegan fish tacos out of mushrooms! These vegan tacos are easy to make with simple ingredients you may already have in your pantry. Get the recipe here!
Okay so this one is Tex-Mex and is just about as far removed from Mexican cuisine as you can get… but it's tasty and easy and would pair well with other (actually authentic) recipes for Cinco de Mayo. Get the recipe here!
Again, this recipe is tasty and simple but do not confuse it with actual Mexican food. It's a copycat recipe for the Taco Bell chili cheese burrito. This burrito combines chili-flavored vegetarian ground beef, refried beans, and vegan cheddar cheese in a tortilla. Get the recipe here!
I'll show you how to turn 9 simple ingredients into a flavourful, crunchy gordita crunch taco wrapped gently in a layer of cheese and soft gordita you can make at home. It's not homemade Mexican food, but it sure is better than what taco bell is serving. Get the recipe here!
Oh carnitas, the delicious designer taco everyone is raving about. The word "Carnita" literally means "little meats"- how fitting! It is a traditional Mexican recipe made by simmering pork in lard until tender, usually about 3-4 hours until it simply falls apart. Lucky for you, the vegan version is much easier!  Get the recipe here!
Classic nacho cheese sauce is runny & bright orange with a cheesy, salty flavor. I've experimented with so many ingredients and discovered that this potato-carrot-seasoning combo makes the most delicious and creamy vegan nacho cheese sauce. Get the recipe here!
If you're not feeling breakfast tacos but you're in the mood for Mexican flavours in the AM… may I introduce you to the most underrated champion of breakfast, Miss Huevos Rancheros. Get the recipe here!
Realistically dinner after a long day at work should not take more than 15 minutes. Fast and easy dinners do not need to mean less flavour! Quick and easy can be vibrant, abundant and knick your socks off yummy! One of my favourite go-to dinner recipes is mushroom fajitas. Get the recipe here!

Vegan Cinco De Mayo Recipes
Looking for vegan Cinco De Mayo recipes? You found the right website! Finding vegan recipes to celebrate Cinco de Mayo used to be challenging...not anymore! Here are vegan recipes to make for Cinco De Mayo! Whether you're looking for vegan alternatives because of an allergy or a vegan diet and you're looking to cut down on your animal consumption, these are recipes I know you'll want to keep making again and again!
Instructions
Plan what vegan Cinco de Mayo recipes you want to make.
Gather all your ingredients.
Enjoy your meal with delicious vegan food!
---
Hey I'm Candice aka The Edgy Veg – I veganize popular food recipes for vegans, plant-based diets, eco-conscious eaters & people who are trying to eat more plants over… y'know animals or their by-products. I hope you enjoy this tasty vegan recipe!
---
Looking For More Vegan Recipes?
Made a recipe? Let me know what you think by leaving a ★★★★★ star rating & comment below. It truly helps me & I really appreciate any support! Feel free to share your food photos on social and tag me @edgyveg so I don't miss it!
Share My Recipe on Pinterest!