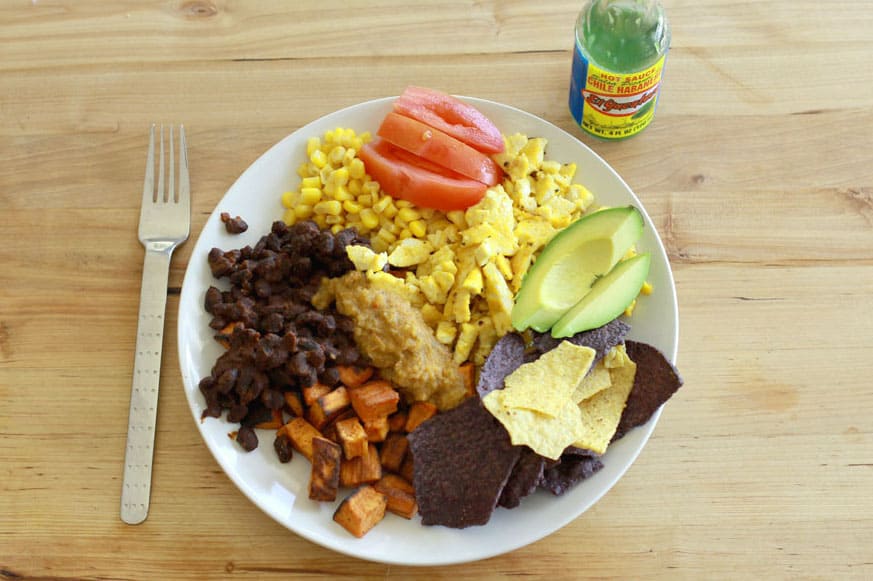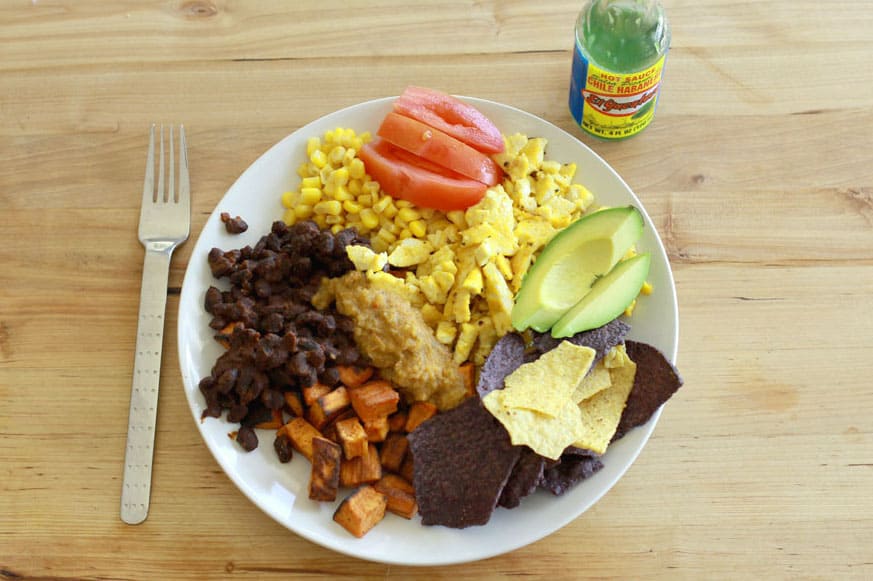 I had a hard time with vegan breakfast and brunch for a really really long time. I just wasn't all that into oatmeal and fruit bowls, and was starting to really miss the hearty, feel-good weekend brunch meals of my pre-vegan past. At first I was okay with how hard it was to eat breakfast as a vegan, but after many drunk brunches and boring fruit bowls "hold the yogurt please", I had enough. This lifestyle needed a breakfast makeover and I knew exactly which dish to start with, Traditional Mexican Huevos Rancheros.
This dish makes me happy unlike any other food I have ever had. I don't know if it's the fact that I am obsessed with mexican food, or that I am just so impressed with my vegan brunch creation, but this dish really makes my day brighter. Thanks to the sweet potato and beans, we have protein, minerals and vitamins covered. I have balanced out the cooked parts of this plate with creamy avocado slices, and some fresh raw tomatoes, making every bite an adventure. Top each delicious morsel with your favourite hot sauce and voila! Vegan brunch perfection!

Vegan Huevos Rancheros
Learn how to make a vegan breakfast with this delicious huevos rancheros recipe, totally egg-free and dairy-free!! Time for vegan brunch at home every weekend!
Ingredients
Vegan egg (see recipe below)
1-2 Roasted sweet potato, cubed
2 cups Black beans
handful cilantro, finely chopped
Taco seasoning, to taste
1 Lime, juiced
1-2 corn cobs
Coconut oil
½ tsp Garlic powder
Salt and pepper, to taste
Salsa
Guacamole or avocado slices
Tortilla chips
Vegan Eggs
Firm silken tofu
1 tsp The Vegg powder
1 tbsp Nutritional yeast
¼ cup water
¼ tsp turmeric
coconut oil
Instructions
Vegan Eggs
In a blender, mix ¼ cup silken tofu, Vegg powder, nutritional yeast, water & turmeric together until well combined; set aside.
Heat up some oil in a non-stick pan.
Crumble your desired amount of tofu in the hot oil and fry it until golden around the edges.
Add the blender mixture to the now golden brown fried tofu and fry for another 5 mins.
Roasted Sweet Potatoes
Preheat oven to 450˚. Toss cubed sweet potatoes with coconut oil with a sprinkle of garlic powder, and salt and pepper. Spread them in a single layer on a baking sheet and roast for 20-25 mins, flipping halfway through, until sweet potatoes are fully cooked and browned & crunchy.
Black Beans
In a saucepan combine beans and taco seasoning and cook until heated through. Take a fork, and slightly mash the beans, and set aside.
Roasted Corn
Wrap corn in tin foil and cook in the oven for 30-35 minutes or until tender. Once cooked, cut off kernels and a splash of lime juice, and salt to taste.
Building your plate
Place some tortilla chips on a plate and pile with beans, and a scoop of sweet potatoes. Top with corn, salsa and a dollop of guacamole or avocado slices. Add vegan eggs on the side of your ranchos pile of yumminess and enjoy.
Enjoy by using tortillas chips as a scooper and pile a little bit of each ingredient on top, or eat with a fork.
Want more easy breakfast recipes? Check these delicious dishes out!
Vegan McDonald's Series: Sausage Egg McMuffin
Vegetarian Breakfast Sausage Patty