Vegan Huevos Rancheros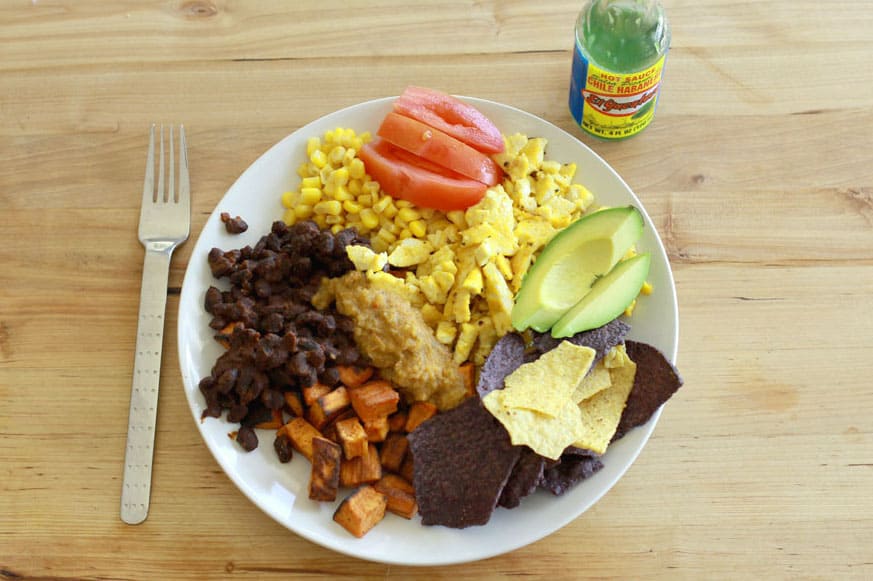 Vegan egg (see recipe below)
1-2 Roasted sweet potato, cubed
2 cups Black beans
handful cilantro, finely chopped
Taco seasoning, to taste
1 Lime, juiced
1-2 corn cobs
Coconut oil
½ tsp Garlic powder
Salt and pepper, to taste
Salsa
Guacamole or avocado slices
Tortilla chips
Firm silken tofu
1 tsp The Vegg powder
1 tbsp Nutritional yeast
¼ cup water
¼ tsp turmeric
coconut oil
In a blender, mix ¼ cup silken tofu, Vegg powder, nutritional yeast, water & turmeric together until well combined; set aside.
Heat up some oil in a non-stick pan.
Crumble your desired amount of tofu in the hot oil and fry it until golden around the edges.
Add the blender mixture to the now golden brown fried tofu and fry for another 5 mins.
Preheat oven to 450˚. Toss cubed sweet potatoes with coconut oil with a sprinkle of garlic powder, and salt and pepper. Spread them in a single layer on a baking sheet and roast for 20-25 mins, flipping halfway through, until sweet potatoes are fully cooked and browned & crunchy.
In a saucepan combine beans and taco seasoning and cook until heated through. Take a fork, and slightly mash the beans, and set aside.
Wrap corn in tin foil and cook in the oven for 30-35 minutes or until tender. Once cooked, cut off kernels and a splash of lime juice, and salt to taste.
Place some tortilla chips on a plate and pile with beans, and a scoop of sweet potatoes. Top with corn, salsa and a dollop of guacamole or avocado slices. Add vegan eggs on the side of your ranchos pile of yumminess and enjoy.