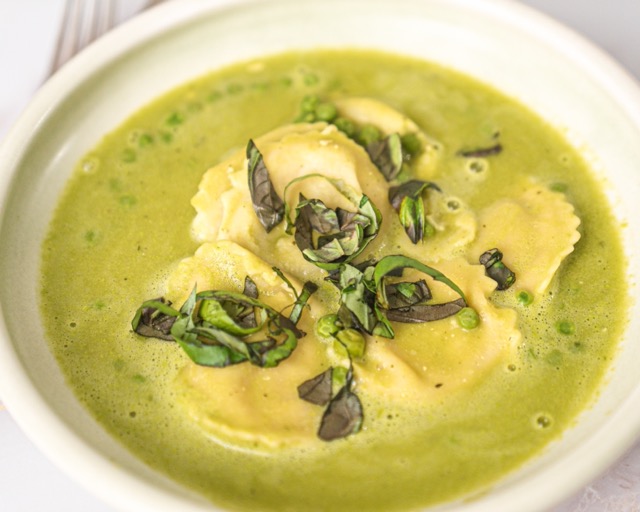 Simple Vegan Recipes: Ravioli & Basil pea
 
Basil & Peas Ravioli
Are you sick of making the same Ravioli over and over again? Me too! What if I can jazz things up a little for you and completely take out the typical tomato-based ravioli and turn it into an herby-earthy basil & peas recipe instead? This simple and creamy pasta recipe can be enjoyed hot or cold. You will want to make seconds!
Related Recipe: Quick and Easy Vegan Mac & Peas Recipe

 Pro Tips:
Other Recipes to pair with this recipe:

INGREDIENTS:
KITCHEN EQUIPMENT:
Simple Vegan Recipes: Basil & Peas Ravioli Recipe
this quick and easy meal is going to be your next go-to frozen vegetable dish! It's super easy and you only need 5 ingredients to make this fabulous dinner dish.
Ingredients
1 × 250g pack tortellini or ravioli
1½ cups frozen peas
½ cup fresh basil
½ lemon (about 2 tbsp)
optional to serve: dairy-free cheese shreds of choice like parmesan or mozzarella
Instructions
In a small-medium-size pot, heat broth over medium-high heat.
Add the tortellini OR ravioli and cook until just tender, about 5-6 mins, adding the peas for the last 2 mins of cooking. (or cook as directed on the package)
Stir in half the basil.
Using a slotted spoon, transfer half the peas to a blender along with two-thirds of the broth and blend until smooth.
Add the puree back to the pot, mix to combine and bring back to heated.
Add in the lemon and remaining basil. Taste and season with salt & pepper.
Serve in a bowl topped with dairy-free cheese, if using and additional basil.
Serve with some crusty bread on the side to sop up the leftover broth.
Notes
optional to serve: dairy-free cheese shreds of choice like parmesan or mozzarella
Hey welcome to The Edgy Veg – we veganize popular food recipes for vegans, plant-based diets, eco-conscious eaters & people who are trying to eat more plants over… y'know animals or their by-products. We hope you enjoy this tasty vegan recipe!
---
Looking For More Easy Pasta Recipes?
Made this recipe? Let me know what you think by leaving a ★★★★★ star rating & comment below. It truly helps me & I really appreciate any support! Feel free to share your food photos on social and tag me @edgyveg so I don't miss it!