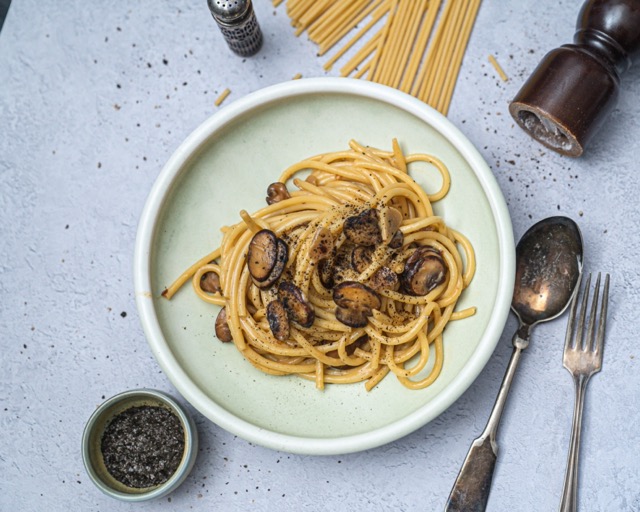 Veganizing Miso Pasta Recipe from TikTok

Vegan Miso Pasta
Mi-so hungry for pasta! What is better than a poorly articulated Dad joke? A delicious plate of umami-flavored pasta that will leave your mouth watering as soon as you smell it. Welcome to your ultimate vegan food guide where you won't have FOMO with the latest TikTok food trends. Going vegan is way easier when food tastes great and is even better for the planet. Let's get cooking!
Alternative ways to make this recipe:
If you don't have miso at home or have allergies to soybeans, you can replace the miso with a dash of soy sauce or tahini sauce to add that umami flavor. However, I highly recommend keeping the ingredients as close to the recipe as possible. Unless you absolutely have to.

Miso Pasta
Miso is a staple ingredient in Japanese cooking. It is made from fermented soybean paste that is mixed with a mold called, Koji – a fermented mold cultivated from rice, barley, or soybeans. Fermented foods are super beneficial for diversifying your gut bacteria, contributing to building a strong immune system, and improving your body's digestive tracts. Miso creates that rich and savory flavor without using any meat.
How many servings does this make?
This recipe makes about 2 servings. If you have extras, you can store them in your fridge for up to 3 days. Reheat with a little bit of water in the microwave.

INGREDIENTS:
KITCHEN EQUIPMENT:
Veganizing Miso Pasta Recipe from TikTok
This deliciously veganized Miso Pasta will have give you the motivation to go vegan when you least feel like it. It's aromatic flavors from the sauteed mushrooms mixed with a creaky taste of miso will upgrade your vegan cooking experience.
Instructions
Bring a large pot of water to a boil and season with 1 tbsp of salt. It should taste like the sea.
Add dried pasta and cook until the pasta is just under al dente. About a minute less than what's directed on the package. Ensure you reserve 2 cups of pasta water.
Meanwhile, heat 2 tbsp olive oil, and 2 tbsp melted butter in a large pan over high heat. In batches add mushrooms and cook for 3-5 minutes until nicely browned. Moving them to the side to add each batch. Add a little pasta water as needed to deglaze the pan.
Add garlic, pepper and chili flakes, and cook until fragrant, and just before the garlic begins to brown, again deglazing the pan with pasta water as required.
In a blender or bowl whisk/blend together, vegg powder, ¾ reserved pasta water, dairy-free cheese, and 1 tbsp miso paste.
Add pasta from the pot to the mushrooms and stir in the vegg/miso mixture with more reserved pasta water as needed until it is rich and creamy. Remove from the heat. The sauce will continue to thicken as it cools.
Divide between pasta bowls and sprinkle with sliced scallions, freshly cracked black pepper, nori or furikake, if using.
Hey welcome to The Edgy Veg – we veganize popular food recipes for vegans, plant-based diets, eco-conscious eaters & people who are trying to eat more plants over… y'know animals or their by-products. We hope you enjoy this tasty vegan recipe!
---
Looking For Vegan Pasta Recipes?
Made this recipe? Let me know what you think by leaving a ★★★★★ star rating & comment below. It truly helps me & I really appreciate any support! Feel free to share your food photos on social and tag me @edgyveg so I don't miss it!