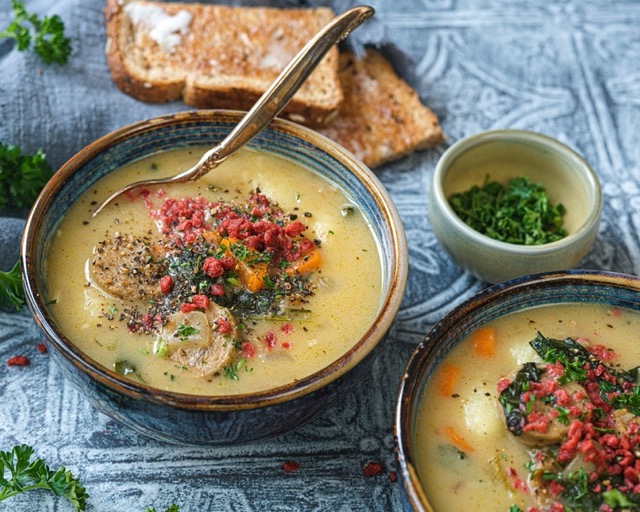 Creamiest Vegan Gnocchi and Sausage Soup Recipe

Vegan Sausage Gnocchi Soup
The ultimate comfort food comes from your Grandma's kitchen. Although I am not anybody's grandma, I wanted to provide you with a new recipe that will remind you of home. This vegan sausage and gnocchi soup is savory and super creamy, packed with flavors you didn't know you needed until you tried it. All you need for this recipe are fresh ingredients, one pot and 15-minutes!
Alternative ways to make this recipe:
You can replace the spinach with any super greens, kale is a fantastic choice.

Tuscan Sausage and Gnocchi Soup
Tuscan soup is a popular homemade soup that originated in Italy. Its creaminess mixed with the smokey sausage flavor is a family favorite and is recognized as the "Bread Soup" – Minestra di Pane! The classic soup combination of onion, carrots, and celery makes the broth so refreshing while extracting the savory flavors from the meat and potatoes. This time, with small tweaks of ingredients, we are recreating a vegan experience to celebrate this comfort food anywhere around the world.
How many servings does this make?
This recipe makes about 4 servings. You can always increase the size by using a bigger pan or doubling up your recipe.

INGREDIENTS:
KITCHEN EQUIPMENT:
Sausage and Gnocchi Soup
Gnocchi and sausage is a classic italian pairing made to make you feel "at home". This warm and cozy dish is perfect for those colder seasons in front of a fireplace. Make it extra special with a glass of red wine.
Instructions
In a large pot heat olive oil over medium-high heat.
Add onion and garlic and cook until translucent, about 3-5 mins.
Add veggie sausage and cook for 3-5 mins or until heated through.
Add 5 cups water and bouillon and bring to a boil.
Reduce heat to a simmer and stir in gnocchi and spinach. Simmer for 3 minutes, or until gnocchi starts to float.
Stir in coconut milk, and taste and season with salt and pepper.
Serve as is with some bread on the side, or topped with some vegan-friendly bacon bits.
Hey welcome to The Edgy Veg – we veganize popular food recipes for vegans, plant-based diets, eco-conscious eaters & people who are trying to eat more plants over… y'know animals or their by-products. We hope you enjoy this tasty vegan recipe!
---
Looking For More Soup Recipes?
Made this recipe? Let me know what you think by leaving a ★★★★★ star rating & comment below. It truly helps me & I really appreciate any support! Feel free to share your food photos on social and tag me @edgyveg so I don't miss it!