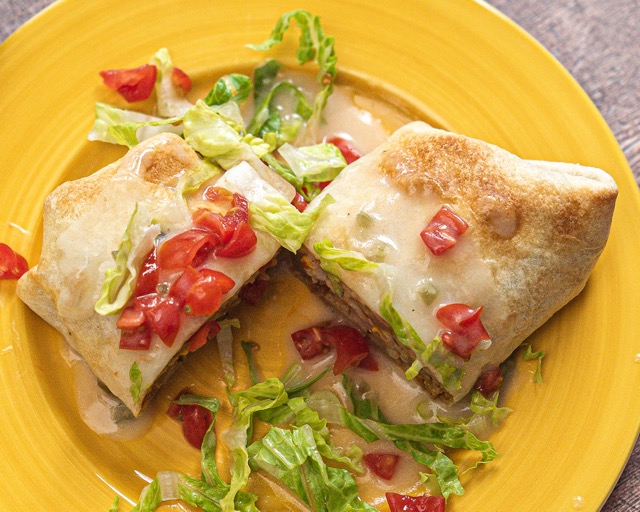 Easy Vegan Chimichanga Recipe Using an Airfryer!

Vegan Chimichanga Recipe
Chimichanga is the ultimate party food that you can fill up with a variety of protein and vegetables. The combination of toppings are endless and is super easy to make. With its impressive size, you can invite a few friends over for lunch and share this glorious bite with a glass of sangria or margarita. However you are feeling for lunch, this vegan Chimichanga does not disappoint.
Alternative ways to make this recipe:
You can use any vegan meat that you would like in this recipe. You can replace the meat with vegan scallops, shrimps, chicken, or ground beef! The options are limitless.

Chimichanga
A chimichanga is originally cooked by deep frying a burrito. While many people think that this dish was made in Mexico, it was actually discovered in the United States. Fused with the American culture of "go big or go home" mentality, Mexican-inspired Chimichangas will bring the party to your kitchen.
How many servings does this make?
This recipe makes about 4 servings or as many tortillas as you can fill.

INGREDIENTS:
Chimichangas
White sauce
Toppings
shredded lettuce
diced tomatoes
KITCHEN EQUIPMENT:
Easy Vegan Chimichanga Recipe Using an Airfryer!
This Chimichanga recipe is.so easy to make and super filling for those nights when you are craving comfort food. Extra crispy and less oily than the traditional deep fried chimichangas recipes, you will definitely enjoy this quick and easy to make Vegan Chimichangas!
Instructions
Brush or spray the bottom of the air fryer basket with oil.
In a large bowl, mix together the vegan chicken, rice, cheese, salsa, cumin, garlic powder, oregano and chilli powder—season to taste with salt and pepper.
Place about ½ cup of the filling in the center of each tortilla and roll them up like a burrito.
Place the chimichangas seam side down, into the air fryer basket, and brush or spray the tops lightly with oil.
Air fry the chimichangas at 350F for 4-5 mins. Then flip the chimichangas and air fry for another 4-5 mins or until they are slightly browned and heated through.
Meanwhile, in a small saucepan melt the dairy-free butter over medium heat, and whisk in the flour. Cook for about 1-2 mins.
Slowly whisk in the broth until making sure there are no lumps. Then, bring everything to a boil. Once boiling, lower heat to medium.
Stir in the dairy-free sour cream, cream cheese, and green chillies. Taste and season with salt and pepper.
Bring the sauce back up to a boil, and then remove from heat right away.
To Serve, serve the chimichangas with white sauce, lettuce, and tomato, and serve with hot sauce, if desired.
Notes
Other cooking options

To Bake: Preheat oven to 400F and bake tacos for 10-12 minutes, flipping once, until crispy.
Hey welcome to The Edgy Veg – we veganize popular food recipes for vegans, plant-based diets, eco-conscious eaters & people who are trying to eat more plants over… y'know animals or their by-products. We hope you enjoy this tasty vegan recipe!
---
Looking For More Tex Mex Inspired Recipes?
Made this recipe? Let me know what you think by leaving a ★★★★★ star rating & comment below. It truly helps me & I really appreciate any support! Feel free to share your food photos on social and tag me @edgyveg so I don't miss it!