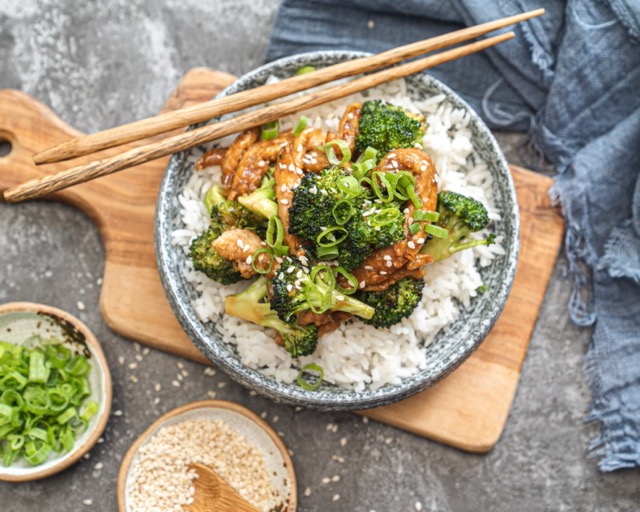 How to Make A Vegan General Tso Chicken Using an Air-Fryer

Vegan General Tso Chicken
General Tso chicken is such a popular dish in Canada. This authentic Taiwanese dish has become a staple in Western culture where you can find it at any local Chinese restaurant, mall, and even school cafeterias. To turn this vegan, all you need is an air-fryer, soy curls, veggies, and spices.
Alternative ways to make this recipe:
If you don't have an air fryer, you can always use a deep fry instead. If you don't have soy curds or have an intolerance to soy, you can use seitan instead.

General Tso Chicken
General Tso Chicken is a classic Taiwanese dish that was named after Tso Tsung-T'ang, a general who really enjoyed eating fried chicken. It is often made with very sweet sauces and served in a hot bowl of rice. In the Chinese culture, this dish is often enjoyed as a cozy homemade dish to look forward to after a long hard day at work.
How many servings does this make?
This recipe makes about 2 servings.

INGREDIENTS:
Chicken-style soy curls
Sauce
KITCHEN EQUIPMENT:
AirFryer General Tso Recipe
This vegan soy curl General Tso recipe is super easy to make when you are craving something savory and sweet. With the combination of all the best spices, I guarantee you will be making this recipe frequently for lunch!
Instructions
In a medium sized sauce pan, stir together water and bouillon. Add soy curls and bring to a boil. Reduce heat to medium-high and cook until the soy curls are softened. Remove from heat and allow to cool to the touch.
Drain the soy curls and squeeze out the excess liquid, but reserve the liquid, and toss the soy curls into a large bowl with 2 tbsp oil of your choosing.
Place the soy curls into the air fryer and spread them out so they're in a single layer.
Cook them at 425F for 5 mins and then remove the basket, give it a shake cook for another 5-7 mins or until they are crispy.
Meanwhile, make the sauce. To a small pot or medium skillet add 1 tsp oil and heat over medium heat.
Add onion whites, ginger and garlic and cook for 2 to 3 mins, or until translucent.
Whisk in ¼ cup of the reserved broth, soy sauce, hoisin, agave or maple syrup, and vinegar.
Create a corn starch slurry with cornstarch and 1 tbsp water, and then add to the skillet or pot with the sauce and continue to cook over medium heat, stirring as needed, for 3-5 mins, or until thickened and remove from heat.
When the soy curls are cooked, transfer them from the air fryer basket to the skilletand mix until combined.
Serve with rice and cooked broccoli.
Hey welcome to The Edgy Veg – we veganize popular food recipes for vegans, plant-based diets, eco-conscious eaters & people who are trying to eat more plants over… y'know animals or their by-products. We hope you enjoy this tasty vegan recipe!
---
Looking For More Homemade Chinese Recipes?
Made this recipe? Let me know what you think by leaving a ★★★★★ star rating & comment below. It truly helps me & I really appreciate any support! Feel free to share your food photos on social and tag me @edgyveg so I don't miss it!