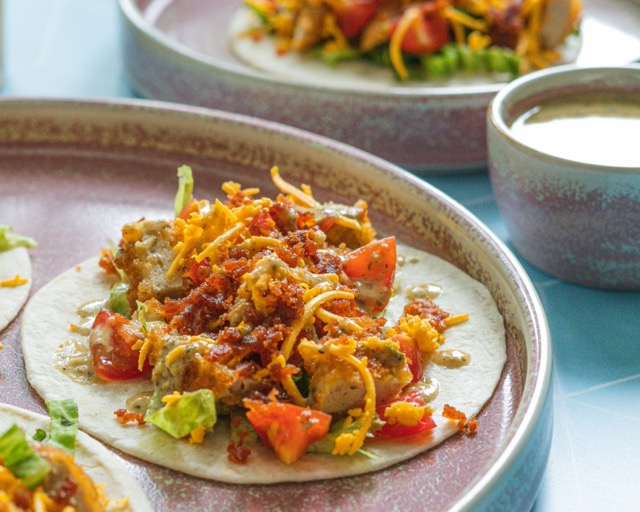 Chicken Bacon Ranch Tacos with Vegan substitute

Vegan Chicken Bacon Ranch Tacos
Have you ever had FOMO at a bar meet-up because there was no other vegan options available aside from your typical cauliflower chicken or bean tacos? Well, you don't have to limit your options at the bar anymore because you can bring the party to your house! This vegan chicken bacon ranch taco is better than any vegan options at the bar and you can have as much as you'd like without having to pay a premium!
Alternative ways to make this recipe:
You can use any vegan chicken recipes or bacon recipes that best fit your taste palette.

Chicken Bacon Ranch Tacos
This recipe is definitely going to be a crowd pleaser. The combination of chicken and bacon adds that extra meaty flavor to your tacos. Just because you are vegan, doesn't mean that you have to miss out on the smokey BBQ flavors you once enjoyed. Just substitute meat with vegan meat you can make at home.
How many servings does this make?
This recipe makes about 8 tortillas. You can make more depending on how much filling you have.

INGREDIENTS:
KITCHEN EQUIPMENT:
Chicken Bacon Ranch Tacos with Vegan substitutes
This Western-Mexican inspired tacos are so simple to make and delicious to eat for any occasion. You can find these at almost any bar restaurant! Set the mood right with a pint of beer and a patio with a great view.
Instructions
Heat a pan over medium heat and heat tortillas. You can also wrap them in a kitchen towel and heat them for 30 seconds in the microwave.
Top tortillas with chopped veggie chicken of choice, dairy-free cheese, tomatoes, chopped bacon, lettuce and drizzle with ranch sauce.
Hey welcome to The Edgy Veg – we veganize popular food recipes for vegans, plant-based diets, eco-conscious eaters & people who are trying to eat more plants over… y'know animals or their by-products. We hope you enjoy this tasty vegan recipe!
---
Looking For More Bar Food Inspired Recipes?
Made this recipe? Let me know what you think by leaving a ★★★★★ star rating & comment below. It truly helps me & I really appreciate any support! Feel free to share your food photos on social and tag me @edgyveg so I don't miss it!