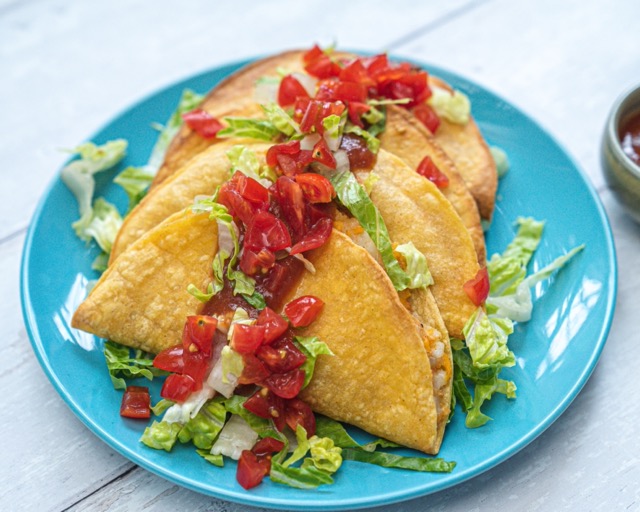 A Must Try Vegan Potato Tacos made with Air-Fryer!
Vegan Potato Tacos
If you are always on the go and need a quick and nutritious snack to get you through the day, these vegan potato tacos are the easiest Lunchable snacks you can pop into the air fryer to enjoy. These restaurant-quality tacos will absolutely satisfy those cheese and potato cravings and you can freeze them for up to 2 weeks before cooking them!
Alternative ways to make this recipe:
If you are not a huge fan of potatoes, you can substitute it with your favorite starches! Some great options are sweet potatoes, yam, or even mashed plantains. Add in your favorite topics.

Potato Tacos
You can often find Potato Tacos as bar snacks in Mexico. They are served as a snack, appetizer, or side dish. They are widely used as a filling for masa-based favorites such as tacos and taquitos, gorditas and molotes. If you are ever planning a Taco night or a fiesta with your favorite people, make sure you have these potato taco recipes handy. Add some color with some homemade margaritas recipes too! 
How many servings does this make?
This recipe makes about 4 servings or as many tortillas as you can fill.

INGREDIENTS:
KITCHEN EQUIPMENT:
Potato Tacos
The best tacos are made with the simplest ingredients. This potato taco is super simple to make and takes less than 10mins of your day. Make a little extra, freeze them before you cook and you will still have that restaurant quality tacos you can access anytime.
Instructions
In a large bowladd; cheese, cumin, nutritional yeast, paprika, garlic and onion powder. Using a ricer or a potato masher, mash potatoes in the bowl and combine with spices and cheese. Taste, and season with salt and pepper.
In a dry skillet or microwave warm the tortillas, and cover with a towel.
One at a time, spread about one heaping tablespoon of potato onto half of a tortilla, fold it closed, and secure with a toothpick.
In batches, brush or spray each side of the tacos lightly with oil or cooking spray and place them into the air fryer.
Fry at 380F for 10-12 mins, or until crispy, flipping once.
Serve 3 tacos each topped with toppings of choice.
Notes
Other cooking options

To Bake: Preheat oven to 400F and bake tacos for 10-12 minutes, flipping once, until crispy.

Deep fryer or stove-top frying: do not spray or brush the tacos with oil for this method. Heat oil in a deep fryer or a large pan, over medium-high heat (325F for the deep fryer). In batches, fry tacos for 2-4 minutes, or until crispy, flipping once.
Hey welcome to The Edgy Veg – we veganize popular food recipes for vegans, plant-based diets, eco-conscious eaters & people who are trying to eat more plants over… y'know animals or their by-products. We hope you enjoy this tasty vegan recipe!
---
Looking For More Mexican-Inspired Recipes?
Made this recipe? Let me know what you think by leaving a ★★★★★ star rating & comment below. It truly helps me & I really appreciate any support! Feel free to share your food photos on social and tag me @edgyveg so I don't miss it!