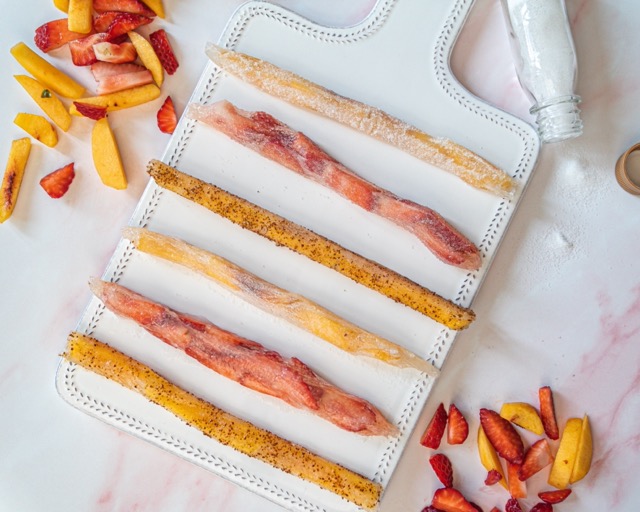 The Viral Tiktok Strawberry Rice Paper Candy Recipe

Vegan Strawberry Candy Straws
I know what you're thinking, "Candice, haven't you made enough viral Tiktok Recipes?". Yes, and you can't stop me because I am dedicating my life to creating new recipes for the vegan community. Inspired by Ballehurns from Tiktok, I knew I had to try this easy-to-make snack recipe! I love using rice paper as a key ingredient in making staple food like Rice Paper Dumplings and my infamous Rice Paper Bacon. With under 6 ingredients, we are making Vegan Strawbery Candy Straws!
Pro Tips:
You can use any of your favorite fruits to mix and match for filling, as long as they are cut into small pieces and can fit into a roll.
The skinnier the roll, the chewier the candy straw.
If you feel extra sweet tonight, you can drizzle your favorite sweet sauce (i.e. condensed milk, melted chocolate of your choice or sprinkle on cinnamon)
Other Recipes to pair with this recipe:

INGREDIENTS:
KITCHEN EQUIPMENT:
The Viral Strawberry Rice Paper Candy Recipe
this is a fun recipe to make with your kids or for yourself if you want a healthier candy option!
Instructions
Combine ¼ cup granulated sugar and 1 tbsp citric acid in a small bowl.
Combine 2 tbsp granulated sugar and tajin to taste in another.
Now place both sugars onto a plate in a straight line the length of the rice paper. Set aside.
On a lipped plate pour warm water & lime juice.
One at a time, soak rice paper in the warm water for 20 seconds, or until soft, and then place flat onto a cutting board.
Add fruit to one end of the rice paper half in a straight line across the long side, and roll it up tightly into what will resemble a straw.
Now you can roll the rice paper in the sugar variations, and place on a plate to serve.
Hey welcome to The Edgy Veg – we veganize popular food recipes for vegans, plant-based diets, eco-conscious eaters & people who are trying to eat more plants over… y'know animals or their by-products. We hope you enjoy this tasty vegan recipe!
---
Looking For More Easy Snack Recipes?
Made this recipe? Let me know what you think by leaving a ★★★★★ star rating & comment below. It truly helps me & I really appreciate any support! Feel free to share your food photos on social and tag me @edgyveg so I don't miss it!