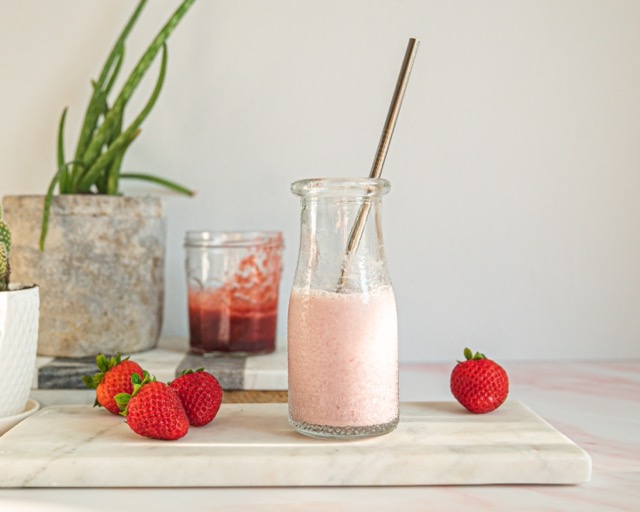 4-Ingredient Homemade Korean Strawberry Milk | Vegan Recipe

Homemade Strawberry Milk (Vegan)
Tired of drinking the same coffee and tea in the morning? How about some homemade strawberry milk for a change? Not a milkshake or a smoothie, but a flavored milk drink that is seriously addicting and super easy to make. This low-maintenance recipe takes less than 15-mins to make and is a great way to replace processed boxed milk packed with unnecessary sugars and additives. Take this to go with your favorite protein shake, or add it to your favorite cereal to enhance your quick breakfast meals.
Alternative ways to make this recipe:
You can substitute strawberries with any of your favorite fruits. Blueberries, bananas, mangos, melons, etc.
Homemade Korean Strawberry Milk
This sweet and silky dessert drink is known well known throughout Korea. It is commonly served in cafes and traditionally delivered to your home by "yogurt ladies" in the neighborhood. Fruity milk drinks are super popular in Southeast Asian countries and made in many forms – such as Bubble tea, Milkis, Lassi, etc. With the endless supply of flavors across the world, we can create various dairy-free inspired drinks that you can enjoy with your loved ones.
How many servings does this make?
This recipe is super customizable, you can add as much milk as you'd like, the focus of this recipe is on the syrup.

INGREDIENTS:
KITCHEN EQUIPMENT:
Homemade Korean Strawberry Milk | Vegan Recipe
This classic strawberry milk is a sweet escape for any occasion. If you have left over strawberries at home and don't know what to do with them, try this awesome strawberry milk drink you can make just under 4-ingredients! This is also dairy-free and plant-based. Perfect for your vegan-friendly, lactose intolerant friends and family members!
Instructions
Place the strawberries, sugar, and water in a saucepan set over medium heat. Simmer for about 10-12 minutes, stirring occasionally, until slightly thickened.
Using a fine mesh sieve, pour the strawberry mixture through the strainer to create a smooth syrup. Use the back of a spoon to press all the juice out of the pulp. Allow it to cool and then transfer to a jar or container and chill in the fridge.
To serve: pour 1 cup of any plant-based milk into a glass and add 3 tbsp - ½ cup of the strawberry syrup, or to taste - adjust amount as needed. Give it a good stir and serve.
Hey welcome to The Edgy Veg – we veganize popular food recipes for vegans, plant-based diets, eco-conscious eaters & people who are trying to eat more plants over… y'know animals or their by-products. We hope you enjoy this tasty vegan recipe!
---
Looking For More Non-Dairy Milk Recipes?
Made this recipe? Let me know what you think by leaving a ★★★★★ star rating & comment below. It truly helps me & I really appreciate any support! Feel free to share your food photos on social and tag me @edgyveg so I don't miss it!