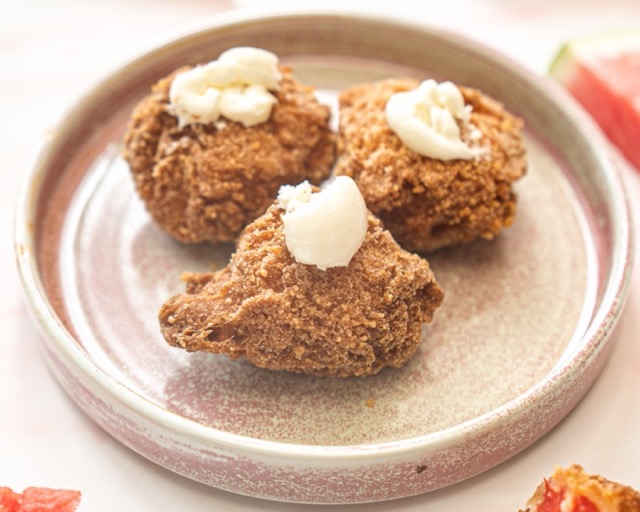 Turning this Viral Deep-Fried Watermelon Recipe Vegan!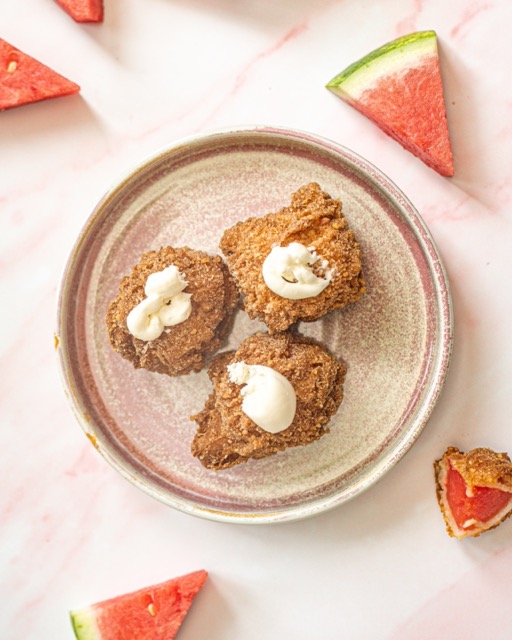 Vegan Deep Fried Watermelon
I should make a new segment on my blogs called, Tiktok made me do it better because Vegan recipes are here to stay for the long haul. If you are like me and are super confused and curious about this new trend of deep-fried watermelons, I had to try it. With new cooking tips and tricks popping off on social media every day, I wanted to simplify this experience by providing you with one solid recipe that you don't have to turn back on. You can try this with your friends and family over the long weekend because you are in for a surprisingly pleasant treat!
Alternative ways to make this recipe:
If you are allergic to soy milk, you can always replace this ingredient with any non-dairy milk option. Cashew milk and oat milk are great alternatives. You can also make this recipe even more interesting by adding any type of pancake mix you'd like! If you love sweets, you can even go for a blueberry pancake mix! Dessert recipes have so much freedom, that you don't ever have to feel like you are limited to just one way of cooking or baking.
Related Recipe: Spicy Watermelon Tuna Rolls 

Deep Fried Watermelon
We are not 100% sure where the deep-fried watermelon recipe originated from, but there have been a lot of mixed reviews for these deep-fried watermelons recipe. Some people either loved it or hated it. When I tried it, it was quite refreshing-sweet but also hot and cold all at the same time. It was quite a rollercoaster ride of flavors. Perhaps this is an acquired taste that requires some time to get used it. Luckily for this recipe, I used ingredients that compliment the sweet juiciness of the warm watermelon, while creating a crispy and tasteful savory batter. Let me know in the comments below what you think!
How many servings does this make?
This recipe makes about 15 watermelon balls. You can always increase the size by doubling up on your recipe.

INGREDIENTS:
KITCHEN EQUIPMENT:
Deep Fried Watermelon
This viral recipe is viral for good reason! I made the batter extra crispy to make it taste like funnel cake!
Instructions
Heat oil to 375F in a deep-fryer or heavy-bottomed pan.
Place ½ cup cornstarch into a bowl.In a medium bowl, mix together aquafaba if using, soy milk, and pancake mix. It should be a thick batter consistency.
In another bowl, mix crushed rice cereal, ¼ cup corn starch and sugar.
One at a time, place watermelon balls into the corn starch, then the batter, and then into the rice cereal mixture. You can use a skewer ortoothpickfor this.
Place into the hot oil and cook until golden, about 2 mins, flipping constantly. Fry only 4 at a time to avoid cooling down the oil.
Place onto a wire cooling rack to allow the oil to drip off.
Serve with a drizzle of icing, and some on the side to dip.
Hey welcome to The Edgy Veg – we veganize popular food recipes for vegans, plant-based diets, eco-conscious eaters & people who are trying to eat more plants over… y'know animals or their by-products. We hope you enjoy this tasty vegan recipe!
---
Looking For More Deep Fried Recipes?
Made this recipe? Let me know what you think by leaving a ★★★★★ star rating & comment below. It truly helps me & I really appreciate any support! Feel free to share your food photos on social and tag me @edgyveg so I don't miss it!