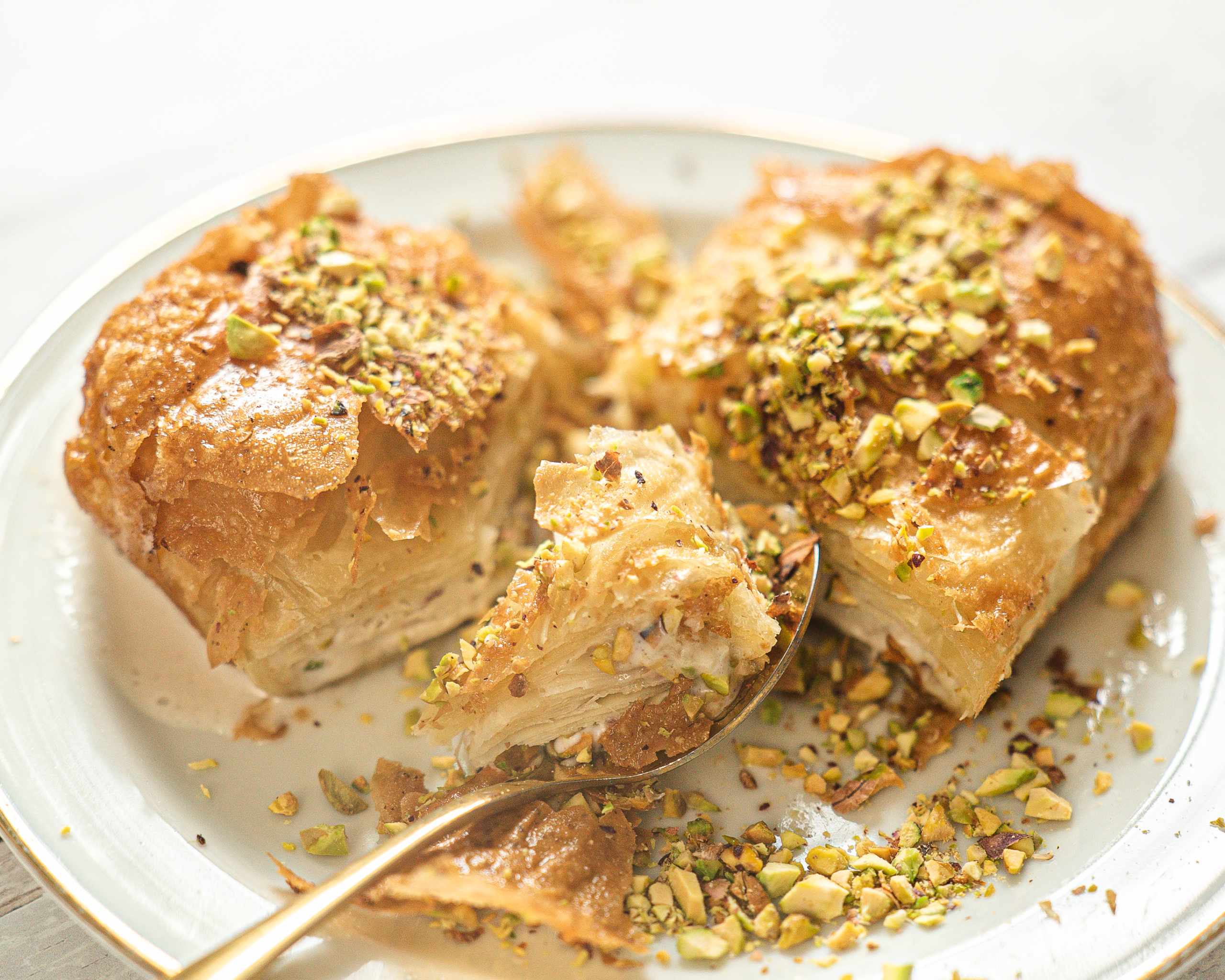 How to Make Vegan Deep Fried Ice Cream Burrito

Vegan Deep Fried Ice Cream Burrito
Whenever I go to Niagara Falls or Canada's Wonderland, I cannot resist the temptation to try deep-fried ice cream. Unfortunately, there are rarely any options for vegan deep-fried ice cream! That is why I created my own deep-fried ice cream recipe so you don't have to miss out. This burrito-style deep-fried ice cream uses phyllo's pastry sheets, which is way crispier and lighter than your average ice cream ball ! Remember to make extras because your friends will devour them when they see this.
Alternative ways to make this recipe:
You can choose any vegan ice cream you like. You can also replace the pistachio nuts with almonds, peanuts or any crunchy garnish you love and enjoy with your ice cream.

Deep Fried Ice Cream
Deep-fried ice cream is enjoyed all around the world. Some say it originated in Japan, whereas some people say it originated in the United States. But what both countries do have in common is that they do not mess around with deep-fried food. The balance of crispy and warm on the outside with a cold and meltable texture inside, you can have it all with this recipe. With the world becoming more globalized than ever, I love seeing how the fusion recipes between countries create new perspectives and a deeper appreciation for people and culture.
How many servings does this make?
This recipe makes about 2 servings. You can always increase the size by doubling up your ingredients.

INGREDIENTS:
KITCHEN EQUIPMENT:
Deep Fried Vegan Ice cream Burrito
You can find deep fried ice cream often at carnivals or special events. With this recipe, you don't have to wait until a special occasion to enjoy a yummy treat. You can make it right in the comfort of your own home.
Instructions
One at a time, lightly brush a phyllo sheetwith melted butter or oil. Place a second pastry on top,
grease another sheet of phyllo, and lay it aside.
Onto the doubled-up pastry sheet, add 2-3 scoops of vanilla ice cream in the middle. Top with some chopped pistachios, fold the pastry over the ice cream and wrap it up like a burrito.
Place the ice cream burrito onto the middle of the greased sheet you set aside, and wrap it up again.
Transfer the ice cream to a plate lined with parchmentand place into the freezer for 4 hours.
Heat a deep fryer or oil in a medium pot to 375F.
One at a time, add the ice cream burrito to the hot oil and fry for 15 seconds, flipping once.
place on a wire cooling rack place inside a lipped baking sheet to allow the excess oil to drain.
Serve immediately with some chopped pistachios to garnish, as well as any other garnishes you desire.
Hey welcome to The Edgy Veg – we veganize popular food recipes for vegans, plant-based diets, eco-conscious eaters & people who are trying to eat more plants over… y'know animals or their by-products. We hope you enjoy this tasty vegan recipe!
---
Looking For More Vegan Icecream Recipes?
Made this recipe? Let me know what you think by leaving a ★★★★★ star rating & comment below. It truly helps me & I really appreciate any support! Feel free to share your food photos on social and tag me @edgyveg so I don't miss it!