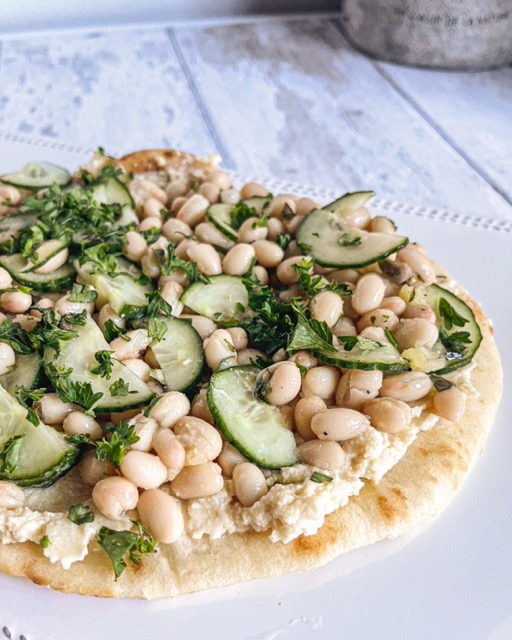 The Best Vegan Summer Recipes 2022: Grilled Cucumber Flatbread Recipe

Grilled Cucumber Flatbread Recipe
Cucumber flatbread is a "healthy" pleasure. No matter what kind of day you are having, you will never get tired of making this cucumber flatbread recipe. The balance between creamy, crispy, and zesty taste is a craving of its own. If you know, you know. For this recipe, we are using the freshest ingredients made from Apeel coating to make this awesome snack.
Alternative ways to make this recipe:
You can replace the beans with any of your favorite legumes. You can feel free to omit the beans as well. In addition, if you are not a huge fan of hummus, you can also try this sweet Pimento Cheese spread recipe instead.

Cucumber Flatbread
Flatbread cooked in the BBQ grill is the best kitchen hack ever. Grills are not made just for meat-eaters, but made for all lifestyles! Throw your flatbread into the grill this summer and get ready to elevate your cooking experience. Then top it off with the freshest ingredients you can find at the grocery stores or your local farmer's market to enjoy with your favorite seasonings. It's that easy!
How many servings does this make?
This recipe makes about 4 servings. You can always increase the size by doubling up your ingredients.

INGREDIENTS:
KITCHEN EQUIPMENT:
Cucumber flatbread
This cirspy and refreshing flatbread is just the best kind of breakfast to wakeup to. During the middle of a hot summer day, if you need a quick fix with a good source of fiber, you can always rely on this beautiful cucumber flatbread.
Instructions
In a medium-sized bowl, combine lemon juice, olive oil, beans and basil. Season to taste with salt and pepper.
In a second bowl, combine cucumbers and let sit until slightly softened, 8-10 mins.
Heat a grill, or grill pan over medium-high, indirect heat, and lightly oil.
One at a time, grill each naan or flatbread over direct heat, as needed, until it is stiff and lightly charred, about 3 mins.
On a counter or cutting board place the flatbread and divide the hummus between them, and spread the entire surface.
Top with beans, cucumbers, and additional basil to garnish.
Sprinkle with sesame seeds or everything bagel seasoning if desired, and salt, and pepper, to taste.
Hey welcome to The Edgy Veg – we veganize popular food recipes for vegans, plant-based diets, eco-conscious eaters & people who are trying to eat more plants over… y'know animals or their by-products. We hope you enjoy this tasty vegan recipe!
---
Looking For More Vegan Recipes?
Made this recipe? Let me know what you think by leaving a ★★★★★ star rating & comment below. It truly helps me & I really appreciate any support! Feel free to share your food photos on social and tag me @edgyveg so I don't miss it!