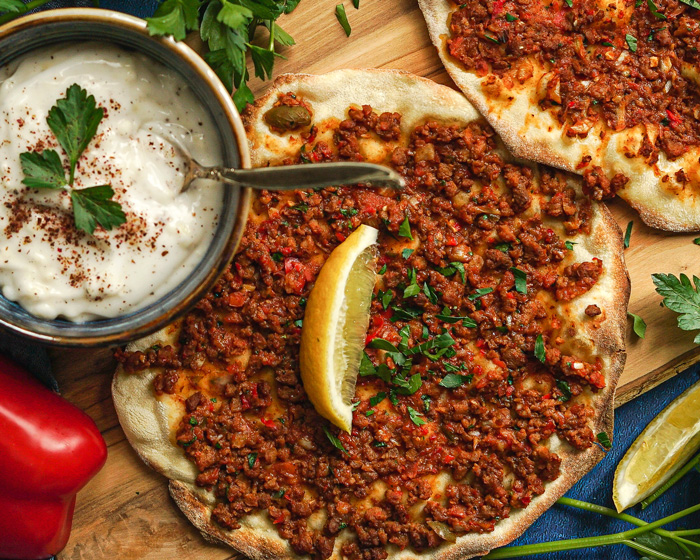 This vegan lahmacun recipe is a Turkish-style version of the popular lahmacun dish, but plant-basedla. For this lahmacun, I used a spicy vegan ground round, homemade crust and vegetable topping to make this popular thin middle eastern style flatbread dish!
If you're craving a healthy and flavourful vegan lahmacun, I'll show you how to make it using simple pizza-style dough topped with rich veggie and ground round topping and served with a garlicky vegan sauce.
Related Recipe: Tahini Sauce
Vegan Lahmacun
DAIRY-FREE & MEAT-FREE
Lahmacun is a spiced Middle Eastern dish, commonly found in Turkey, Armenia and other surrounding countries. It is made with a spicy ground meat and vegetable mixture spread on a very thin bread-like crust, typically eaten with salad and garlic sauce. For more about the history of Lahmacun, click here.
For this lahmacun recipe, you can use a store-bought item like crust and vegan garlic sauce or make a homemade vegan crust and garlic sauce using my instructions below! If you're pressed for time, use a store-bought or made-ahead pizza dough.
INGREDIENTS FOR TURKISH-STYLE LAHMACUN (VEGAN):
For the Lahmacun Crust:
NOTE: you can also use store-bought pizza dough if you're pressed for time
For the Lahmacun Toppings:
For the Vegan Garlic Sauce (Optional):
KITCHEN EQUIPMENT I USED:
Full Recipe Down Below
Vegan Lahmacun
This vegan lahmacun recipe is a Turkish-style Lahmacun, but plant-based. For this lahmacun, I used spicy vegan ground round, homemade crust & vegetable toppings!
Ingredients
For the crust
NOTE: you can also use store-bought pizza dough if you're pressed for time
For the topping
Garlic sauce
Instructions
To make the garlic sauce:
Mix all the garlic sauce ingredients together in a bowl, and refrigerate.
If you are making dough from scratch:
In a small bowl, combine sugar, yeast, and warm water. Let the mixture sit until foamy, about 10 minutes.
Meanwhile, in a stand mixture, or large bowl, mix flour and salt. Make a well in the center.
When the yeast mixture is ready, add it to the well, with the olive oil, and mix to form a dough.
Lightly flour a clean surface, and transfer the dough. Knead until smooth, about 6 minutes. If you are using a stand mixer, simply knead the dough in your stand mixer for about 2 minutes.
Lightly oil a large bowl, and place the dough inside. Cover with plastic wrap or a clean kitchen towel, and allow it to rest until doubled in size, roughly 1 hour.
After it has proofed, punch down the dough. Divide the dough into 6 even balls and transfer to a floured baking sheet. Cover with a damp tea towel and let rest for 45 minutes.
If you are using pizza dough:
Allow it to come to room temperature, and rise.
To Assemble:
Meanwhile, heat the oven to 475F with a pizza stone in the bottom third of the oven.
In a food processor, pulse peppers, tomatoes, parsley, onion, and garlic until everything is finely chopped.
To a large bowl, add the pepper mixture, olive oil, ground round, tomato paste, cayenne, cumin, paprika, cinnamon, ½ tsp salt, and pepper and mix with your hands until everything is thoroughly combined. Season with additional salt if needed.
When the dough is ready, one at a time, roll dough into a 10" disk.
Brush off any excess flour and transfer the dough disk to a piece of parchment paper.
Top the dough with 3–4 tbsp of the pepper/ground round mixture, and spread it out evenly, and right to the edge of the dough.
Transfer the dough with the parchment, to the pizza stone, and bake until the dough is golden brown, about 5–9 minutes.
Repeat.
Serve immediately with a squeeze of lemon, garnish of chopped parsley, and a side of garlic yogurt sauce. You can eat these sliced into triangles or rolled up.
Nutrition Information
Serving size:
1 lahmacun
Calories:
329
Fat:
16.6g
Carbohydrates:
33.8g
Sugar:
2.6g
Fiber:
3g
Protein:
8.1g
---
Hey I'm Candice aka The Edgy Veg – I veganize popular food recipes for vegans, plant-based diets, eco-conscious eaters & people who are trying to eat more plants over… y'know animals or their by-products. I hope you enjoy this tasty vegan recipe!
---
Looking For More Middle Eastern Inspired Vegan Recipes?
Made this recipe? Let me know what you think by leaving a ★★★★★ star rating & comment below. It truly helps me & I really appreciate any support! Feel free to share your food photos on social and tag me @edgyveg so I don't miss it! 
Share My Recipe on Pinterest!