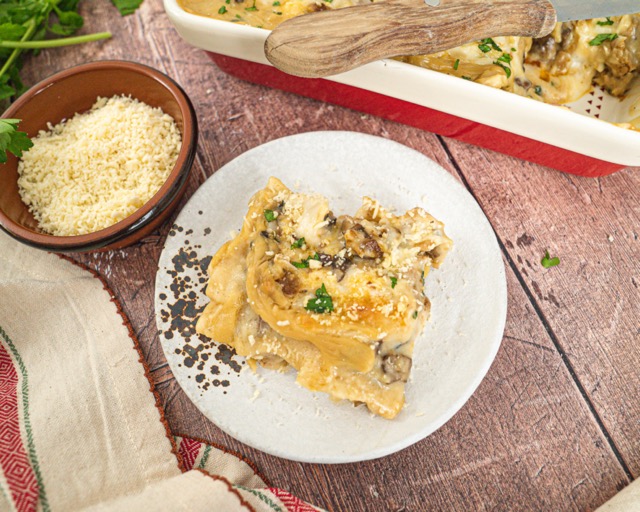 The Easiest Vegan Sausage Lasagna

Vegan Sausage Lasagna
Lasagna is the perfect cozy dish to warm up to during the winter times. I don't know about you, but I cannot get enough of a simple and delicious oven-ready casserole dish. The blend of mushrooms and vegan sausages brings out the umami flavors complimented by the creamy and cheesy texture of the butter and cheese. This is the ultimate creamy lasagna you can make if you are tired of making the same old tomato-based lasagna.
Related Recipe: Lazy Vegan Butternut Squash Lasagna

 Pro Tips:
Using a variety of mushrooms like portobello, oyster mushrooms and cremini mushrooms are great for extracting the best flavors for cooking.
If you want to spice up the recipe, add in a 1/4 teaspoon of chili flakes – adjust as you'd like.
You can use any kind of pasta you'd like if you don't have lasagna sheets at home.
Other Recipes to pair with this recipe:
Best Vegan Lasagna Recipe: If you want to host a lasagna party, here is another classic meatless lasagna you can pair for the perfect match.
Easy Vegan Bechamel Sauce: Here is a vegan cheese recipe that you can use to add to your lasagna recipe. Super versatile to use as a dipping sauce, pizza cheese topping and add to this delicious mushroom sausage lasagna recipe.
Quick and Helathy Red Pickled Onion Recipe- Add in that extra crunch and freshness with this pickled onion recipe. Fermented foods are best to eat when you're having a heavy cheesy meal!

INGREDIENTS:
KITCHEN EQUIPMENT:
The Best Mushroom Sausage Lasagna
This easy to make, casserole mushroom sausage lasagna is so delicious and meaty for the vegans who loves a savory, comfort food. In Edgyveg style, we are creating a mushroom sausage lasagna.
Instructions
Heat 1 tbsp butter and 1 tbsp olive oil in a large pan over medium-high.
Add mushrooms and season with salt. Cook, stirring occasionally until the mushrooms release their liquid about 5 mins.
Add garlic, cover and cook for another 5 minutes, stirring occasionally.
Add crumbled sausage, and cook stirring occasionally for 5-8 minutes or until sausages are beginning to brown.
Deglaze the pan with white wine or vegetable broth, and cook until you don't smell the alcohol anymore.
Add most of the parsley and stir to combine. Cover and set aside.
In a medium pot, melt ¼ cup plant-based butter over medium heat.
Whisk in flour and cook, whisking constantly for 2 minutes to cook out the raw flour flavour.
Slowly whisk in 1 cup soy milk until well combined. Add onion powder, salt, and nutmeg. Then slowly add the remaining soy milk, whisking constantly until the sauce is free of lumps.
Increase heat to medium-high and continue whisking sauce until it thickens, about 5 mins. Add plant-based parmesan cheese and whisk until melted and combined.
Taste & season with salt and pepper.
To assemble:
Preheat your oven to 350F.
Spoon about ½ cup-1 cup of bechamel onto the bottom of a casserole dish.
Cover with lasagna sheets, then add some of the sausage and mushroom mixture, sprinkle with some mozzarella-style cheese and then 1 cup of bechamel.
Repeat layers, until you get to the last layer which is bechamel topped with sausage and mushrooms.
Cover loosely with aluminum foil and bake for 30 minutes.
Remove foil, and bake for `an additional 15 minutes or until golden and bubbling.
Remove from oven and garnish with additional chopped parsley.
Let stand for 10 minutes to settle before slicing.
Notes
NOTE: If you want a thicker bechamel, whisk together 1 tbsp cornstarch with 1 tbsp water and add to the boiling bechamel, whisking constantly until thickened.
Hey welcome to The Edgy Veg – we veganize popular food recipes for vegans, plant-based diets, eco-conscious eaters & people who are trying to eat more plants over… y'know animals or their by-products. We hope you enjoy this tasty vegan recipe!
---
Looking For More Vegan Casserole Recipes?
Made this recipe? Let me know what you think by leaving a ★★★★★ star rating & comment below. It truly helps me & I really appreciate any support! Feel free to share your food photos on social and tag me @edgyveg so I don't miss it!