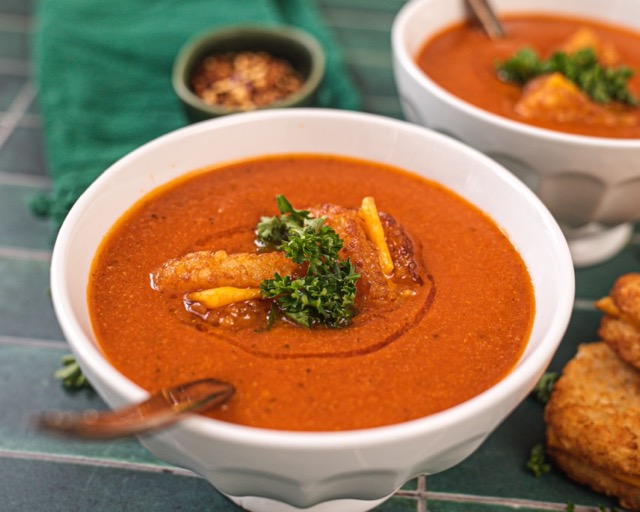 The Easiest Instant Pot Tomato Soup

Instant Pot Tomato Soup
Instant soup has always helped me so much with saving time and energy. Tomatoes are high in vitamins C, E, and potassium, which is really great for your skin due to its antioxidant components and it's such a refreshing soup to make that takes less than 15-mins to cook. If you are feeling a little under the weather and need a hot warm soup to warm up your day, this is the most simple and basic soup recipe for you.

 Pro Tips:
If you want to create a creamier texture, you can add any non-dairy milk substitute like coconut cream or soy cream.
If you want to spice up the recipe, add in a 1/4 teaspoon of chili flakes – adjust as you'd like.
You can also add in your favorite pasta to turn it into a meal.
Other Recipes to pair with this recipe:

INGREDIENTS:
optional spices:
KITCHEN EQUIPMENT:
Easy Instant Pot Vegan Tomato Soup Using 4-Ingredients!
Soups are the best especially during the cold-winter days! Even better when it takes you less than 15-mins to create it.
Ingredients
Soup!
Optional:!
Instructions
Set your Instant Pot or pressure cooker to saute mode and heat butter and/or oil. Add onion, garlic and salt, and cook until translucent, about 3 mins.
Add tomatoes, water or broth, and spices if using, and mix well.
Close the Instant Pot and seal the pressure value.
Pressure Cook for 10 minutes, and then allow the pressure to release naturally, about 15 mins.
Release the pressure value and open the Instant Pot. Puree the soup using an immersion blender or by transferring it to a blender.
Stir in the cream or milk, if using, and season to taste with salt and pepper.
Ladle into bowls, sprinkle with some parsley and serve with grated Parmesan, croutons, bread, or grilled cheese (optional).
Hey welcome to The Edgy Veg – we veganize popular food recipes for vegans, plant-based diets, eco-conscious eaters & people who are trying to eat more plants over… y'know animals or their by-products. We hope you enjoy this tasty vegan recipe!
---
Looking For More Vegan Soup Recipes?
Made this recipe? Let me know what you think by leaving a ★★★★★ star rating & comment below. It truly helps me & I really appreciate any support! Feel free to share your food photos on social and tag me @edgyveg so I don't miss it!