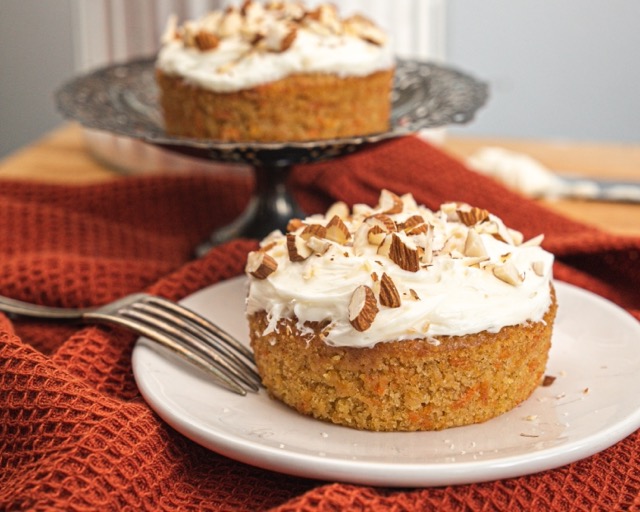 Easy Vegan Carrot Cake Recipe for One!
 
Vegan Carrot Cake
Carrot Cake is a classic Fall time recipe. If you haven't found your favorite carrot cake recipe yet, this one might be the one. I love making baked recipes when I am working from home and don't have too much time to cook. Since living alone, I never enjoyed doing the dishes, and baking always allowed me to bring back more time in the day.

Pro Tips:
You can add your favorite nuts (walnuts, pistachio, pecans) to this recipe to add that extra crunch to your carrot cake.
To make carrot shredding faster, you can use a processor.
You can always double up on the quantity of recipes if you want to share of course!
Other Recipes to pair with this recipe:

INGREDIENTS:
KITCHEN EQUIPMENT:
Recipes for One Series: Vegan Carrot Cake
This is the easiest carrot cake you will ever make!
Instructions
Preheat oven to 350F and grease 2-10 oz ramekins and set aside.
In a medium bowl, cream together sugar, melted butter, aquafaba, and vanilla with a whisk or with an electric hand mixer.
In a separate bowl, whisk together flour, baking powder, cinnamon, and salt.
Add the dry ingredients to the wet and mix well.
Add the milk and mix again, then fold in the grated carrot.
Pour into the prepared ramekins and bake for 20 minutes or until a toothpick inserted in the center comes out clean.
Transfer to a wire cooling rack and allow it cool.
Once cool, frost with vegan-friendly cream cheese frosting.
Notes
technically it makes 2 cakes, one for now and one for tomorrow!
Hey welcome to The Edgy Veg – we veganize popular food recipes for vegans, plant-based diets, eco-conscious eaters & people who are trying to eat more plants over… y'know animals or their by-products. We hope you enjoy this tasty vegan recipe!
---
Looking For More Simple Recipes?
Made this recipe? Let me know what you think by leaving a ★★★★★ star rating & comment below. It truly helps me & I really appreciate any support! Feel free to share your food photos on social and tag me @edgyveg so I don't miss it!