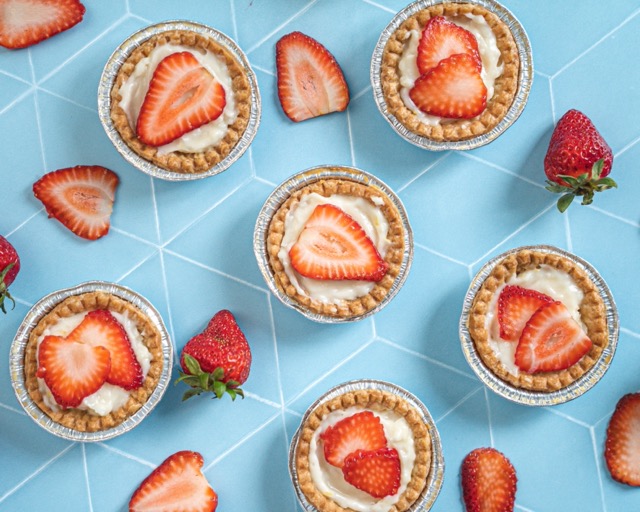 Easy Vegan Strawberry Tart Recipe – Under 10 ingredients!
 
When you are living alone, one of the most important responsibility is falling in love with yourself over and over again. However, there will be days when you don't want to cook or clean your home or sometimes even take a shower! There are so many adjustments you have to make both mentally, emotionally, and physically if you are recently single or have moved out on your own for the first time. Despite these changes, nothing feels better than a plate of delicious French Tarts that can bring a smile to your face. This is the most perfect and effortless dessert you can make when you need a little more reassurance to remind you that everything is going to be okay.

Pro Tips:
If you don't love strawberries, you can use any of your favorite berries that you'd like to make this recipe! Blueberries, peaches and kiwis are great alternatives.
If you don't have strawberry jam, you can use any of your favorite fruit jams instead.
You can also make a frosting tip by cutting the corner of a Ziploc bag.
Other Recipes to pair with this recipe:

INGREDIENTS:
KITCHEN EQUIPMENT:
Easy Vegan Strawberry Tart Recipe - Under 10 ingredients!
You are going to love this recipe especially if you love strawberries! All you need is a pot and pan with ingredients you can already find in your fridge. This simple and sweet dessert recipe is all you need to pick you up when you are feeling isolated during COVID!
Instructions
Preheat oven to 375F.
Poke the pie shells all over with a fork and bake covered with foil for 5-10 minutes. Remove the foil and bake for another few minutes, or until the shell is golden. Set aside.
Meanwhile, in a small cup or measuring cup whisk together ¼ cup soy milk with cornstarch. Set aside.
In a small pot, bring ½ cup soy milk, and sugar to just before a boil, and slowly whisk in the cornstarch mixture until smooth and lump-free.
Reduce heat to medium and simmer for 2-3 mins, whisking constantly, or until mixture has thickened.
Remove from heat, and whisk in the butter, lemon zest, and vanilla extract. Transfer the pastry cream to a bowl to cool.
Spoon the pastry cream into the prepared pie shells, and smooth the tops.
Arrange the strawberries on top of the pastry cream, lining the outside and moving inward with a slight overlap. Sort of like scalloped potatoes.
Meanwhile, in a small saucepan, heat strawberry jam and lemon juice over medium-high heat, whisking constantly, until just before a boil. Remove from heat and push the glaze through a fine mesh sieve to remove them.
Brush the smooth glaze over the strawberries with a pastry brush.
Loosely cover tart and place in the fridge for 2 hours or until the pastry cream has settled, and stiffened slightly.
Hey welcome to The Edgy Veg – we veganize popular food recipes for vegans, plant-based diets, eco-conscious eaters & people who are trying to eat more plants over… y'know animals or their by-products. We hope you enjoy this tasty vegan recipe!
---
Looking For More Easy Dessert Recipes?
Made this recipe? Let me know what you think by leaving a ★★★★★ star rating & comment below. It truly helps me & I really appreciate any support! Feel free to share your food photos on social and tag me @edgyveg so I don't miss it!