19+ Vegan Super Bowl Recipes For Game Day
Since it's Super Bowl season, I've combined all my Best vegan Super Bowl recipes for game day! From vegan Superbowl dips to vegan Superbowl chili and ooey-gooey wings, here are my favourite vegan super bowl recipes!
---
Best Vegan Super Bowl Recipes

The NFL playoff season is upon us, the women are cringing and the men are taking over our meticulously decorated living rooms. The easiest, and most iconic Super Bowl food are hot dogs. But these recipes take plain vegan hot dogs to the NEXT LEVEL that anyone will approve of.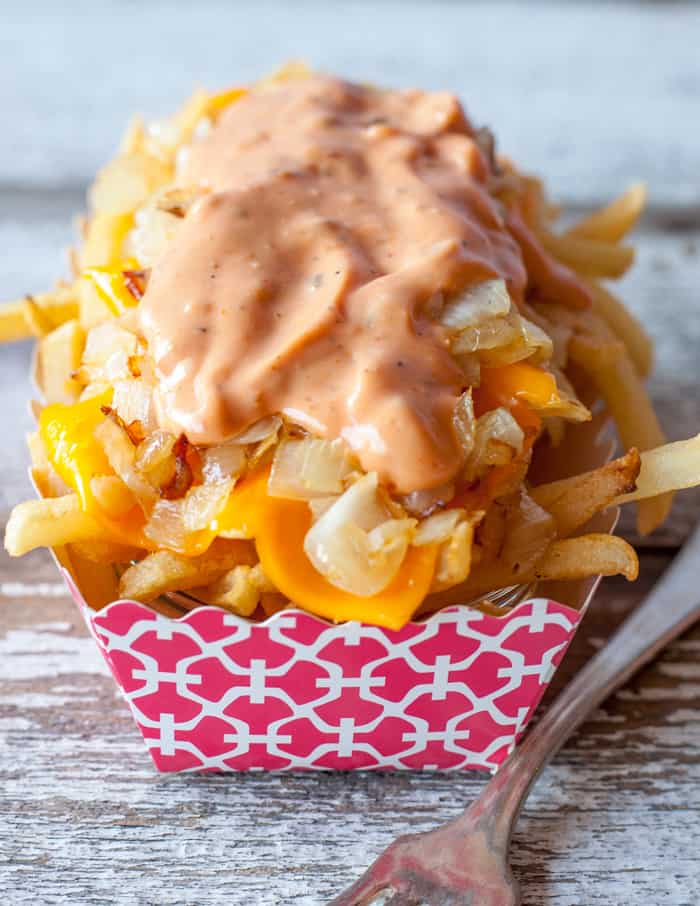 In-N-Out Burger Animal fries are actually just fries topped with a sauce akin to the infamous Big Mac sauce followed by melted processed cheese and some caramelized onions. So without further ado, here is how to make your own In-N-Out Burger Animal Fries, vegan style!
Make the Pizza Hut famous stuffed crust pizza vegan! This vegan stuffed crust pizza recipe is the best vegan pizza I've had yet. The ingredients for this pizza pie include grated vegan cheese, green peppers, veggie pepperoni or sausage, veggie ground round, mushrooms, olive oil, pizza dough, homemade pizza sauce and of course, vegan cheese for the stuffed crust. I also recommend using cornmeal to powder the pizza pan (if you are using one).
Vegan deep-fried pickles with a creamy dill dipping sauce! These deep fried pickles are an addictive finger food perfect for any get together you're hosting whether it's game night, movie night or cocktails with friends. If you've never tried deep fried pickles, it's time to try these out for yourself. The combination of tart dill pickles with a crispy batter is to die for! I make these when I need a quick crowd-pleasing snack to serve during game nights, movie nights or as an app prior to a dinner party.
The Chili is literally titled "Superbowl Chili" in my Cookbook! If you have my cookbook, it's on Page 71. If you don't have my cookbook full of 138 Vegan Recipes, click here to order it online! This chilli is light and nicely balanced. It gives this traditional recipe a nice and earthy element perfect for your Super Bowl Party, or when you're just looking for a quick and easy dinner that you can make plenty of, and savour the leftovers for lunch tomorrow.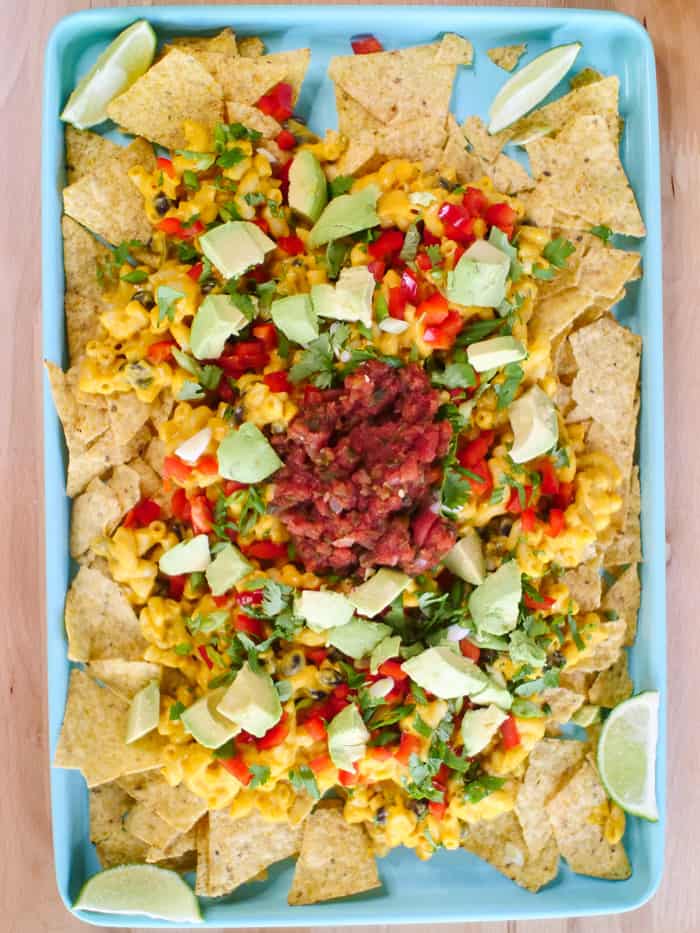 What do you get when you mix your fave Mac & Cheese with Nachos? Mac & Cheese Nachos, obviously! This vegan Mac & Cheese Nachos will have your friends or family screaming OMG WOW THIS LOOKS SO GOOD. These chips are topped with beans, corn, chillies, mac and cheese, and of course avocado and salsa! Yum
These are the most delicious buffalo cauliflower wings you'll ever have! These vegan cauliflower wings are a crowd-pleaser and perfect for the super bowl! A perfect Superbowl appetizer recipe for game day, or a simple and yummy meal for date night in with your sweetheart. They are fried, not baked, so you get a good crunch when you bite into them! Perfect for dipping too!
This vegan spinach dip is creamy, cheesy and has a really robust flavour profile. Plus, it also has spinach in it, so it's like a health food… right friends? Either way, your friends will love this dip during the super bowl game!
Taquitos are one of my favourite party foods of all time for a wide variety of reasons. One of the biggest ones being that they are a snap to make, requires minimal ingredients, minimal cooking time, and taste amazing. This recipe is not only good for super bowl game time appetizers but also a really quick recipe anytime you need kick-ass party food.

This Butternut Squash Mac and cheese is the perfect dish for any super bowl party and is really simple to make. Take your regular vegan mac and cheese up a notch!
Nachos are the best. No seriously, they are actually like the best food ever.  They are quick and easy to prepare, you can totally customize them to suit your guests needs, and with my creamy nacho-cheese sauce, they are every bit as ooey and gooey as the cheese-laden version.
This vegan truffle mac & cheese will fill all the mouths with creamy, cheesy and truffle deliciousness. By making this Truffle Mac & Cheese, your friends will think that you're some kind of culinary expert, and therefore, deserve a gold medal for this tasty dish.
Vegan sloppy joes made with lentils and red peppers on a toasted and buttered fluffy bun. In this recipe, I used a mix of lentils and veggie ground round- two things I always have in my pantry or fridge. The lentils and ground round ground are cooked with onion, red pepper, garlic cumin, chilli powder, BBQ sauce and tomato. And is then scooped high onto a toasted and buttered bun. Try garnishing it with fun toppings like pickles, pickled jalapenos or coleslaw.
This is one of those 'no-rules', do what you want- street food type recipes. The type of recipe where you don't really need to measure anything out and prep is super minimal—making it the perfect recipe for a get together to watch the big game or date night at home with your significant other. This light vegan appetizer is salty, fresh, tangy and makes a great dish for any party.
Game day is all about handheld meals and snacks and so I suggest making these 2 bite portobello mushroom sliders. You no longer have to suffer through the laborious task of mixing, grinding or molding veggies into tiny burgers, or trimming your veggie burgers into tiny circles to get that slider experience. Just marinate some mushrooms, grill 'em and bam! perfect sliders every time.
This vegan take on the famous KFC Nashville Hot Chicken uses cauliflower to give you that juicy, crispy, fried chicken taste you're used to. This fried cauliflower recipe is the best cauliflower you'll ever have and the perfect way to trick your non-vegan guests at your Super Bowl Party !!
This vegan gumbo is packed with okra, vegetables, jackfruit and sausage. It is cooked the traditional way with a plant-based twist. This hearty, and rich Cajun stew is made with marinated jackfruit "chicken", spicy veggie sausage and seasoned with black pepper, cayenne, and paprika. It is the best vegan gumbo you'll ever have!

Vegan cheesy cornbread is not just a fantasy, it is a totally achievable thing. But brace yourself, because once this cheesy goodness comes out of the oven, it is hard not to devour it all. The slightly spicy kick will leave a taste in everyone's mouth that will leave them wanting more. It's literally the best thing for chili ever!
This vegan version of the Ruffles French onion dip is mouthwatering and super easy to make! Dip your favourite chips and veggies, and enjoy at your super bowl event! Vegan Party Food has never been easier.

Vegan Super Bowl Recipes
Everyone will love these vegan super bowl recipes! Whether you're looking for vegan super bowl dip, snacks or meals for game day, you'll love this list of vegan Superbowl recipes for game day!
Instructions
Plan what vegan recipes you want to make during Super Bowl
Gather all your ingredients.
Choose vegan super bowl recipes you can make ahead of time or meal prep.
Enjoy your vegan super bowl recipes during game day!
_____________________
You guys must try these Vegan Super Bowl recipes & let me know what you think! Once you try them, come back and leave me a comment below with your feedback and star rating!
If you make this, let me see on social! Tag @edgyveg on your photo & add the hashtag #theedgyveg in your caption so I don't miss it!