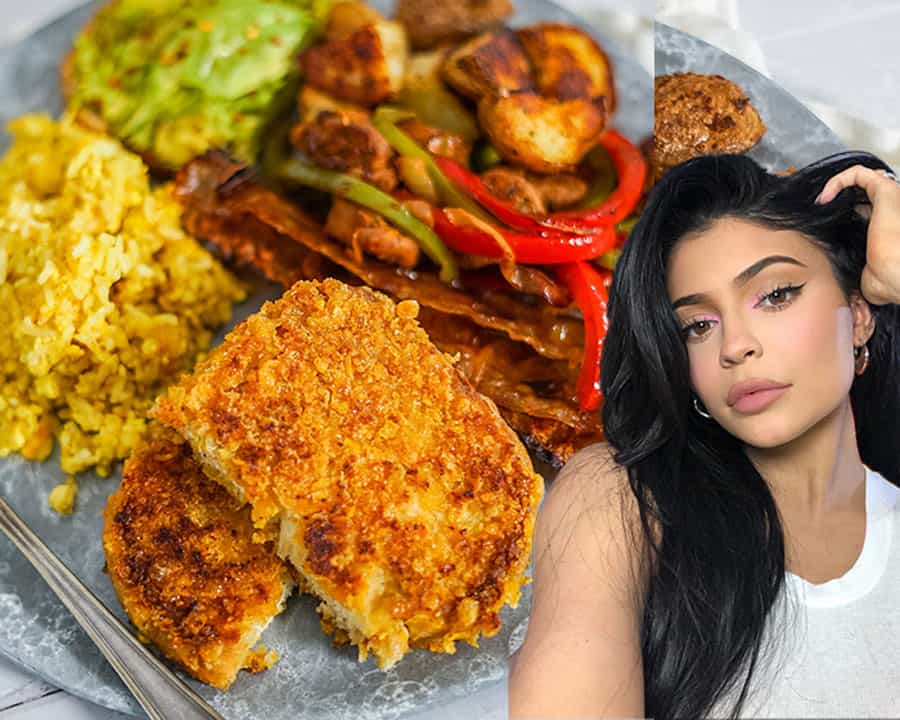 I Made Kylie Jenner's Breakfast Vegan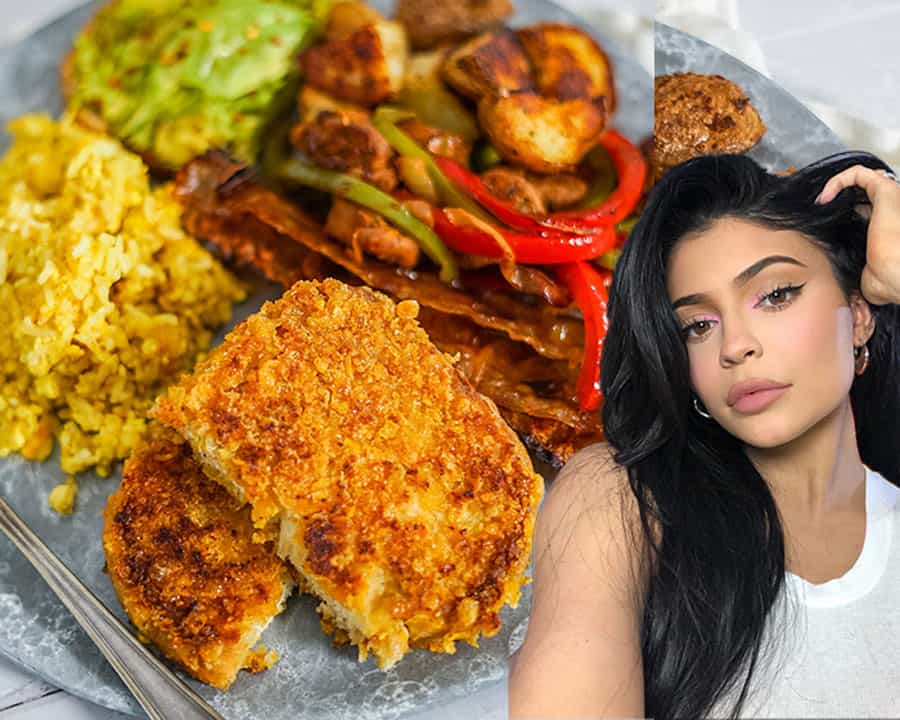 Kylie Jenner loves sharing her breakfasts and brunches with her millions of followers. And I love turning celebrity recipes and meals vegan! So naturally, when Kylie Jenner shared her routine breakfast spread for her family, I figured I'd make it vegan for anyone who wanted to make it.
Is Kylie Jenner vegan? No, but she has shared with her millions of followers her love of vegan pizza and other foods. I hope she continues to add more plant-based meals to her diet and one day goes vegan for the animals.
Kylie Jenner's Breakfast
What does Kylie Jenner eat for breakfast? Her breakfast spread is composed of 6 parts: Cheesy Scrambled Eggs & Rice, Crispy Potatoes, Bacon, Avocado Toast, Sausage Hash and Flakey French Toast!
This breakfast spread hits most brunch checkboxes and I can't wait to show you how to make it vegan. It is missing one key element: mimosas. Top off this feast with the Kombucha Mimosa from my vegan cookbook or make my Cranberry Mimosa recipe!
Using some of my classic vegan breakfast recipes and techniques from this website, I turned Kylie Jenner's breakfast vegan! Checkout the breakdown on how to make Kylie's Jenner's Vegan breakfast below.
Related Recipe: 10 Instagram Worthy Vegan Recipes
BREAKDOWN OF KYLIE JENNER'S BREAKFAST:
KYLIE JENNER's SCRAMBLED EGGS & RICE (VEGAN):
Instructions:
Cook up the tofu scramble.
Meanwhile, toss cooked rice with the garlic powder.
Add the rice to the pan with the tofu scramble, and mix until combined, sprinkle cheese over the mixture, and top with the lid for 1 minute to help the cheese melt.
Give everything a mix until the cheese has completely melted.
KYLIE JENNER'S POTATOES (VEGAN):
Instructions:
Preheat oven to 400F.
Place the potatoes directly onto the oven rack and bake for roughly 25 mins, or until soft.
Heat oil in a pan over high heat.
Meanwhile, chop the potatoes into bite-sized cubes.
Add the potatoes into the pan, and make sure each cube is coated in oil.
Season the potatoes with garlic salt, seasoning salt, and pepper. Cook for 4-5 mins.
Use a spatula to flip over the potatoes and cook untouched for another 4 mins.
Taste and season to taste, flip and fry for another few mins or until browned and crispy.
KYLIE JENNER'S SAUSAGE HASH:
Instructions:
Heat up a pan over medium-high heat and fry up the sausage.
When the sausage is almost finished cooking, add the sliced peppers and onion to the pan and add garlic powder, toss and stir fry until veggies are soft and sausage is done. 
KYLIE JENNER'S AVOCADO TOAST:
Instructions:
Toast sourdough bread
Mash avocado and spread it on the toast
Drizzle agave, sprinkle red pepper flakes and top with a pinch of salt
Cut in half and enjoy.
BACON:
Check out my popular vegan bacon recipe –> Rice Paper Bacon.
FLAKEY FRENCH TOAST:
Kylie Jenner's Breakfast
Kylie Jenner's Breakfast is super easy to make! It's essentially a brunch spread and I want to show you how to make it vegan! Is Kylie Jenner vegan? No, but that doesn't mean we can't enjoy a vegan version of her routine breakfast!
Ingredients
Kylie Jenner's French Toast
Instructions
Make the french toast batter, and add in the cinnamon.
Heat a tbsp of vegan butter in a pan over medium-high heat.
Soak a slice of bread in the batter and roll it in the cornflakes a few times.
Fry the coated bread in the melted butter and sprinkled with a dusting of brown sugar.
https://youtu.be/wTcQKOErF88
Hey I'm Candice aka The Edgy Veg – I veganize popular food recipes for vegans, plant-based diets, eco-conscious eaters & people who are trying to eat more plants over… y'know animals or their by-products. I hope you enjoy this tasty vegan recipe!
---
Looking For More Vegan Breakfast Recipes?