8+ Vegan Halloween Recipes
Looking easy vegan Halloween recipes? From gelatin-free gummy bears to vegan Halloween cupcakes, I've got you covered for delicious vegan Halloween recipes!
Every Halloween, I try to fill the gap in the vegan Halloween recipes on the internet by trying to re-make my fave Halloween candies, treats or even cheaper alternatives to the vegan options in stores. So let's get spooky… I mean cooking! Click on the titles below to get the recipes!
Easy Vegan Halloween Recipes

Looking to make vegan gummy bears without gelatin? Tired of gelatin sneaking its way into all of your favourite sweets? Store-bought vegan gummy bears can get expensive, so I wanted to make recipes for vegan gummies in 4 different coloured that you can mold into any shape you want, such as gummy bears! Now you can make gummy candies with your kids, or adults who are still a kid at heart!

These vegan Halloween cupcakes are both tasty and spooky! Nothing says Halloween like edible blood cupcakes to make a themed-party super easy and yet looks like you put a lot of effort.  Plus, everyone loves cupcakes – right? Right. Feel free to add extra decor to add more spooky things to your Halloween cupcakes.

Okay so adults deserve to have as much fun on Halloween as kids and this recipe idea is for adults, although you could take away the alcohol to make it kid-friendly! This easy vegan Halloween punch recipe is your standard prosecco and orange liquor base, with fruity notes and floating garnish, but the ice, now that is the fun part. All you need is some water and a plastic glove to make five fingers float in your boozy cocktails.

You can't celebrate Halloween or Fall without vegan pumpkin recipes! Everyone's vegan Halloween recipes were always missing breakfast items, so I thought I would include my delicious Pumpkin Spice Pancakes! Based on my classic vegan pancake recipe, these pumpkin spice pancakes are the autumnal cousin of the classic fluffy breakfast dish.

My vegan chocolate milkshake brings all the boys to the yard, and they're like, where's my Halloween candy? Sorry I had to make that reference. Anywho, this vegan chocolate milkshake is EXTRA AF and I love it! It's perfect for a movie night in with your partner or friends! You can basically top it with all your fave vegan Halloween candy like I made decorated mine with dairy-free peanut butter cups, kettle popcorn, dairy-free whipped cream and Twizzlers for straws.

Reese's Peanut Butter Cups were my all-time favourite chocolate treat growing up and so years ago I made a vegan version that still holds up to this day, and you can make them in any size you want! All you need are 6 ingredients and cup molds to pour your chocolate/peanut in and refrigerate to harden. These are great for Halloween parties or just to eat on your own!

Looking for more easy vegan Halloween snacks for you to have the perfect scary movie night? This vegan chocolate covered popcorn recipe is coated in salted dark chocolate and vegan white chocolate for a movie night in, a Halloween party snack to bring, or if you're craving salty and chocolate goodness!

Okay, ONE MORE pumpkin recipe! The pumpkin is an iconic Halloween symbol and delicious vegetable to consume around Halloween and in case you wanted a Halloween cupcake recipe that didn't involve edible blood, I figured I would top off my easy Vegan Halloween Recipes round-up with my tasty (and cute!) Pumpkin cupcakes with pumpkin spice frosting!
This vegan bounty bars recipe uses 6-ingredients to make homemade bounty bars… but vegan! These are super easy to make, can be frozen to last long, and way better than the non-vegan ones at the store.

8+ Vegan Halloween Recipes
Looking for vegan recipes for Hallowen? I've combined the best Vegan Halloween Recipes to keep everyone happy during this spooky holiday.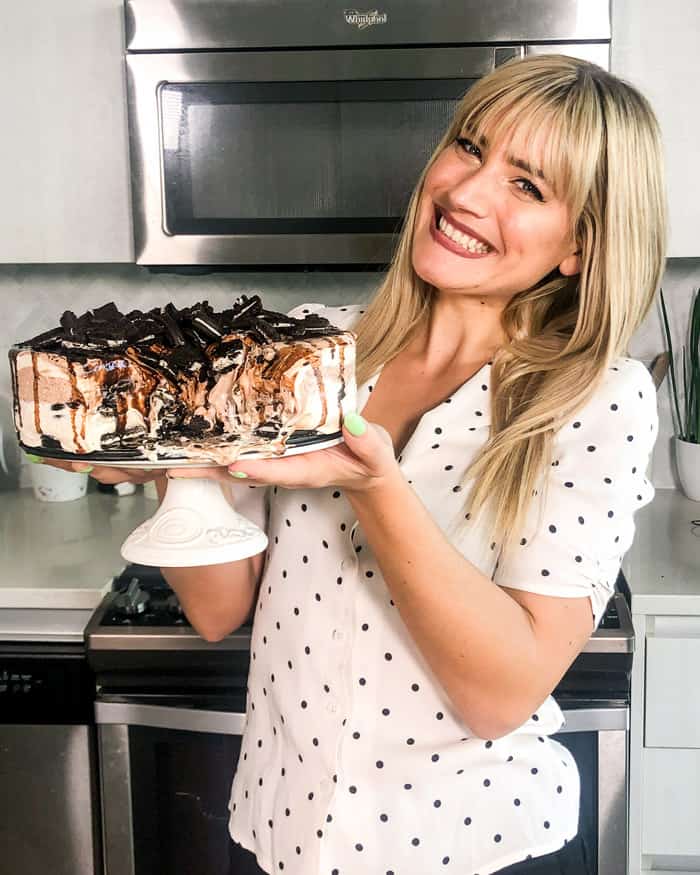 Hey, I'm Candice & welcome to The Edgy Veg! I veganize popular food recipes for vegans, plant-based diets, eco-conscious eaters & people who are trying to eat more plants over… y'know animals or by-products of animals. I hope you enjoy this tasty vegan recipe!
Want more vegan chocolate recipes? Check out these recipes:
___________
___________
Help Share these Easy Vegan Halloween Recipes!
Click Here To Pin On Pinterest