Halloween Punch with a Severed Hand VEGAN
Halloween is a fun holiday for adults too. We dress up like our favourite Internet memes, superheroes and ghouls, buy big bags of candy for ourselves and party until the sun rises. Halloween isn't juts for kids, and chances are you are either hosting a spooky soiree or attending one. Since it's impolite to show up empty-handed, and as a host, it's important to have a fun conversation piece – I recommend this classy but eerie severed hand punch.
The punch is your standard prosecco and orange liquor base, with fruity notes and floating garnish, but the ice, now that is the fun part. All you need is some water and a plastic glove to make five fingers float in your guests boozy cocktails.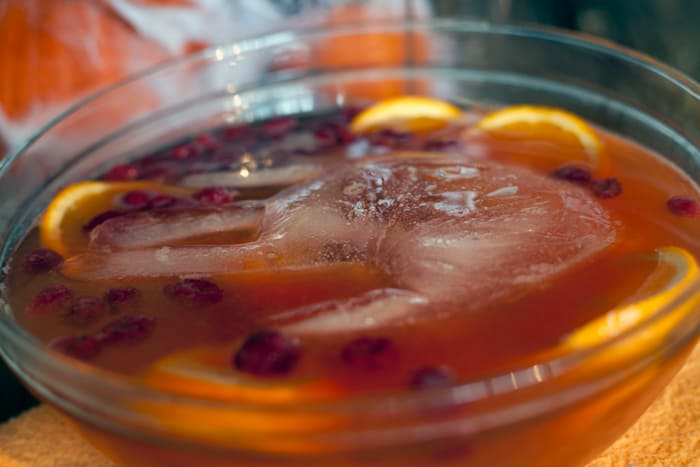 Halloween Punch Recipe: Severed Hand Punch
This is your standard party punch with an Edgy Veg twist and spooky presentation. Nothing says Happy Halloween quite like a frozen ice hand floating in your cocktail.
Cuisine:
Holiday Vegan Vegetarian
Ingredients
1 bottle sparkling wine, Champagne or Prosecco
3 cups cranberry juice, pomegranate or cherry juice
2 cups orange juice
1 orange, sliced
1 cup raspberries
juice of 2 limes
¼ cup Cointreau or orange liquor + more to taste
Plastic or latex glove (make sure there they aren't the kind with a powdery film)
Instructions
To make the frozen hand wash a disposable glove then fill with water and tie or seal with a elastic band.
Lay flat and freeze until hard. This should take roughly 3-5 hours, but overnight is best.
Stir together all ingredients, but the sparkling wine. Keep chilled until ready to serve.
When ready to serve, add the sparkling wine.
Remove hand from freezer and float it in the punch bowl for a spooky effect.
You can add some vegan grenadine for added spookiness.