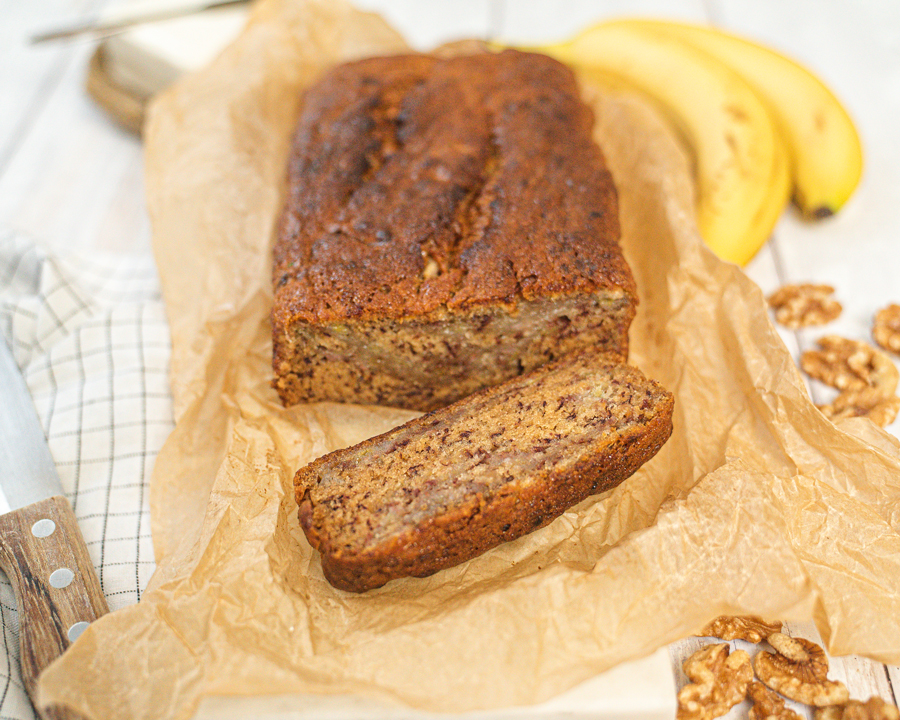 How to make Vegan Banana Bread?

Vegan Banana Bread Recipe
Have you ever bought a bundle of bananas that you couldn't finish within the time frame that it went brown and now you have no idea what to do with them? Fear no more, I have perfected the best Vegan Banana Recipe that you might just leave the bananas to brown on purpose.
So don't you dare throw those away! We are making banana bread. Vegan.
Banana bread is such a versatile loaf of bread, you can eat it anytime as a simple snack or dress it up with some peanut butter and jelly for a sweet breakfast. How about, a slice of banana bread lightly toasted with some vegan butter, maple syrup and vegan eggs? French Banana Toast.
Alternative Ways to make this recipe:  
You can customize your banana bread by adding chocolate chips, walnuts or any other topping you love to your banana bread! This is the perfect bite of sweet, moist, and irresistible. After making this recipe, and you still have more bananas left, check out my Biscoff Banana Bread.
As soon as your bananas go brown, try this quick and easy vegan recipe is the staple treat to have with your morning or midday coffee. In other words, no need to pay a premium for a Starbucks banana loaf ever again.

Vegan Banana Bread
Now, how do we make banana bread? It is super simple. This crispy on the outside, soft on the inside recipe takes less than 15 minutes to make. First, you want to prepare the dry ingredients and the wet ingredients separately.  Second, pour the dry ingredients into the wet ingredients, mix until smooth, then place it on a pan to bake for about an hour. Finally, let the bread cool for about 10mins and you are ready to enjoy some hot and fresh homemade vegan banana bread straight out of the oven.

How many servings does this make?
This recipe makes apprx. 8-10 slices depending on how you cut your slices. You can alternatively pour the batter into a muffin tin, bake for 25 minutes for 12 banana muffins.
How long will this last?
Banana bread will last 4 days tightly wrapped and sealed on your countertop at room temperature.

INGREDIENTS FOR BANANA BREAD (VEGAN):
KITCHEN EQUIPMENT:
Vegan Banana Bread
This crispy on the outside, soft on the inside recipe takes less than 15 minutes to make
Instructions
Preheat oven to 350F, place the oven rack into the center and line a 9x5x3 bread pan with parchment paper.
In a medium-sized bowl whisk together flour, baking soda, and salt.
In a second bowl, cream together mashed bananas, sugar, yogurt, margarine, or oil and vanilla with a wooden spoon, hand mixer, or stand mixer.
Fold the banana mixture into the flour mixture until the batter just comes together. Do not overmix.
Transfer the batter to the lined loaf pan, and smooth out the top.
Bake for 60-65 minutes, or until a tester (like a toothpick) inserted in the center comes out clean.
Place the loaf (still in the pan)onto a wire rack, and allow it to cool completely.
Serve on its own or with vegan butter
Nutrition Information
Serving size:
1 slice
Calories:
208
Fat:
4.9g
Carbohydrates:
38g
Sugar:
20.3g
Fiber:
1.7g
Protein:
2.8g
Hey welcome to The Edgy Veg – we veganize popular food recipes for vegans, plant-based diets, eco-conscious eaters & people who are trying to eat more plants over… y'know animals or their by-products. We hope you enjoy this tasty vegan recipe!
---
Looking For More Vegan Pastry Recipes?
Made this recipe? Let me know what you think by leaving a ★★★★★ star rating & comment below. It truly helps me & I really appreciate any support! Feel free to share your food photos on social and tag me @edgyveg so I don't miss it!