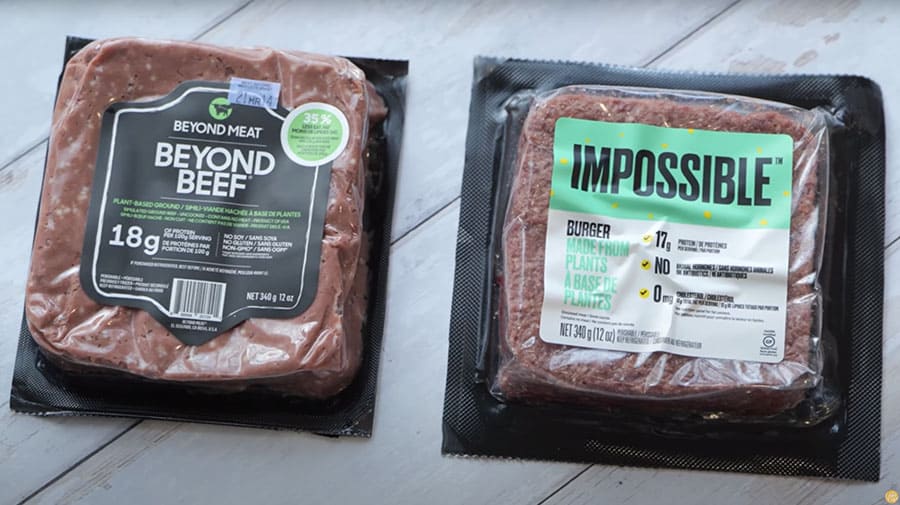 Beyond Meat & Impossible Foods Comparison
My team and I put beyond meat vs impossible burgers to the test. We compared how each is made, the pros and cons, their flavours, how realistic they taste to meat, and did a blind taste test! Which plant-based burger will reign supreme? You'll have to wait to see how they compare!
Both Beyond Meat and Impossible Foods are incredible products that are a huge step in the right direction for the future of plant-based eating! I buy both, I eat both, I think they are incredible products. This comparison was so fun to really break them down on a variety of levels and I have nothing but positive things to say about both companies.
In Canada, Beyond Meat is more easily accessible and is served at more fast-food chains. Impossible is newer on the scene where I live but is quickly building momentum and being served on more menus.
Related News: New Beyond Burger 3.0
Ingredients and Nutrition
Beyond Meat vs Impossible Foods
As far as the macros go, these products are so similar. The fat, protein and minerals are all in line with each other. That isn't to say that there aren't key differences… some of which may be important to you and your dietary needs.
Servings of both products are just under 300 calories each, about 20g of protein, nearly 400mg of sodium. 
Organic
The Impossible Burger contains mainly organic ingredients while Beyond uses conventional ingredients. 
GMO
The Beyond Meat burger is strictly non-GMO, whereas Impossible Foods uses genetically modified ingredients that contain glyphosate, causing recent backlash from some consumers. Glyphosate is a herbicide that has been used in the US since the 1970s. They also use a genetically modified heme. 
Ingredients
The Impossible burger is fortified with more minerals and vitamins than Beyond Meat. The white flecks in Beyond Meat and Impossible that act as fat are made from coconut oil and sunflower oil. Beyond meat also has cocoa butter in the "fat" component.
Protein
The protein in Beyond Meat is mainly derived from peas, mung beans, and rice protein. Impossible gets its protein from mostly soy and potato protein.
Heme
The biggest difference to me is how the heme is derived in both products. Heme (also spelled "haem") is the iron and iron flavouring used in plant-based meat substitutes to give the flavours traditionally associated with meat. Impossible Foods use a plant-based heme. It is made from genetically modified yeast that they created to mimic the taste of iron or blood. The way Beyond Meat "bleeds" is from beet juice, it doesn't really change the flavour of the product, it is more for colour. 
Size and Price
Beyond Meat vs Impossible Foods
Package Size
The standard packaging of both Beyond Meat and Impossible Foods vegan ground meat is 340g.
Cost (in Toronto, Canada)
Where I have found them available, Impossible Foods retails for $11.99 but is often on sale for $7.99. In the same store, Beyond Meat retails for $9.99 and can be found at a discount for as little as $6.99.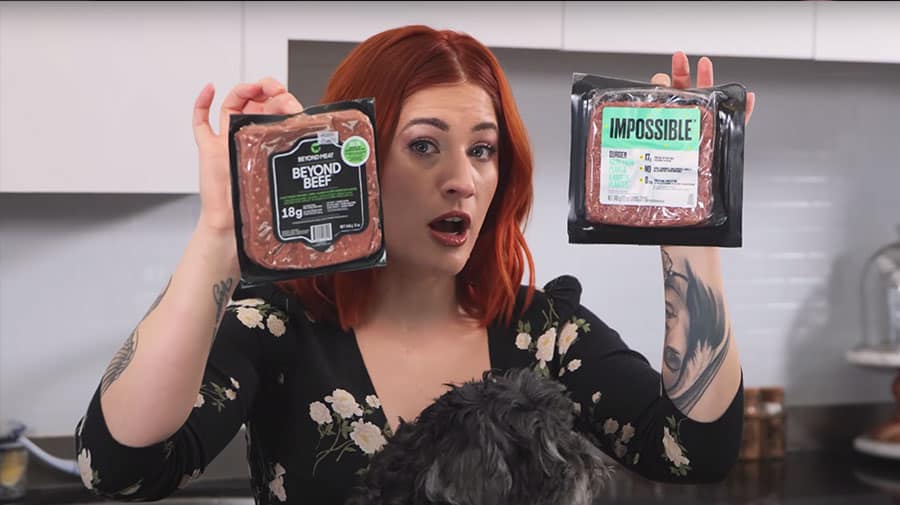 Certifications
Beyond Meat vs Impossible Foods
Beyond Meat
Beyond Meat is certified Vegan, but there is no indication if it is Halal or Kosher. 
Impossible Foods
Impossible Foods is not yet certified by the Vegan Action Foundation because of the need for they heme to be tested in lab rat studies in order to be able to be sold by the FDA. Every ingredient used in mainstream food needs to undergo these tests. It is certified Halal and Kosher
Appearance and Flavour
Beyond Meat vs Impossible Foods
Raw Appearance
When looking at both products in their raw, in the package state, Beyond is browner in colour while Impossible is redder. Beyond Meat has more white flecks, which turn into melted oil (fat) when cooking, while Impossible has less of these white bits. The raw texture of Beyond is more like a paste, while Impossible has a crumbly texture in the package. To me, Impossible looks more like animal-derived ground beef.
While Cooking
I cooked both of these burgers in 4 oz patties on medium-high heat for 4-5 minutes per side on a cast-iron skillet. Immediately, Beyond Meat lets out oil faster than Impossible. Once flipped, they both have a nice browning or caramelization that beef burgers would have. Beyond Meat does not change colour as much as the Impossible patty.
Cooked Appearance
Both patties were cooked and served the same way. I added a slice of my favourite vegan cheese to each and topped the bun with ketchup, mustard, lettuce and tomato. Once cut in half, Impossible has more of a "medium-rare" appearance with pink in the middle and brown on the edges. The Beyond burger looks more or less the same all the way through. The Beyond patty keeps its more solid texture while Impossible looks more crumbly. To me, the Impossible patty looks more like an animal-based beef burger than Beyond. 
Flavour (our opinions)
Because our team makes lots of recipes using these products and tested most of the fast-food chains that carry these products, we can almost immediately taste the difference. We all agreed that they are both outstanding products that we would reach for time and time again, but there are key differences. Our team members all agreed that Impossible had more of a convincing "beef" flavour, mind you, we have all been vegans for a minimum of 1 year. Beyond Meat has a milder flavour without the acidic iron taste.
Both companies have confirmed to me that their product can be consumed raw, but we have not ventured to try them in that state yet.
Please let me know which is your favourite in the comments and if you'd like to see me put any other products head to head!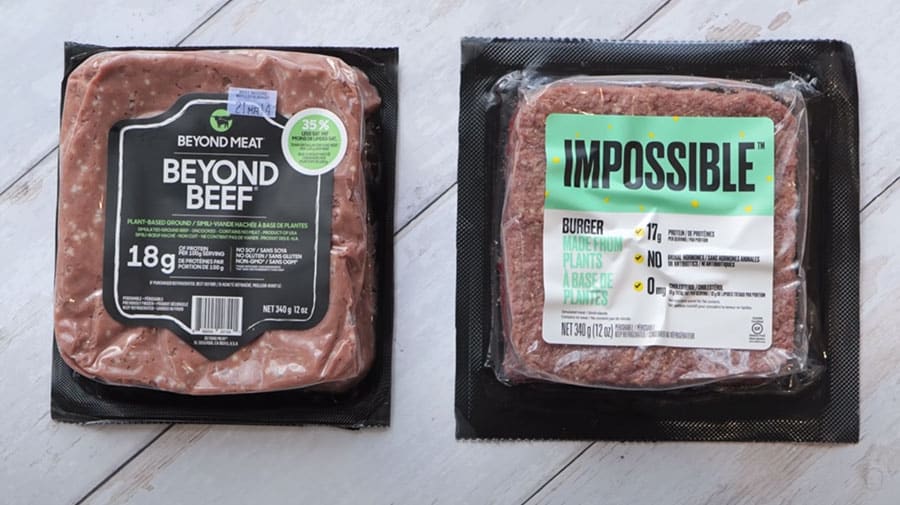 ---
Hey I'm Candice aka The Edgy Veg – I veganize popular food recipes for vegans, plant-based diets, eco-conscious eaters & people who are trying to eat more plants over… y'know animals or their by-products. I hope you enjoy this tasty vegan recipe!
---
Looking For Vegan Burger Recipes?
Made this recipe? Let me know what you think by leaving a ★★★★★ star rating & comment below. It truly helps me & I really appreciate any support! Feel free to share your food photos on social and tag me @edgyveg so I don't miss it! 
Share My Recipe on Pinterest!