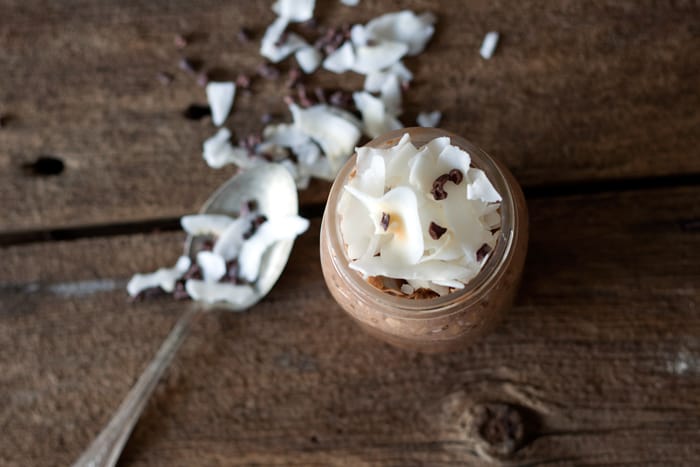 Overnight Oats Recipe : Brownie Batter VEGAN
If you're not a morning person (I'm not) you mostly like don't have the time or the energy to make a healthy breakfast before rushing out the door. When I was working a normal, boring 9-5 I was always late, and never ate breakfast, mainly, because I didn't have the time to whip anything up before leaving the house.
Say hello to overnight oats. Overnight oats are an easy and delicious way to plan and prepare healthy breakfasts for an entire week, and take almost no time to make. It's filling, and packed with protein and good fats. Having a breakfast high in protein can optimize your brain's ability to send messages to the rest of your body, which will help you, wake up, and can ward off hunger– keeping you energized until lunch.
I mix all my ingredients together, place it in the fridge at night, and just forget about it until morning. I love chocolate, so this is my favourite recipe, but you can change up the ingredients, adding fruit, nuts, and spices as you see fit.
For this vegan overnight oats recipe I used the chocolate protein powder by Tao Nutrition, an award winning gluten free and vegan protein powder that won't cause bloating and isn't full of chemicals. Want to try Tao Nutrition? Use the promo code: edgyveg and get a 10% discount on your order!
Overnight Oats Recipe : Brownie Batter VEGAN
EASY Brownie Batter overnight oats made with simple, healthy ingredients that can be made in only 5 minutes. Healthy, vegan, gluten free and so yummy.
Notes
This recipe will make enough for two breakfast portions.
Want more vegan breakfast options? Check out my favourite vegan breakfast recipes…