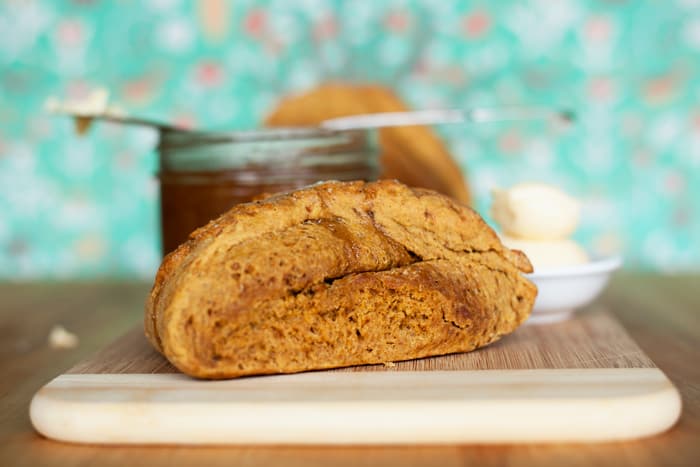 Welcome to pumpkin season, a yearly social event that takes place the 3 months directly after August, and lasts until right before Christmas. During this time we as a society try to squeeze pumpkin, cinnamon, and pumpkin spice into as many meals, snacks and beverages as humanly possible. This is the time of year when I begin to get sick of pumpkin. Due to the nature of conducting many many many pumpkin infused food experiments, one does begin to resent the squashy-flavour all together.
For me, fall can be quickly summarized as a quiet couple hours a day of writing next to my open window, sipping a hot cup of coffee at 2 an in the afternoon, while enjoying a sweet homemade treat. With the sun heating my condo like a greenhouse, the brisk breeze that comes through the open window is welcomed. This is the time I write these recipes and blogs for you.
Today, I nibble on the only pumpkin-infused food left in my home, the pumpkin scone. This moist, slightly sweet scone is lovely on it's own, but can also enjoyed with some vegan butter, apple butter or your favourite jam. I like to heat it a bit, and watch the butter melt on the hot scones surface, Mmmmmm.
These are a great hostess gift to bring to the loved one hosting your Thanksgiving, or Christmas dinner. Just toss them into a basket with your favourite topping and voila! A gift even a Stepford wife would envy. These also make a great on-the-go breakfast, or can easily be whipped up if you or your loved one are feeling carby and snacky. Let me know how you like them, and what other holiday/fall recipes you would like to see on the blog!
Vegan Pumpkin Scones
Learn how to make easy fall-inspired pumpkin scones using all natural, vegan ingredients with this vegan pumpkin scone recipe. These vegan pumpkin scones are super easy to make and way better than Starbucks! Pumpkin Pie may be the most popular pumpkin dessert , but you can't dip that into your almond latte now can you?
Recipe type:
Thanksgiving
Instructions
Preheat your oven to 425 degrees F.
In a large bowl, whisk together dry ingredients until well mixed.
Transfer to a food processor. Or stand mixer.
In a smaller bowl, whisk together pumpkin, cashew cream and egg replacer until well combined, and set aside.
In the food processor or mixer, slowly add/pulse in coconut oil into the dry until the mixture resembles fine crumbs.
If you are using a food processor, transfer the mixture back into your large bowl. With your hands, fold the wet ingredients into the dry ingredients. Knead until they are well combined.
If using a stand mixer, switch out the whisk for the knead attachment, and gently knead the wet ingredients into the dry ingredients. Knead until they are well combined.
The dough will be slightly wet, but should not be sticky. If it is too sticky, just sprinkle a little bit of flour into the dough until you have the right consistency.
On a floured surface, form dough into a 1.5-inch thick oval-rectangle.
Using a pizza cutter, or a very long kitchen knife, slice the dough through the middle. Then slice through the middle of each piece, so you end up with 4 equal-sized squares.
Cut each piece again diagonally to create 8 triangular slices of dough.
Pull the triangles apart gently, and place onto lined baking sheet, leaving about ½ inch space between each soon-to-be scone.
Place in oven and bake for 15 to 20 minutes, or until the scones turn a golden-brown colour, and a toothpick comes out clean when inserted.
While you are waiting for your scones to bake, whisk together the ingredients for the glaze.
When ready, remove the scones from the oven and place on a cooling rack.
While scones are still warm drizzle or brush the scones with your glaze.
Do no soak the scones; just add a little bit to each for shine and hint of sweet when you bite into them.
Notes
If you do not have a stand mixer or processor, you can cut in the fat with a pastry cutter or a fork.