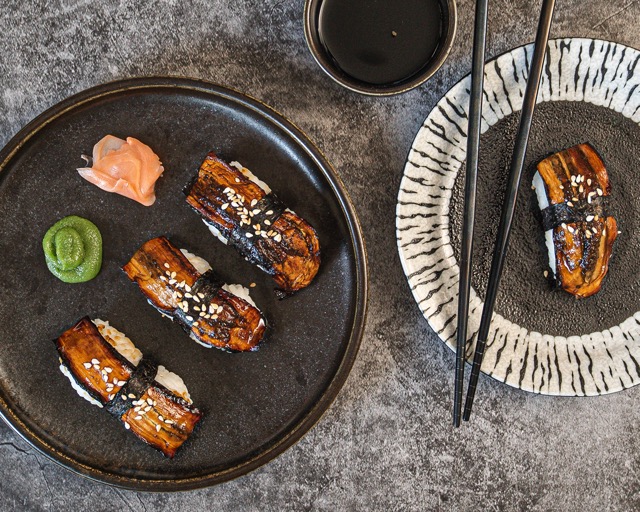 How to Make Vegan Sushi – Eggplant Unagi Nigiri

Vegan Unagi Nigiri
Unagi is known for its smokey, sweet taste with a rich fatty flavor that perfectly melts in your mouth. The fun thing about creating a vegan version is that no fish were harmed in the process and you can get the same flavor palette you love and enjoy in an unagi nigiri! Grab an eggplant because you can make this dupe in less than 30mins and still satisfy your sushi cravings.
Related Recipe: Watermelon Sushi Tuna
 Pro Tips:
You can omit the sake in this recipe and add 3 tbsp of mirin or rice vinegar instead.
You can replace the cane sugar with white sugar if you don't have cane sugar (something dissolvable is ideal).
If you cannot find mushroom seasoning for this recipe, you can mimic the umami flavor using vegan oyster sauce, dried mushrooms, miso, or sun-dried tomatoes.
Other Recipes to pair with this recipe:
Vegan Flaked Salmon – What is a complete sushi meal without some salmon on the side? This is a no-brainer recipe to pair with this delicious nigiri!
The Best Vegan "Shrimp" Tacos – It's a seafood haven and we are throwing in some "shrimp" tacos with some heart of palms.
Vegan Scallops & Garlic Butter Sauce – Everyone loves this infamous recipe because sushi is not complete with some mushroom scallops to bring out the umami flavors. Now this is a fiesta!

INGREDIENTS:
KITCHEN EQUIPMENT:
How to Make Vegan Sushi - Eggplant Unagi Nigiri
who siad you have to give up on sushi just because you went vegan? This delicious unagi nigiri sushi dish is one to remember to satisfy those sushi cravings. You can thank me later~
Ingredients
2-3 cupssushi rice
2 Chinese eggplants, peeled & ends removed salt, as needed
¼ cup + 2 tbspsoy sauce
3 tbsp sake
3 tbsp mirin or rice vinegar
¼ tsp mushroom seasoning (optional)
3 tbsp cane sugar
nori seaweed, cut into thin strips
toasted sesame seeds
sliced green onion, to garnish
extra sauce, optional
Instructions
Cook your sushi rice according to the instructions on the package.
Preheat oven to 350F and line a baking sheet with parchment paper or a silicone baking mat.
Slice the eggplant lengthwise, into ¼inch thick long slices.
Sprinkle salt over both sides and let them sit for about 20 mins.
Rinse each eggplant and pat dry completely with a clean kitchen towel or paper towel.
In a small pot, whisk together soy sauce, sake, mirin, mushroom seasoning and sugar. Bring to a boil and then reduce heat to a low simmer. Simmer until the sauce begins to thicken, and remove from heat.
Brush each eggplant slice with the sauce and bake for about 10–12 minutes on each side.
During the last 5 minutes of baking, warm up the remaining sauce.
To assemble:!
Scoop out about 2 tbsp of rice into your hand and form it into an oval shape.
Cut the eggplant into 4-5-inch pieces, and brush each piece with a small amount of sauce.
Add 1 eggplant piece on top of each rice ball, brush with sauce, and wrap with strips of seaweed.
Garnish with roasted sesame seeds and green onion if desired and serve with wasabi & soy sauce/extra eel sauce on the side.
Hey welcome to The Edgy Veg – we veganize popular food recipes for vegans, plant-based diets, eco-conscious eaters & people who are trying to eat more plants over… y'know animals or their by-products. We hope you enjoy this tasty vegan recipe!
---
Looking For More International Vegan Recipes?
Made this recipe? Let me know what you think by leaving a ★★★★★ star rating & comment below. It truly helps me & I really appreciate any support! Feel free to share your food photos on social and tag me @edgyveg so I don't miss it!