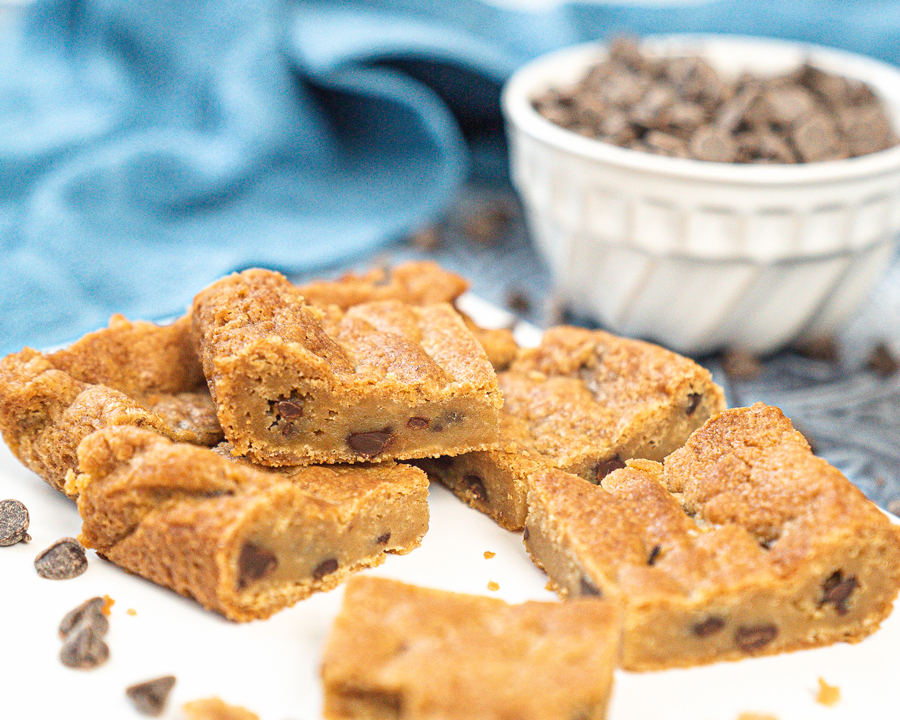 Easy Vegan Chocolate Chip Cookie Squares Recipe

These vegan chocolate chip cookie bars are a perfect dessert if you can't decide between cookies and brownies! This is actually a very special recipe by my lovely assistant, Molly. If you don't know, Molly has been working with me since early 2019 and in our recent YouTube video, linked below, Molly picked recipes for me for a full day of eating! I was so happy with the recipes she shared that I wanted to feature them here so you can all try them yourselves. I hope you enjoy them as much as I do!
Vegan Cookie Bars Recipe
Hi guys, it's me, Molly. This recipe came about from a frequent activity I call "freestyle baking".  When I am craving something sweet, I will feel inspired by whatever I see in the kitchen and create a new recipe I have never had before. It often ranges from cookies or a loaf. This time, I created a hybrid version of the classic blondies and chocolate chip cookies. I hope you love it as much as I do!
Are there other ways to make it? I encourage you to add any of your preferred mix-ins, my favourites are chopped chocolate-covered pretzels, peanut butter swirl, or anything you happen to have and you want to add to the freestyle.
This is a simple vegan dessert recipe that I hope you'll really love!
Vegan Cookie Bars
Chocolate chip cookies were one of the first recipes I learned to cook. The inspiration came from my mother who was not so gifted baking and my father who enjoyed snacking on sweets with me in the afternoons. One day, I had a sweet tooth craving and I couldn't decide if I wanted chocolate chip cookies or brownies, so I came up with these chocolate chip cookie bars. A no-fail unique sweet treat.
This recipe is so easy to make, mix the butter and sugar, add vegan egg and vanilla, mix the dry ingredients then fold in the chocolate chips. Finally pour evenly in a loaf pan and bake until golden and done. Slice and enjoy!
How many servings does this make?
This recipe makes about 8-10 cookie bars, but you can easily double or even triple the recipe and bake it in a larger dish.
Can I make it ahead of time?
You can make the cookie dough batter a day or 2 beforehand, cover and leave it in the fridge until ready to bake. After baking, these will last tightly wrapped in the fridge for up to 4 days.
INGREDIENTS FOR CHOCOLATE CHIP COOKIE BARS (VEGAN):
KITCHEN EQUIPMENT:
Chocolate Chip Cookie Bars
These vegan chocolate chip cookie bars are a perfect dessert if you can't decide between cookies and brownies!
Instructions
Preheat oven to 350F.
In a medium-sized mixing bowl, whisk together butter and sugar.
Mix egg replacer then add.
Add vanilla and mix.
Mix flour, baking soda, baking powder and salt.
Add to wet ingredients and mix to combine. Be careful not to overmix.
Fold in chocolate chips.
Line baking dish or loaf pan with parchment paper.
Spread batter evenly into a small baking dish or loaf pan.
Bake for 20-25 minutes until the edges begin to brown and a toothpick is inserted into the centre and comes out clean.
Allow to cool completely before cutting into 8-10 squares.
Nutrition Information
Serving size:
1 serving
Calories:
237
Fat:
10.4g
Carbohydrates:
34g
Sugar:
24.2g
Fiber:
0.7g
Protein:
1.5g
Hey welcome to The Edgy Veg
– we veganize popular food recipes for vegans, plant-based diets, eco-conscious eaters & people who are trying to eat more plants over… y'know animals or their by-products. We hope you enjoy this tasty vegan recipe!
---
Looking For More Vegan Dessert Recipes?
Made this recipe? Let me know what you think by leaving a ★★★★★ star rating & comment below. It truly helps me & I really appreciate any support! Feel free to share your food photos on social and tag me @edgyveg so I don't miss it!