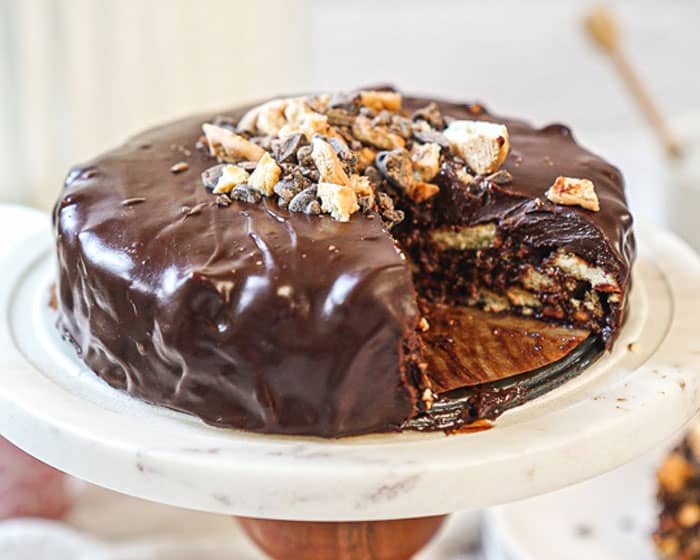 I'm going to show you how to make an easy and delicious no-bake chocolate cake in 30 minutes without an oven that's also dairy-free and vegan!
This no-bake cake recipe uses 5 simple and accessible ingredients and is the perfect dessert for everyone! This cake is also foolproof, so if you struggle with cake decorating or have bad luck with baking, this recipe is all for you.
Related Recipe: No-Bake Chocolate Cookies
No-Bake Chocolate Cake
I first heard about this type of no-bake chocolate biscuit cake because it is apparently the Queen of England's favourite dessert. Clearly, the people who make her sweets know a thing or two because this take on her favourite cake is such a unique and sweet chocolate cake. 
All you need to do to make this vegan recipe is cream together the ingredients and add broken cookies, then chill in the fridge and whip ganache together to spread over the cake. Then slice and serve. It's easier than it sounds!
Related Post: No-Bake Chocolate Oreo Icebox Cake
INGREDIENTS FOR NO-BAKE CHOCOLATE CAKE (VEGAN):
KITCHEN EQUIPMENT I USED:
Full Recipe Down Below
No-Bake Chocolate Cake
I'm going to show you how to make an easy and delicious no-bake chocolate cake in 30 minutes without an oven that's also dairy-free and vegan!
Ingredients
Cake:
Ganache:
Instructions
Grease and line a 6-inch springform pan with parchment or cling film.
In a stand mixer or a bowl with a hand mixer, cream together with syrup and vegan butter or margarine.
Melt the ⅔ cups of chocolate chips in the microwave at 30-second intervals.
Pour melted chocolate over the vegan butter mixture, and mix thoroughly.
Stir in 2 tbsp coconut cream and broken cookies. Stir until everything is well coated in chocolate.
Add chocolate/cookie mixture to the prepared springform pan and press it with your wooden spoon or spatula to make it flat and even across the top.
Chill the cake in the fridge for 30 minutes.
Meanwhile, place ¾ cup of chocolate chips into a bowl, and set aside.
Over medium heat, bring the coconut cream to a simmer. Remove from heat immediately.
Pour the warm cream over the chocolate in the bowl, and stir to melt the chocolate. Congrats! you just made ganache!
Place a wire cooling rack inside a baking tray.
Remove the cake from the springform pan and place it onto the wire rack.
Gently pour the ganache over the cake, making sure the sides are coated.
Allow the cake to set and cool, before transferring it to a cake stand or dish.
Decorate as desired with shaved, curled or chopped chocolate, and/or chopped cookies.
Hack it! Try stirring in marshmallows, dried fruit or nuts for a fun and tasty twist!
Nutrition Information
Serving size:
1 serving
Calories:
431
Fat:
27g
Carbohydrates:
38g
Sugar:
19.1g
Fiber:
3.2g
Protein:
4g
---
Hey I'm Candice aka The Edgy Veg – I veganize popular food recipes for vegans, plant-based diets, eco-conscious eaters & people who are trying to eat more plants over… y'know animals or their by-products. I hope you enjoy this tasty vegan recipe!
---
Looking For More Vegan Cake Recipes?
Made this recipe? Let me know what you think by leaving a ★★★★★ star rating & comment below. It truly helps me & I really appreciate any support! Feel free to share your food photos on social and tag me @edgyveg so I don't miss it! 
Share My Recipe on Pinterest