No-Bake Chocolate Cake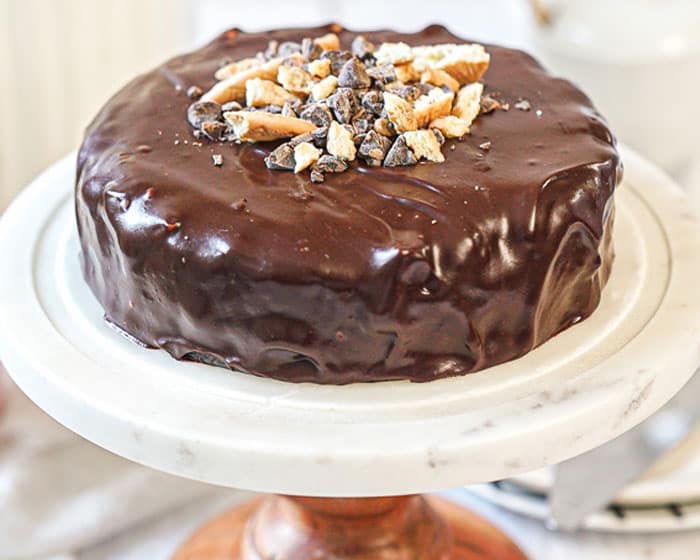 Grease and line a 6-inch springform pan with parchment or cling film.
In a stand mixer or a bowl with a hand mixer, cream together with syrup and vegan butter or margarine.
Melt the ⅔ cups of chocolate chips in the microwave at 30-second intervals.
Pour melted chocolate over the vegan butter mixture, and mix thoroughly.
Stir in 2 tbsp coconut cream and broken cookies. Stir until everything is well coated in chocolate.
Add chocolate/cookie mixture to the prepared springform pan and press it with your wooden spoon or spatula to make it flat and even across the top.
Chill the cake in the fridge for 30 minutes.
Meanwhile, place ¾ cup of chocolate chips into a bowl, and set aside.
Over medium heat, bring the coconut cream to a simmer. Remove from heat immediately.
Pour the warm cream over the chocolate in the bowl, and stir to melt the chocolate. Congrats! you just made ganache!
Place a wire cooling rack inside a baking tray.
Remove the cake from the springform pan and place it onto the wire rack.
Gently pour the ganache over the cake, making sure the sides are coated.
Allow the cake to set and cool, before transferring it to a cake stand or dish.
Decorate as desired with shaved, curled or chopped chocolate, and/or chopped cookies.
Serving size:
1 serving
Calories:
431
Fat:
27g
Carbohydrates:
38g
Sugar:
19.1g
Fiber:
3.2g
Protein:
4g