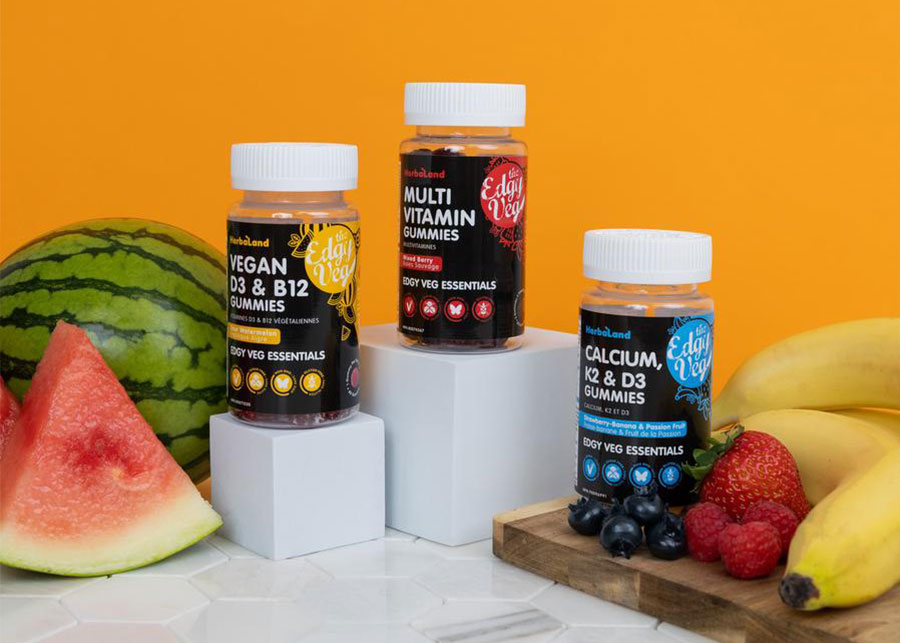 Herbaland & Edgy Veg Gummy Vitamins
This is a huge personal milestone for me, Herbaland and I collaborated on the Edgy Veg Essentials Bundle and this is officially the first Edgy Veg Branded product. I couldn't have done this without my dedicated and supportive audience. I am so grateful for this opportunity and I can't wait to keep the momentum coming to bring you even more products and content that I'm proud of. 
Herbaland has manufactured the Edgy Veg Vegan Essentials Bundle, a collaboration with The Edgy Veg (me). It contains 3 vitamins that help with the maintenance of health, primarily geared toward vegans. The vitamins are all in vegan gummy form and the flavours are: Multivitamin Mixed Berry, Calcium Strawberry Banana & Passionfruit, and my own limited edition creation D3 and B12 Sour Watermelon. The bundle also comes with a reusable produce bag, perfect for farmer's market or low-waste shopping. 
I personally use Herbaland vitamins to supplement my nutrition every day, especially taking the D3 and B12 consistently. I found Herbaland about 2 years ago when I was struggling to take vitamins in pill form and I was looking for a chewable, vegan option. Since then, they have sponsored my content and I have not strayed away from my Herbaland vitamin routine. I love Herbaland because their values align with my own. They are Canadian, completely vegan, and focus on sustainable practices. 
I am so excited that I had to opportunity to create the Edgy Veg Vegan Essentials Bundle with Herbaland and also create a limited-edition sour watermelon flavoured gummy based on my favourite childhood candy. This flavour is only available in the bundle and it is the first sour candy flavoured vitamin of it's kind. 
You can pick up The Edgy Veg Vegan Essentials Bundle at herbaland.ca for Canada and herbaland.com for US and use code

edgyveg20 for 20% off your order

. 
The bundle went on sale on November 8th, 2021 and will only last as long as supplies last. This is a limited-time product so be sure to get your hands on it while it's available and you have a chance to try the Limited Edition Sour Watermelon D3 & B12 vitamin. The bundle sells on Herbaland's official website for $50 Canadian or $45 USD.
The bundle is something I worked so hard on and kept a secret for months. I am thrilled to see the positive and supportive feedback I've already been getting and I can't wait to see how much everyone loves it once they recieve their bundle. I am so proud of this collaboration and I am so grateful for the opportunity. 
---
Hey I'm Candice aka The Edgy Veg – I veganize popular food recipes for vegans, plant-based diets, eco-conscious eaters & people who are trying to eat more plants over… y'know animals or their by-products. I hope you enjoy this tasty vegan recipe!
---
Looking For More?