Vegan Supplements To Support My Immune System
I've been vegan for 10 years now and have been using a variety of vegan supplements to support my immune system and stay healthy. Vegans know how important vitamin B12 is, but in a world where our soils are being depleted of nutrients and also living a busy lifestyle, I'm among the many to admit that somedays I know I'm not getting 100% of my daily recommendation of certain vitamins and minerals.
The vegan supplements I take, help me know I'm getting enough without adding all the foods I eat. But not just because I am vegan; MOST people do not get their recommended daily intake of vitamins and minerals.
Recipe To Try: Immune Boosting Beet Apple Juice
I think it's so important to get your vitamins, minerals, and antioxidants from whole foods, but I recognize personally that sometimes it's hard, especially for you and your partner, or your kids. Like, have you seen the list of essential vitamins and minerals? It's LONG, and unfortunately, some of us just don't have time to monitor if we're getting enough of every single vitamin and mineral.
That's where vegan supplements come in!
If you've been following for a while now, you'll know that I'm obsessed with candy and comfort food, and when I discovered that a Canadian company made vegan gummy vitamins, I was hooked! I had chewable vitamins when I was a kid (if you know, you know that ones I'm talking about), and pill form when I become an adult (if we can call me that,  LOL). But, I found hard to motivate myself to take a ton of pills daily and finding vegan ones, well that was even tougher.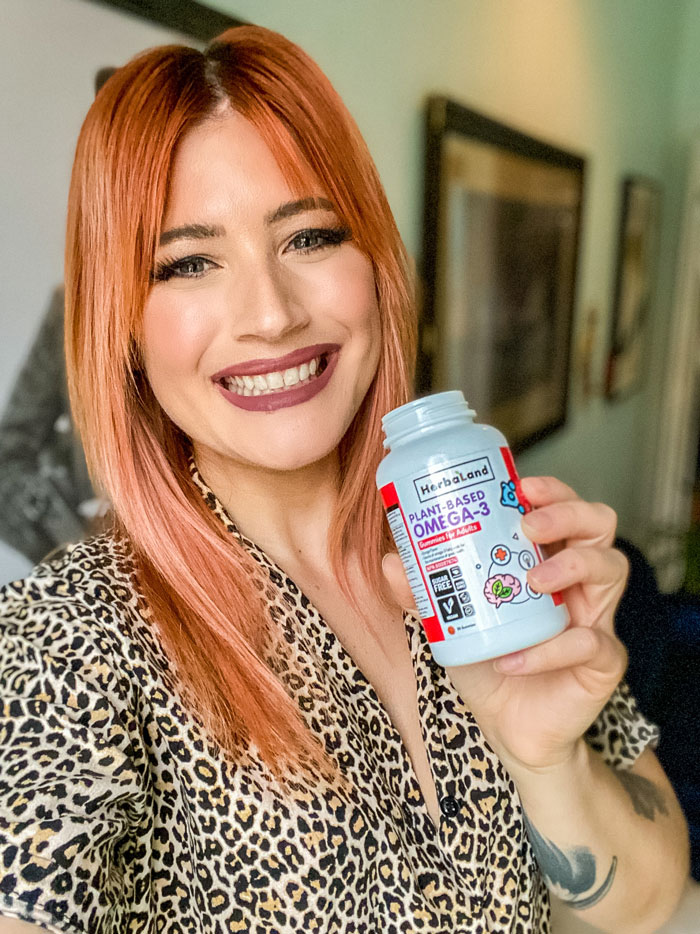 I first saw Herbaland in a health food store when I was looking for a vitamin D supplement. I live in Canada, and most Canadians DO NOT get their recommended amount, especially in the winter months. I specifically was looking for Vitamin D because my doctor told me it would help with my seasonal depression.  I was looking at a wall full of Vit D supplements, and when I saw a Vegan D3 and B12 from Herbaland that were gummies, I HAD to try them, who doesn't want to eat candy to be healthy? Amiright?
I posted about how much I loved them on Instagram, and then noticed my love for them. They sent me a care package of all their gummy vitamins to try! I felt like I was a kid again getting my vitamins from a piece of candy, but this time, this vitamin candy was using ingredients that were vegan, fairtrade, low to no sugar, non-GMO and free of allergens! Not to mention, they are a family-owned business in Canada that's hugely focused on inclusivity and sustainability! They are starting to use compostable packaging and have a line of vitamin gummies for Adults, Kids, Beauty and Sports!
I asked if I could somehow get my readers and followers a discount if they were interested in trying these vegan supplements and were able to give my Instagram followers 20% off their purchase!
PS: You can still use code EDGYVEG20 when you checkout on their website and get 20% off YOUR ENTIRE ORDER!
Vegan Supplements To Support The Immune System
After trialing a variety of vegan supplements, I found 7 tasty Supplements that I found were important for my body's immune system and overall health. Everyone's diets and bodies are different, so I recommend figuring out what vitamins you might benefit from and try to talk to your doctor. I recommend talking to your doctor about getting some blood work done to find out if you have any vitamin deficiencies.
Personally, I try to supplement when I can, with the following vitamins from Herbaland:
1. Multivitamin Gummy: This gummy is perfect to fill in the missing gaps of vitamins and minerals in our daily life. Herbaland's multivitamin has 13 essential vitamins and minerals including Vitamin A, Vitamin C, D3, Vitamin E, and Vitamin B. All the vitamins help support cell function and health, metabolic processes, and immune support
2. Vegan D3 & B12: With a multivitamin, this one is also a vegan essential! Vitamin D3 helps to support the immune system, maintain a positive mood, and boost daily energy. Perfect for the winter season or if you stay inside during the day. Herbaland's D3 is sourced from Lichen (non-animal source)! As many vegans know, B12 is essential to supplement and it helps with metabolic processes and blood cell formation.
3. Calcium & Vegan D3: Calcium & Vitamin D work well when they are consumed together. Even though I take a Vegan D3 & B12, I also take this one because I work indoors and especially need extra Vitamin D during the winter months. Combined with calcium, the duo helps the development and maintenance of bones and teeth. Plus D3 is so essential for the gloomier months to maintain energy and a positive mood.
4. Plant-based Omega 3: Omega 3 is important for our brain, heart, and liver health. Heraland's Omega 3 gummy contains ALAs sourced from flaxseeds.
5. Immune Plus: This is the holy grail gummy right now! If you're looking for a vegan supplement to help boost your immune system, definitely look into this one! This gummy has a strong combination of Vitamin C, Elderberry, and Echinacea to keep the immune system strong to keep you feeling your best.
Additional Vegan Supplements I love:
Acai Berry Twist: This gummy is rich in Anthocyanins and antioxidants which supports vision health, aids in digestive health, and boosts the immune system.
Vegan Collagen Booster: I'm really interested in vegan collagen and nutrients that can boost my skin's collagen naturally. This gummy is packed with Alma fruit, L-lysine, Vitamin A, and Vitamin C to boost your body's natural production of collagen. How it differs functionally from non-vegan collagen (marine or bovine collagen) is that it boosts collagen all over your body – in your skin, hair, nails, joints, and ligaments. Whereas, if you supplement with animal collagen, your body will direct it to where it needs it most, so you might not see the benefits you desire.
Here's more information about Herbaland, and why I choose them:
Herbaland Naturals is a gummy vitamin manufacturer based out of Richmond, BC, Canada. They started with humble beginnings in 2009 and now have grown to be the world's largest nutritional gummy producer! With all the growth, their values of sustainability and transparency have stayed the same. They source the best fair-trade and non-GMO ingredients. They believe that everyone should have access to easy wellness, so they make an effort to produce inclusive products that are vegan and gluten-free. Their mission aligns with ours here at The Edgy Veg, by making it a goal to spread wellness and happiness while minimizing our impact on the planet. Herbaland is Candice Approved!
Thanks so much to Herbaland for partnering and supporting The Edgy Veg! You can use code "EdgyVeg" for 20% off your order if you want to try any of their vegan supplements!