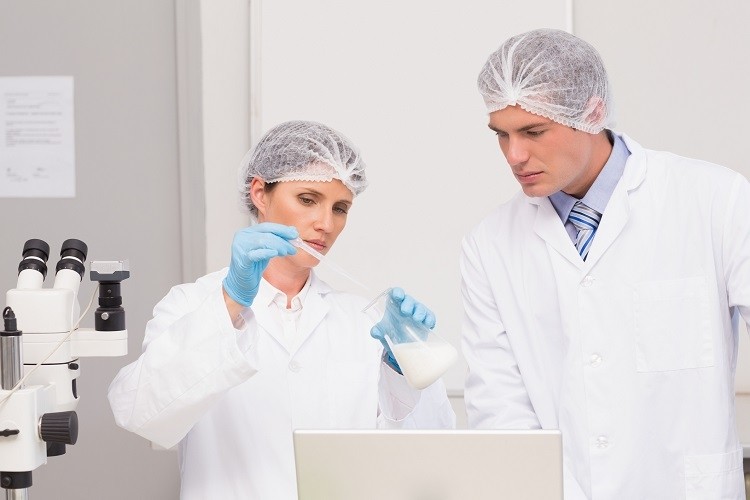 A Vegan's Opinion on Lab Grown Dairy
Hi I'm Candice,  if you are a frequent reader of this site you already know that! If this is the first time you've been here, hi! I am a vegan of 12 years, and make my living as a vegan recipe developer and content creator on YouTube, Instagram, Tiktok and well, here on this vegan food blog! As someone who has built a career in the vegan space, I am always interested in ways that food is evolving and changing to remove animals from this toxic system we find ourselves in today. In these opinion pieces, my goal is to get a conversation started and discuss the harder less cut and dry topics that often find themselves in our vegan community. 
I am often asked to share my opinion on controversial and ever-changing aspects of veganism and I am happy to share and contribute to the conversation. But before do that, let's get some things out there about me. I am an ethical and environmental vegan. I am not vegan because I don't like the taste of animal products or because I'm looking for a fully whole-foods, plant-based diet to better my health. I am vegan because I love animals, believe they are equal, and deserve rights as much as humans do, and so, I am against animal cruelty- full stop. All of my opinions will always be centred around that core value. The opinions shared here are my own and anyone is welcome to their own perspective on these new developments and whether or not they would feel comfortable participating in lab-grown animal products such as cell-grown dairy.
What is Lab-Grown Dairy?
The process of cow-free dairy goes by many names (just like the similar goal of making lab-grown meat): Imitation cow's milk, lab-grown dairy, clean milk, cell-based milk, cultured dairy, just to name a few common ones. The goal of researchers is to artificially reproduce the protein in milk to make a product that mirrors cow's milk and dairy products suitable to mass consumption, without the use of an actual living cow. 
In a reductive sense; Cow's milk is made of curds (casein) and whey. Yes, just like that rhymn about Miss Muffet. By recreating these two building blocks in a lab, using cultured cells from the milk of a cow, the goal here is have allow scientists to create dairy-based milk without using a living cow. This milk could be used to make all of the same dairy products we are used to, milk, cheese, yogurt, ice cream etc, but without having to farm and milk an a actual animal every single waking moment of their existence. As of right now, this milk product is made in a lab by combining yeast-fermented protein with water, micronutrients, and plant-based fats and sugars. As far as I can find in my research, this manufacturing process is entirely animal-free.
Great! Who is making it?
There a few companies funding, researching and perfecting this process (LIST SOME). But one that is doing this on a consumer-facing level already is Brave Robot. Brave Robot is an ice cream brand under the Urgent Company based in the US. They are making lab-grown dairy to produce synthesized dairy-based milk to use in their ice cream without the involvement of an actual cow! Their products are already available online and in large US grocery stores like Sprouts and Kroger. Hurahhh!! They have a line of ice cream and cake flavours, all using this animal-free technology. How exciting!
Related Post: Best Vegan Milk's For Each Purpose
Alternatives to Lab-Grown Dairy
At this point in my vegan journey, I have tried vegan alternatives, both homemade and store-bought for all of my favourite dairy products from before I was vegan. My arsenal of recipes and go-to products is refined and I love the products I have access to. I am also always innovating new ways to veganize my (and your) classic recipes. True vegan alternatives that are made with plant-based ingredients are not going anywhere as a result of new innovations with lab-grown dairy, and I will continue to reach for my plant-based vegan options when lab-grown options are widespread. With science working towards more animal-free solutions, we can still always rely on the vegan classics. In my opinion, this groundbreaking technology would give those folks that don't want to give up dairy an option to continue to enjoy their favourite foods without the cruelty to animals and destruction to our planet. It's a great place to meet in the middle for a more compassionate, and green world! It would also be suitable for people who are vegan for animal protection and environmental reasons who miss their favourite cheese or cream products. Not to mention, a great breakthrough for those who are lactose intolerant. 
My Thoughts
Would I eat meat again? I don't think so. Would I eat lab-grown dairy? Yes, I probably would. If these companies can create a way for these products to not involve harming any animal along the way- I would be tickled pink to have the baked brie and m mozzarella from my past! I think with meat products we've now create vegan meat-free options that are just as, or even more delicious than its animal-based counterpart, but with cheese, there is something that hasn't quite been captured by vegan options. I love the options available, don't get me wrong, but some things I have just learned to live without. Traditional French, Italian and German cheeses are extremely difficult to recreate. So, this is a great option to enjoy those favourites once again- if you choose to! But again, this will not replace my current favourite vegan products, and I don't think momentum on vegan options will ever slow down. 
If you're interested in seeing more of my opinions and taste tests of new vegan products, comment down below! Also, let me know if you've tried lab grown dairy and what you think!
Hey I'm Candice aka The Edgy Veg – I veganize popular food recipes for vegans, plant-based diets, eco-conscious eaters & people who are trying to eat more plants over… y'know animals or their by-products. I hope you enjoy this tasty vegan recipe!
---
Looking For Homemade Vegan Dairy Recipes?