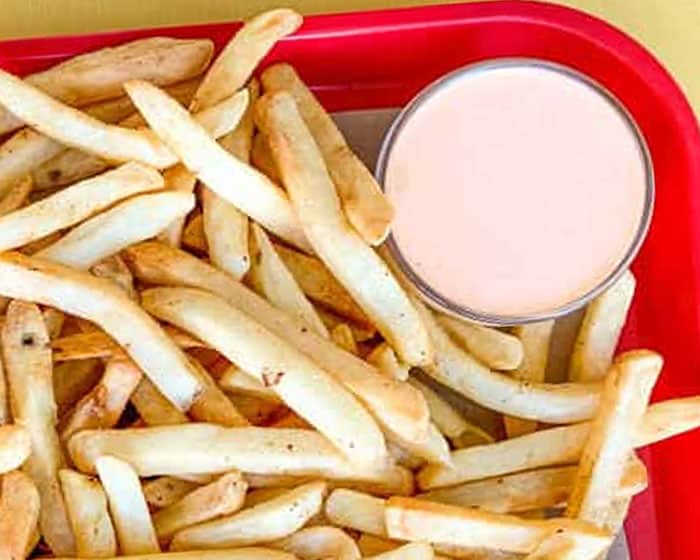 Wendy's Creamy Sriracha Sauce (No Mayo Vegan Recipe)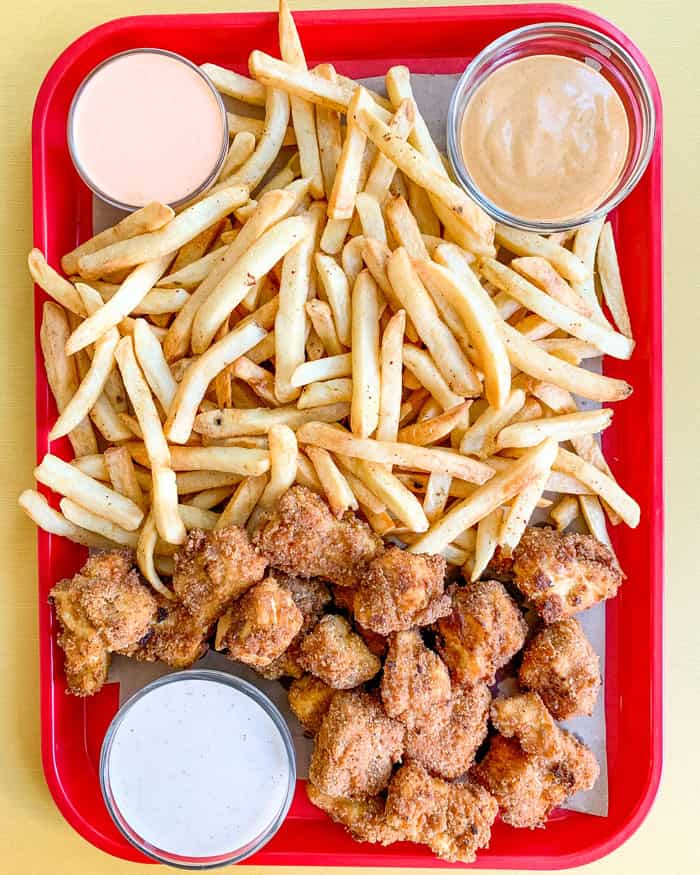 This 5-ingredient recipe for Wendy's creamy sriracha sauce has no "mayo", because it's a vegan creamy sriracha sauce copycat of Wendy's. Vegan mayo is all plant-based, so if you're looking for a healthy alternative but not vegan, this wendy's recipe is perfect for you!
I can't resist a good dipping sauce. From vegan habanero ranch sauce to Wendy's S'Awesome Sauce, I'm obsessed with dipping sauces! This recipe for vegan Creamy Sriracha Dipping Sauce uses an egg-free mayo, with a flare of spicy, tangy flavours. It can be made in just 2 minutes using ingredients you probably already have in your fridge, which makes it super easy to make.
Related Recipe: Every Vegan Wendy's Recipe
Related Recipe: Wendy's Spicy Chicken Nuggets (Vegan)
This is perfect to dip fried foods, drizzle over a buddha bowl, or as a spread on sandwiches. Store it in an air-tight container for up to 5 days to use for saucing up your meals all week (if it lasts that long without getting eaten up). 
This vegan version of Sriracha Mayo is going to take your meal to the next level. With the added lime juice, apple cider vinegar, and salt, this sauce is a blend of flavours you won't be able to resist.
Wendy's Creamy Sriracha Dipping Sauce
DAIRY-FREE | EGG-FREE | VEGAN
This is a vegan mayo-based sauce. The addition of lime, vinegar, and salt to this sauce creates a depth of flavour and class to a simple dipping sauce. Never settle for plain sriracha mayo again! Now you know how to change it up and make for a bolder, tangier dipping sauce.
WENDY'S CREAMY SRIRACHA SAUCE INGREDIENTS
Taste, and season with salt if needed. Dip any french fries, vegan chicken nuggets, deep-fried pickles or literally any other yummy food into this magic sauce and enjoy!
Vegan Wendy's Creamy Sriracha Sauce Recipe
Vegan Wendy's Creamy Sriracha Sauce Recipe
This 5-ingredient recipe for Wendy's creamy sriracha sauce has no "mayo", because it's a vegan sriracha dipping sauce. We use vegan "mayo" instead which is all plant-based!
Instructions
In a small bowl, whisk all ingredients together.
Taste and season with salt as desired.
Nutrition Information
Serving size:
approx. 1 tbsp
Calories:
107
Fat:
11.5g
Trans fat:
0mg
Carbohydrates:
1.3g
Sugar:
1g
Sodium:
178mg
Cholesterol:
0mg
Hi, I'm Candice & welcome to The Edgy Veg! Where I try to veganize popular food for vegans, plant-based diets, eco-conscious eaters & people who are trying to eat more plants over… y'know animals or by-products of animals.
LOOKING FOR MORE VEGAN SAUCE RECIPES?
If you guys try my Wendy's Sriracha Dipping Sauce recipe, let me know what you think by leaving a
 star rating & comment below. It truly helps me & I really appreciate any support! Feel free to share your food creation on social and tag me @edgyveg on your photo so I don't miss it!