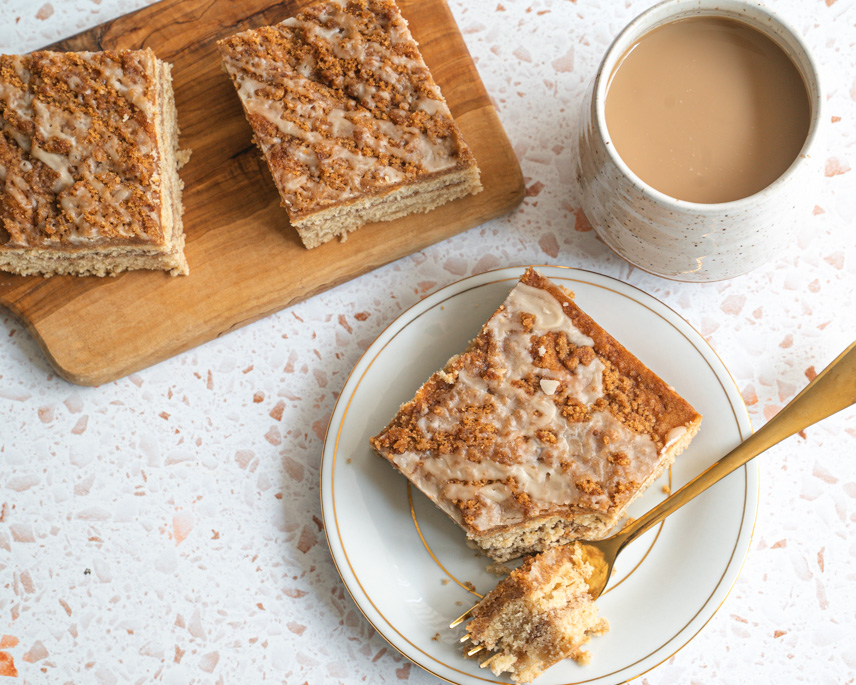 Vegan German Streusel Cake
A sweet and soft cake with crunchy vegan streusel on top, this vegan German streusel cake recipe is super easy & quick!
In under 1 hour, you can make a vegan version of my favourite German streusel cake I grew up eating at coffee time in Germany with my omi, opa and family!
Related Recipe: Vegan No-Bake Chocolate Cake
German Streusel Cake
VEGAN & DAIRY-FREE
This vegan German streusel cake uses easy and affordable store-bought ingredients like flour, sugar, baking soda, cinnamon and other simple ingredients you have at home.
Traditionally, this cake is made with butter, milk and sometimes eggs but this vegan version of the classic cake features a tender and moist base made with vegan ingredients like vegan butter and non-dairy milk. The cake is also generously topped with a crumbly vegan streusel, made from a mixture of flour, sugar, cinnamon, salt and vegan butter!
Related Recipe: Vegan Savoury Scones
INGREDIENTS FOR GERMAN STREUSEL CAKE (VEGAN):
KITCHEN EQUIPMENT I USED:
Full Recipe Here
Watch me make it on YouTube!
Vegan German Streusel Cake
A sweet and soft cake with crunchy vegan streusel on top, this vegan German streusel cake recipe is super easy & quick!
Ingredients
Streusel:
⅓ cup brown sugar packed
¾ cup unbleached all-purpose flour
2 tsp ground cinnamon
½ tsp salt
½ cup cold unsalted vegan-friendly butter diced into small cubes
Cake:
2¼ cups unbleached all purpose flour
2 tsp baking powder
2 tsp cornstarch
½ tsp baking soda
1 tsp salt
1 ¼ cup granulated white sugar
¾ cups unsalted vegan butter room temp
1 cup unsweetened soy milk, room temperature
1 tbsp apple cider vinegar
2 tsp vanilla extract
¾ cup coconut milk, room temperature
Drizzle
¾ cup Powdered sugar
2 tsp Soy milk
Instructions
Preheat the oven to 350F and grease and lightly flour a 9x13 inch pan. Set aside.
In a large bowl, add the ⅓ cup brown sugar, ¾ cup flour, 2 tsp cinnamon, ½ tsp salt, and ½ cup cold vegan-friendly butter cubes, cutter, mash and mix everything together until it resembles a sand-like texture, with some chunks. Set aside.
In a medium-large bowl, whisk together 2¼ cups flour, baking powder, cornstarch, baking soda, and 1 tsp salt. Set aside.
In a stand mixer, or a bowl with hand mixer, cream together ¾ cups vegan butter and 1¼ cups sugar for 4 mins or until fluffy.
Meanwhile in a measuring cup or small bowl, whisk together soy milk and apple cider vinegar and set aside to create buttermilk.
While mixing, one at a time, add vanilla, soy buttermilk and coconut milk to the butter/sugar mixture, scraping down the edges between each. Mix until just combined.
With the mixer on low, slowly add the flour mixture to the butter mixture until combined, stopping and scraping down the sides as needed.
Add half of the cake batter to the prepared pan, and spread it put evenly. (it will be kind of thick).
Sprinkle ½ of the streusel mixture on top, but keep it away from the edges.
Top with remaining cake batter, and spread out again (you may need to use your wet fingers to make it easier to spread and prevent sticking, then top with remaining streusel.
Bake for 30-35 mins, or until a toothpick inserted into the center and comes out clean (It may take as long as 45 depending on your oven).
Meanwhile, whisk together ¾ cup powdered sugar and 2 tsp soy milk in a small bowl or in a measuring cup to make it easier to pour. Add more soy milk if the mixture is too thick. Set aside.
Transfer the cake to a wire cooling rack to cool completely, then drizzle with prepared glaze.
Slice into squares and serve with your favourite coffee or tea!
Notes
Tip: Easily half the recipe for a smaller cake if not feeding a crowd.
---
Hey I'm Candice aka The Edgy Veg – I veganize popular food recipes for vegans, plant-based diets, eco-conscious eaters & people who are trying to eat more plants over… y'know animals or their by-products. I hope you enjoy this tasty vegan recipe!
---
Looking For More Vegan Recipes?
Made this recipe? Let me know what you think by leaving a ★★★★★ star rating & comment below. It truly helps me & I really appreciate any support! Feel free to share your food photos on social and tag me @edgyveg so I don't miss it! 
Share My Recipe on Pinterest!