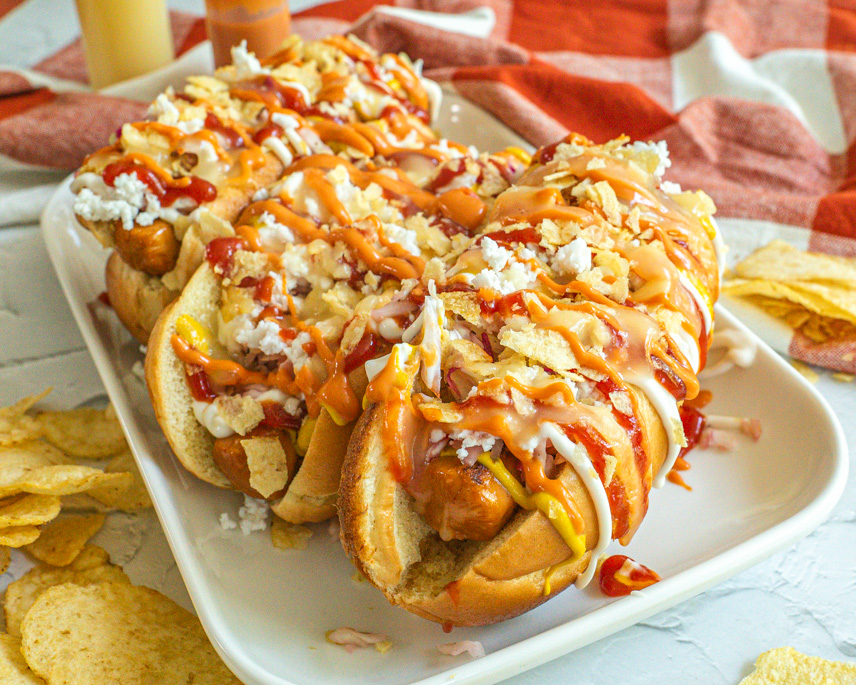 Vegan Colombian Hot Dogs Recipe
These delicious vegan Colombian hot dogs, aka perros calientes Colombianos, can be made in 15 mins at home using your fave vegan hot dogs!
What are Colombian hot dogs? They are boiled hot dogs topped with coleslaw, pineapple sauce, ketchup, mayonnaise, mustard, pink sauce and potato chips. It's basically a loaded hot dog offering a lot more veggies! Sounds tasty, right?
Related Recipe: Carrot Hot Dogs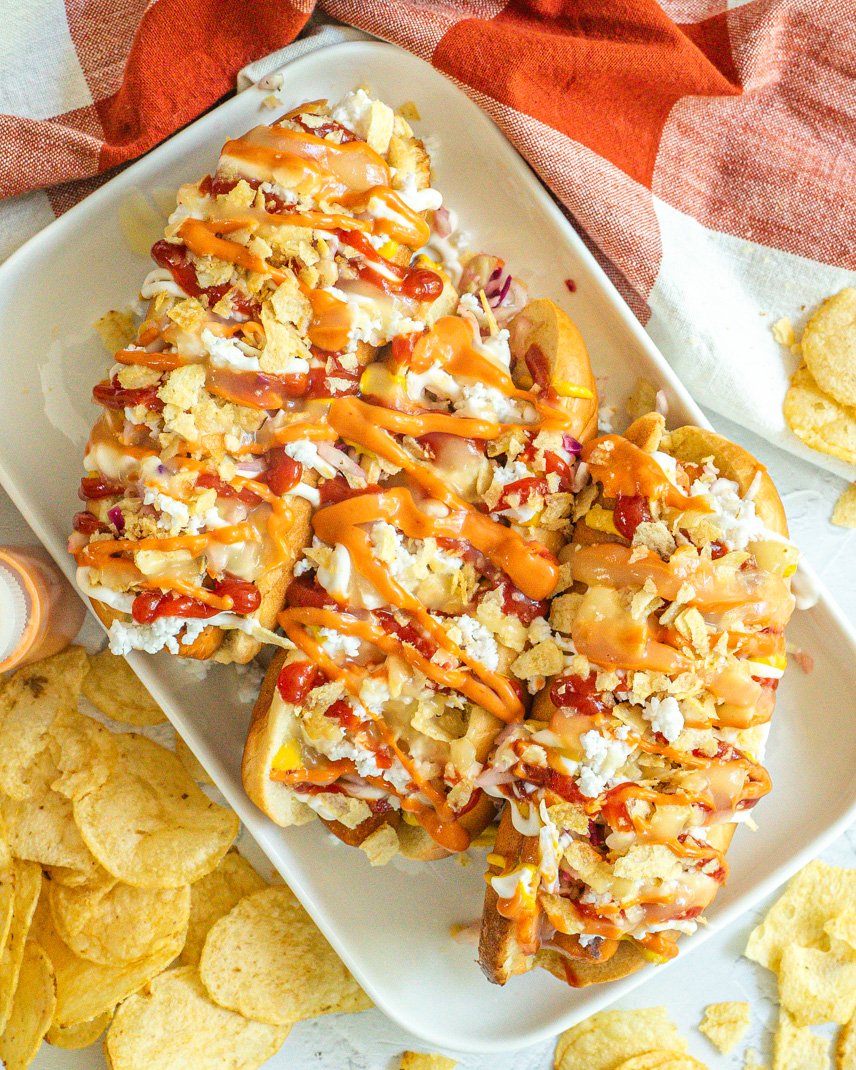 How To Make Colombian Hot Dogs (Vegan)
For this recipe, you'll want to make my recipe for pineapple sauce, vegan slow, and vegan pink sauce while you boil your hot dogs!
Vegan Colombian hot dogs offer a plant-based twist on the classic but replace regular hot dogs and substitute vegan mayo in the slaw. This hot dog recipe offers a delightful combination of textures and flavors that reflect one of Colombia's most popular street food.
Full Recipe Down Below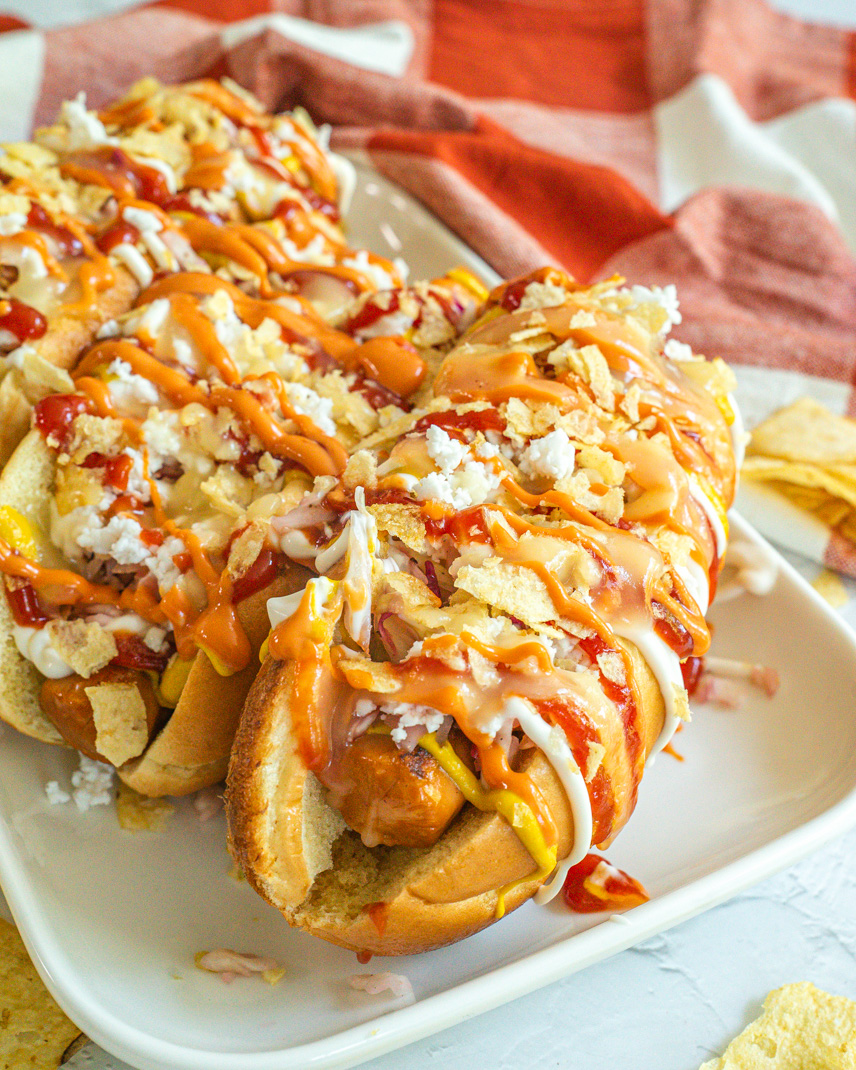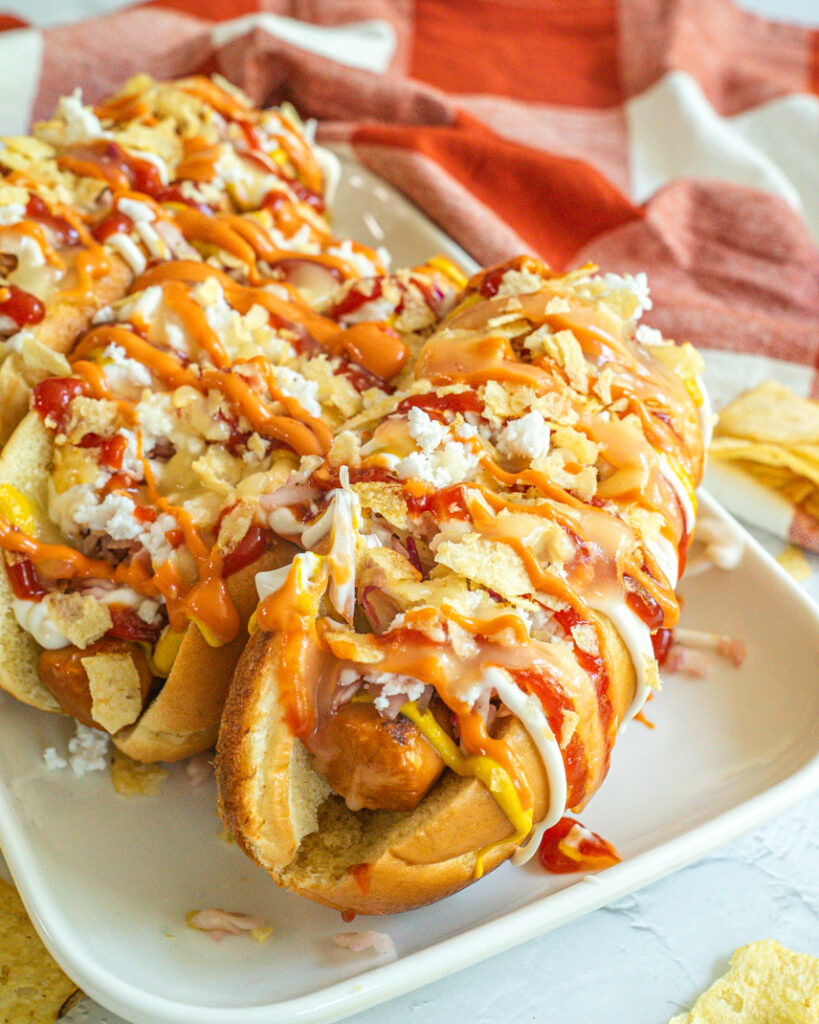 INGREDIENTS FOR COLOMBIAN HOT DOGS:
Vegan Hot Dogs
Hot Dog Buns
Pineapple pieces (canned or fresh)
Lime Juice
White Sugar
Cornstarch
Slaw Mix
Ketchup
Vegan Mayonnaise
Mustard
Vegan Cheese
Potato Chips
KITCHEN EQUIPMENT:
Saucepan (small)
Whisk
Bowl
Squeeze bottle
Blender
Pot
Fine mesh sieve
FULL RECIPE DOWN BELOW!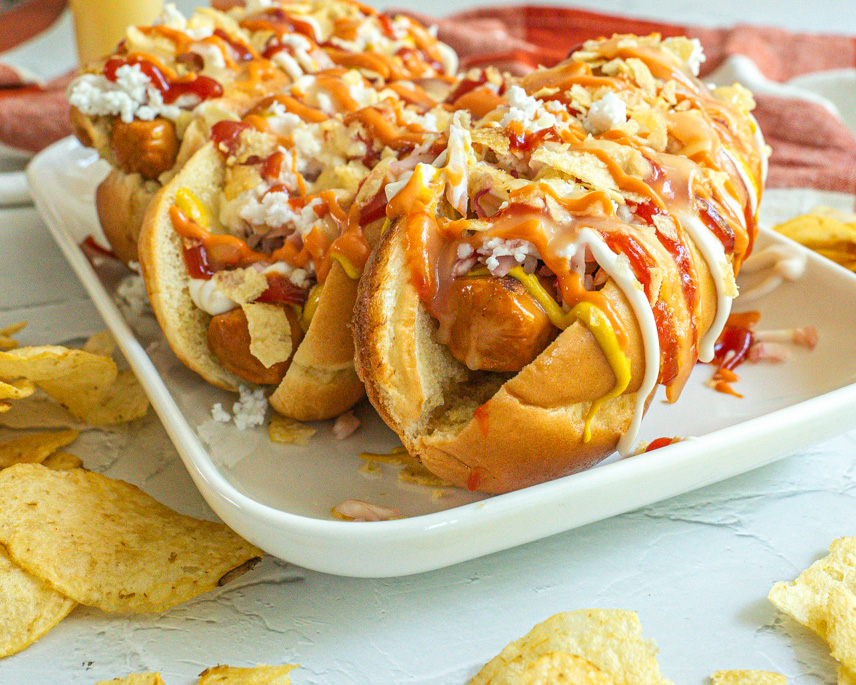 Vegan Colombian Hot Dogs
These delicious vegan Colombian hot dogs, aka perros calientes Colombianos, can be made in 15 mins at home using your fave vegan hot dogs!
Ingredients
2 veggie hot dogs
2 hot dog buns
1 cup fresh or canned pineapple pieces
2 tbsp water
2 tsp lime juice
1 tbsp white sugar
1 tsp cornstarch
1 cup slaw mix
¾ tsp lime juice
¼ tsp white sugar
salt, to taste
¼ cup ketchup
2 tbsp Plant-based mayonnaise
mustard, as needed
mayo, as needed
plant-based cheese of choice
1 small bag potato chips, crushed
Instructions
Make Pineapple sauce: Blend pineapple and 2 tbsp water together in a blender until smooth. Strain the pineapple through a fine mesh sieve into a small saucepan. Add 1 tbsp sugar and 2 tsp lime juice and bring to a simmer over medium heat. Cook, stirring until reduced, about 10 minutes. In a small bowl mix together cornstarch with 1 tbsp water, and add to the pineapple sauce. Bring to a boil stirring constantly until it's thickened but pourable. Allow to cool and then transfer to a squeeze bottle or small jar.
Make Slaw: In a small bowl whisk together ¾ tsp lime juice and ¼ tsp sugar. Add slaw mix and toss until coated. Season with salt and pepper to taste.
Make Pink Sauce: In a small bowl whisk together ¼ cup ketchup and 2 tbsp mayo. Set aside, or add to a squeeze bottle.
Cook Hot dogs: Either bring a small pot of water to a boil and boil the hot dogs for 3-5 mins, or fry hot dogs in a pan with a bit of oil.
Steam hot dog buns or use as they are and set the cooked hot dogs inside them.
Drizzle each hot dog with some mustard, add coleslaw, drizzle with some mayo, sprinkle with some cheese, drizzle with ketchup, top with crushed chips, drizzle with pink sauce, and finally drizzle with pineapple sauce. Serve!
---
Looking For More Vegan Fast-Food Recipes?
Made this recipe? Let me know what you think by leaving a ★★★★★ star rating & comment below. It truly helps me & I really appreciate any support! Feel free to share your food photos on social and tag me @edgyveg so I don't miss it! 
Share My Recipe on Pinterest!