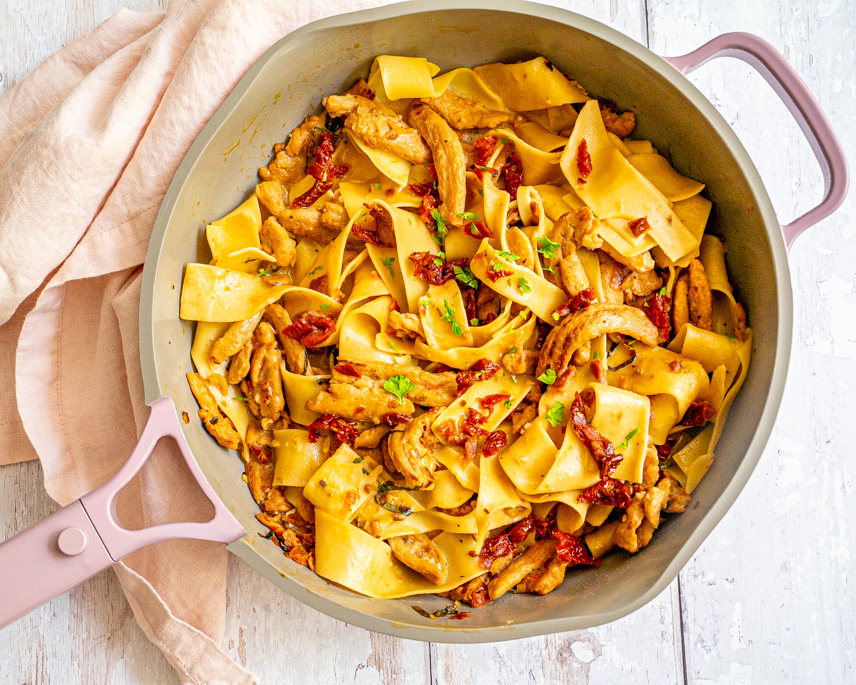 Vegan Marry Me Chicken Recipe
I'm going to show you how to make vegan marry me chicken in under 20 minutes!
Marry me chicken is a popular recipe and wanted to make a vegan version for everyone to enjoy! It's a creamy, seasoned dish that is known for its simplicity and delicious taste. The name "Marry Me Chicken" is often used because the dish is so tasty that it could potentially convince someone to propose marriage!
So here's a vegan version to convince someone to marry you after making this tasty vegan dish!
Related Recipe: Vegan Fried Chicken

Vegan Marry Me Chicken
Sometimes, my best recipes are a result of the inspiration I take from years of my own recipe development. I've been using soy curls as a "chicken" replacement making them the perfect meat alternative for making a vegan marry me chicken in a creamy sun-dried tomato cream sauce.
I serve my marry me "chicken" with pasta, but you can also serve it with potatoes!
Related Post: 15+ Vegan Chicken Recipes

INGREDIENTS FOR MARRY ME CHICKEN (VEGAN):
Pasta

Soy curls
No-chicken or vegetable bouillon
Olive oil
Garlic
Coconut milk
Vegan parmesan cheese
Oil-packed sun-dried tomatoes
Oregano
Crushed red pepper flakes
Basil
KITCHEN EQUIPMENT:
Cast-iron Skillet or Oven-safe skillet
Whisk
Full Recipe Down Below!
Vegan Marry Me Chicken
I'm going to show you how to make vegan marry me chicken in under 20 minutes! Marry me chicken is a popular recipe and wanted to make a vegan version for everyone to enjoy!
Ingredients
1½ cups dried pasta of choice
2 cups (dry) soy curls
2 cups boiling water
2 tsp no-chicken or vegetable bouillon
freshly cracked black pepper to taste
1 tablespoon olive oil
3 cloves garlic minced
1 cup water
1 tsp no-chicken or vegetable bouillon
½ cup coconut milk
½ cup plant-based parmesan cheese
¼ oil-packed sun-dried tomatoes, chopped
½ tsp dried oregano
¼ tsp crushed red pepper flakes
fresh basil chiffonaded, for garnish
Instructions
In a medium-size bowl, whisk together hot water and 2 tsp bouillon. Soak the soy curls in 2 cups broth for 10 minutes, or until they are hydrated completely.
Meanwhile, bring a large pot of salted water to a boil, and cook the pasta in the boiling salted water.
Meanwhile, heat olive oil in a cast-iron skillet over medium-high heat.
Sear soy curls for 3 to 4 minutes, or until lightly golden in spots. Transfer to a plate and set aside.
In the same skillet, reduce heat to medium-low, add 1 tbsp olive oil, minced garlic and red pepper flakes. Sauté garlic 1 to 2 minutes, or until garlic is just fragrant.
Add 1 cup water, and 1 tsp bouillon, whisk and bring to an almost simmer.
Whisk in coconut milk, until heated. Then stir in the vegan cheese of choice until melted.
Stir in sun-dried tomatoes and dried oregano, and season to taste.
Squeeze soy curls gently to remove excess liquid and add to skillet. Stir to coat in sauce.
Using tongs, transfer the pasta to the skillet with the soy curls and sauce, and allow to cook for 1-3 minutes, adding starchy pasta cooking liquid as needed 1 tbsp at a time to create a luscious velvety sauce.
Transfer to serving plates plate and garnish with basil.
Tip: To Chiffonade the Basil: Stack fresh basil leaves on top of each other, then roll lengthwise. Slice the roll into thin ribbons.
---
Hey I'm Candice aka The Edgy Veg – I veganize popular food recipes for vegans, plant-based diets, eco-conscious eaters & people who are trying to eat more plants over… y'know animals or their by-products. I hope you enjoy this tasty vegan recipe!
---
Looking For More Vegan Chicken Recipes?
Made this recipe? Let me know what you think by leaving a ★★★★★ star rating & comment below. It truly helps me & I really appreciate any support! Feel free to share your food photos on social and tag me @edgyveg so I don't miss it!