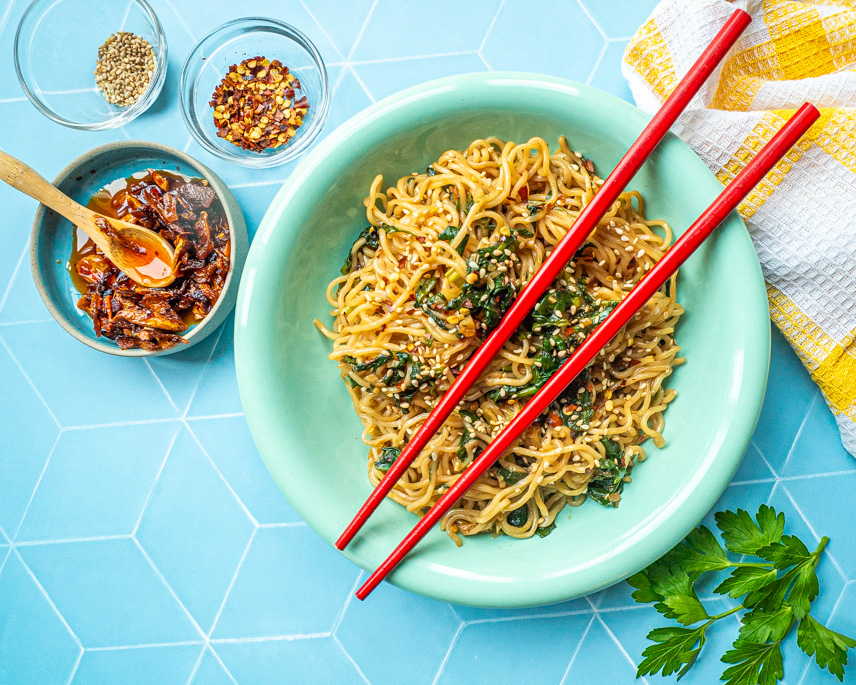 Chilli Oil Noodles Recipe
This chilli oil noodles recipe is made with ramen noodles tossed in garlic chilli oil sauce, greens, onion and sesame seeds in under 10 mins!
Chilli oil noodles are a popular dish that combines the heat of chilli with chewy noodles tossed in a spicy garlic chilli oil sauce. Feel free to add or switch whatever ingredients you prefer with your chilli oil ramen noodles!
Related Recipe: Viral TikTok Ramen Hack
How To Make Chilli Oil Noodles
Today I'm showing you how to make an easy chilli oil noodles recipe to give you the perfect dinner idea that adds a kick of heat and flavour to your noodles!
This is a dinner-for-one recipe, so if you make 2 or more, just multiply the ingredients list by how many servings you need. Feel free to garnish your noodles with additional green onions, garlic, sesame seeds, and tofu!
Full Recipe Down Below

INGREDIENTS FOR CHILLI OIL RAMEN:
Ramen Noodles
Oil
Chilli Flakes
Garlic
Green onion
Sesame oil
Soy Sauce
Rice Wine Vinegar
Brown Sugar
Greens (bok choy, spinach, kale)
Sesame seeds or seaweed (optional garnish)
KITCHEN EQUIPMENT:
Chilli Oil Noodles
This chilli oil noodles recipe is made with ramen noodles tossed in garlic chilli oil sauce, greens, onion and sesame seeds in under 10 mins!
Ingredients
1 pack ramen Noodles
2 tbsp oil
crushed Red Chili Flakes, to taste
2 garlic cloves, minced
1 stalk green onion, sliced & sorted by green & white
1 tsp sesame oil
1 tbsp soy sauce
½ tsp rice wine vinegar
1 tbsp brown sugar
1 handful of greens, chopped (Boy Choy, Spinach, kale)
1 tsp toasted sesame seeds or seaweed for garnish
Instructions
Bring a small pot of water to a boil, and boil ramen noodles, according to package instructions.
In the last minute of cooking add greens. Cook until wilted.
Reserve ¼ cup of the starchy water, and drain the noodles and spinach. Transfer to a bowl. Set aside.
In a small pan, heat oil over medium heat. Add garlic, the white parts of the green onion, and chilli flakes to taste.
Just before the garlic begins to golden, and the onion is translucent, pour 1-2 tbsp of the reserved starchy water to stop the cooking process, bring to a simmer and then lower the heat to low.
Whisk in sesame oil, soy sauce, rice wine vinegar, brown sugar, and seasoning packet to taste.
When the sauce is heated, add the noodles and green parts of the green onion. Toss well, until coated in sauce, adding more starchy water as needed.
Garnish with sesame seeds, seaweed or chilli crisp/oil.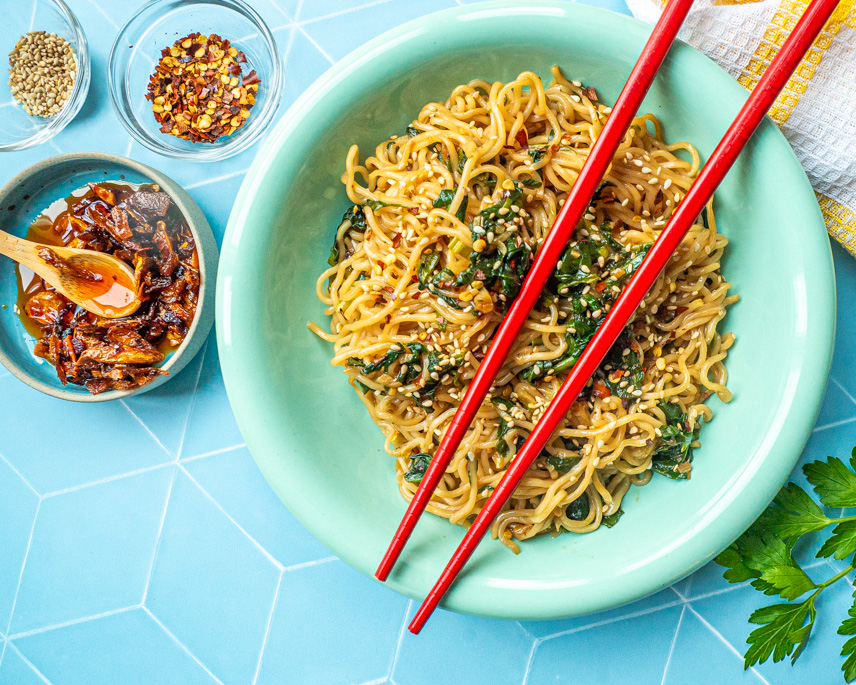 ---
Hey welcome to The Edgy Veg – we veganize popular food recipes for vegans, plant-based diets, eco-conscious eaters & people who are trying to eat more plants over… y'know animals or their by-products. We hope you enjoy this tasty vegan recipe!
---
Want More Vegan Recipes?
Made this recipe? Let me know what you think by leaving a ★★★★★ star rating & comment below. It truly helps me & I really appreciate any support! Feel free to share your food photos on social and tag me @edgyveg so I don't miss it!
Share My Recipe on Pinterest!