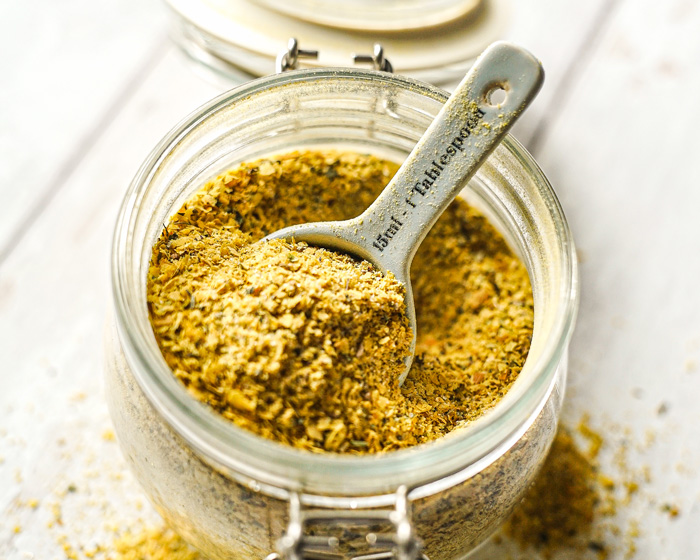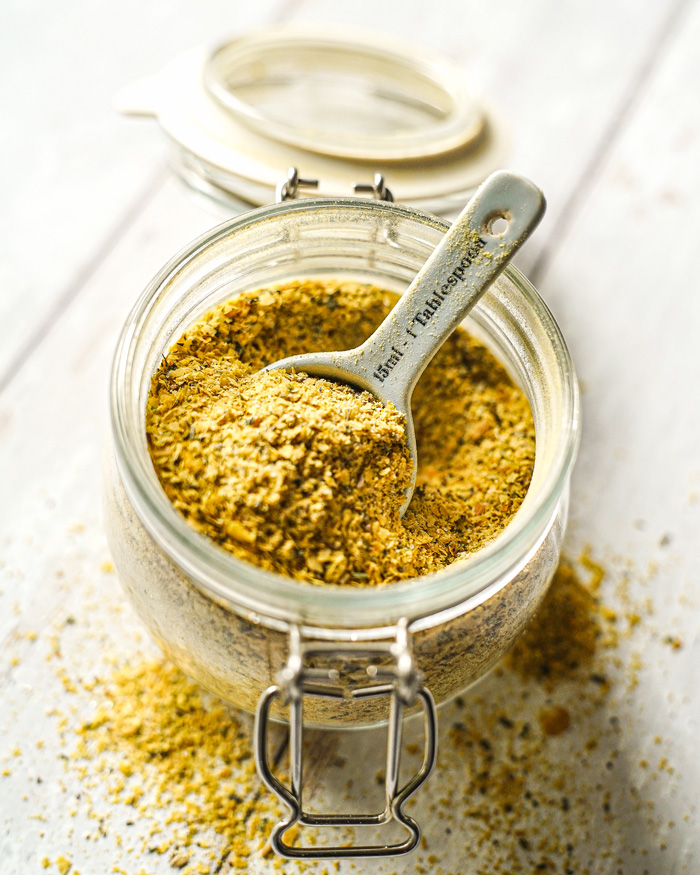 I'm going to show you how to make my easy homemade vegan chicken bouillon that's "no-chicken" bouillon powder! Many recipes call for chicken bouillon and I wanted to share my recipe for vegan bouillon powder that is the perfect replacement for chicken bouillon.
This is a staple recipe that you can make ahead and use in soups, stews, seitan or any recipe that you'd like to give a chicken flavour to.  This vegan bouillon recipe can be used on its own in a recipe or 1 tbsp dissolved into 1 cup of boiling water to make vegan "chicken" broth. 
Related Recipe: Vegan Noodle Soup
Vegan "Chicken" Bouillon Powder
This homemade vegan chicken bouillon powder is easy to make & the perfect replacement for any nostalgic or childhood dishes. In my kitchen, I definitely rely on bouillon. I use paste, powdered or cubed bouillon in almost all savoury meals.
Vegan chicken-flavoured bouillon can often be expensive and less accessible so this recipe is super accessible to make no matter where you are. Using just nutritional yeast and seasonings, you can make it yourself. All you have to do is shake together all ingredients in a sealed jar and enjoy.
Related Post: Easy Vegan Gravy Recipe
INGREDIENTS FOR NO-CHICKEN BOUILLON (VEGAN):
KITCHEN EQUIPMENT I USED:
Full Recipe Down Below
Vegan Chicken Bouillon
An easy homemade vegan chicken bouillon that's "no-chicken" bouillon powder!
Instructions
Add all ingredients to an air-tight container or jar and shake to combine.
Use 1 tbsp per 1 cup of boiling water to make no-chicken broth for soups, stews or any recipe.
---
Hey I'm Candice aka The Edgy Veg – I veganize popular food recipes for vegans, plant-based diets, eco-conscious eaters & people who are trying to eat more plants over… y'know animals or their by-products. I hope you enjoy this tasty vegan recipe!
---
Looking For More Vegan Staple Recipes?
Made this recipe? Let me know what you think by leaving a ★★★★★ star rating & comment below. It truly helps me & I really appreciate any support! Feel free to share your food photos on social and tag me @edgyveg so I don't miss it! 
Share My Recipe on Pinterest