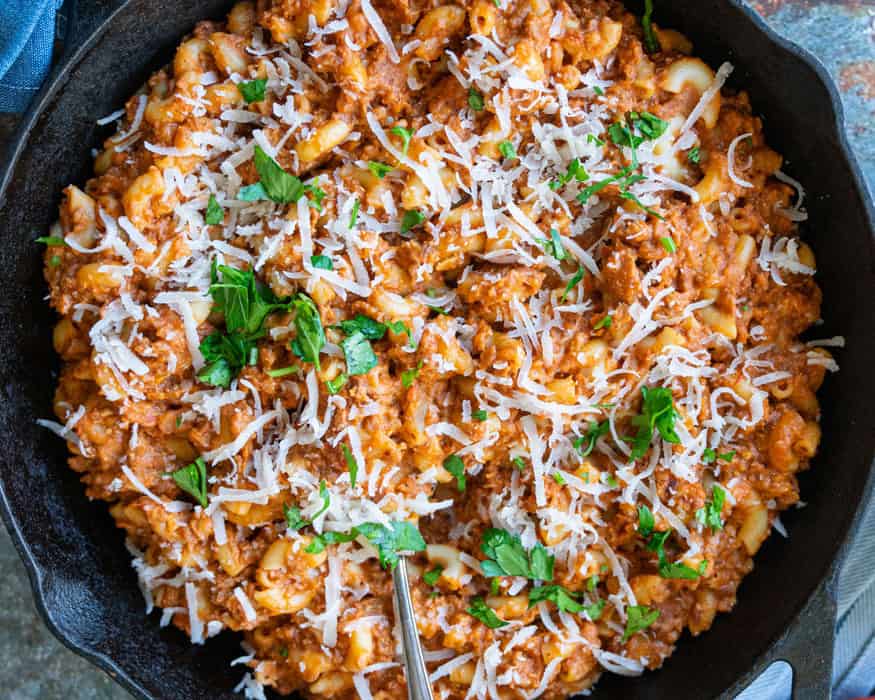 Healthy Cheeseburger Macaroni Skillet | Dairy-free & Vegan
Why make a "hamburger helper" cheeseburger macaroni recipe when you can make a healthy cheeseburger macaroni skillet recipe that's dairy-free, meatless and vegan in 20 minutes!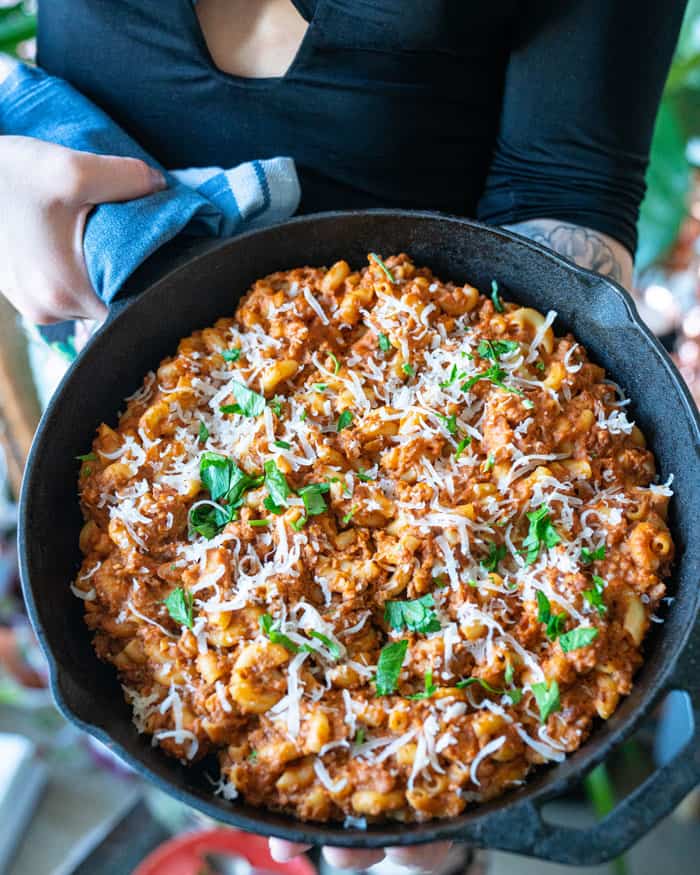 Overly-processed animal-farmed meat and dairy cheeses are not a healthy choice, and that's why it's important for me to offer healthy alternatives for your favorite meals, like cheeseburger macaroni, by focusing on 100% plant-based ingredients.
This 20-mins cheeseburger macaroni skillet recipe is jam-packed with all the flavours you remember and love about Hamburger Helper but without the animal products! Instead, we are using plant-based meat and cheese alternatives that you can find in traditional grocery stores like, plant-based meats and fresh produce. I personally used the plant-based ground from Meatless Farm Co for this recipe since it was gifted to me, when I was recipe developing with them. As always, I am always 100% honest with my reviews and vegan recommendations, and would never work with anyone I did not agree with. If their mince isn't available to you, feel free to use any plant-based minced meat for this recipe!
Related Recipe: Vegan Bacon Cheeseburger Meatloaf
Healthy Cheeseburger Macaroni Skillet
DAIRY-FREE | VEGAN | GLUTEN-FREE OPTIONAL
This healthy cheeseburger macaroni skillet is not only meat-free and dairy-free, but it's also gluten-free (if you sub in gluten-free macaroni pasta)!
VEGAN CHEESEBURGER MACARONI INGREDIENTS
This recipe will include the following ingredients:
FULL RECIPE DOWN BELOW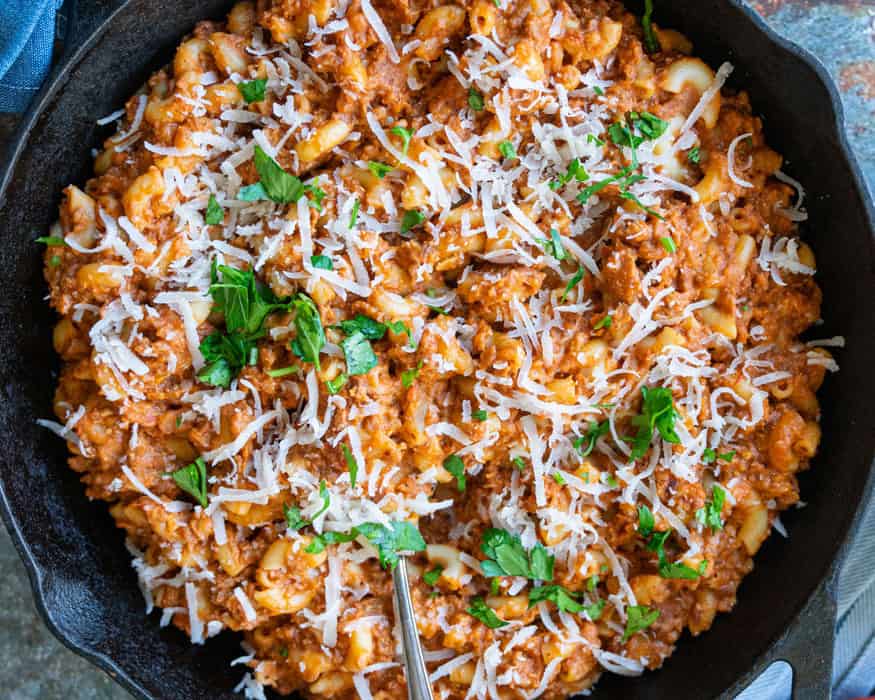 Hey, I'm Candice & welcome to The Edgy Veg! I veganize popular food recipes for vegans, plant-based diets, eco-conscious eaters & people who are trying to eat more plants over… y'know animals or by-products of animals. I hope you enjoy this tasty vegan recipe!
LOOKING FOR MORE MEATLESS PASTA RECIPES?
Healthy Cheeseburger Macaroni Skillet Recipe
Healthy Cheeseburger Macaroni Skillet | Dairy-free & Vegan
This 20-mins healthy cheeseburger macaroni skillet recipe is dairy-free and vegan!
Instructions
Cook pasta according to package directions. Rezserve 1 cup of the pasta water, drain pasta. And set both aside.
Meanwhile, in a small sauce pot, place potatoes and carrots and cover with water. Boil carrots and potatoes until they are soft, this should take roughly 10 minutes.
Remove the carrots and potatoes from the liquid and place in a blender, reserve the liquid and set liquid aside.
Meanwhile, in a large skillet over medium-high, heat 1 tbsp olive oil.
Add onions and garlic and cook until soft, about 3-5 minutes, stirring occasionally.
Add the Meatless Farm mince and break up with a spatula. Cook until browned, roughly 5 minutes.
Stir in crushed tomatoes, bouillon cube, paprika, onion powder, garlic powder, mustard, chili powder, black pepper and bring to a boil, and then reduce to a simmer.
Meanwhile, blend potatoes, carrots, ¼ cup soy milk, 1 tbsp oil, ¼ tsp salt, lemon juice, and nutritional yeast until very smooth. Add reserved cooking liquid 1 tbsp at a time, as necessary until you reach a cheese sauce consistency.
Fold the pasta into the beefy mixture and add the cheesy potato sauce a little at a time until everything combines. Add more reserved liquid, as necessary to create a creamy sauce.
Add your favourite vegan cheese shreds on top if you want, and garnish with parsley.
Nutrition Information
Calories:
556
Fat:
19g
Trans fat:
0g
Carbohydrates:
63g
Sugar:
6g
Fiber:
10.1g
Protein:
27.3g
Cholesterol:
0mg
___________
If you make this Vegan Cheeseburger Macaroni Skillet recipe, let me know what you think by leaving a 
 star rating & comment below. It truly helps me & I really appreciate any support! Feel free to share your food creation on social and tag me @edgyveg on your photo so I don't miss it!