Healthy Cheeseburger Macaroni Skillet | Dairy-free & Vegan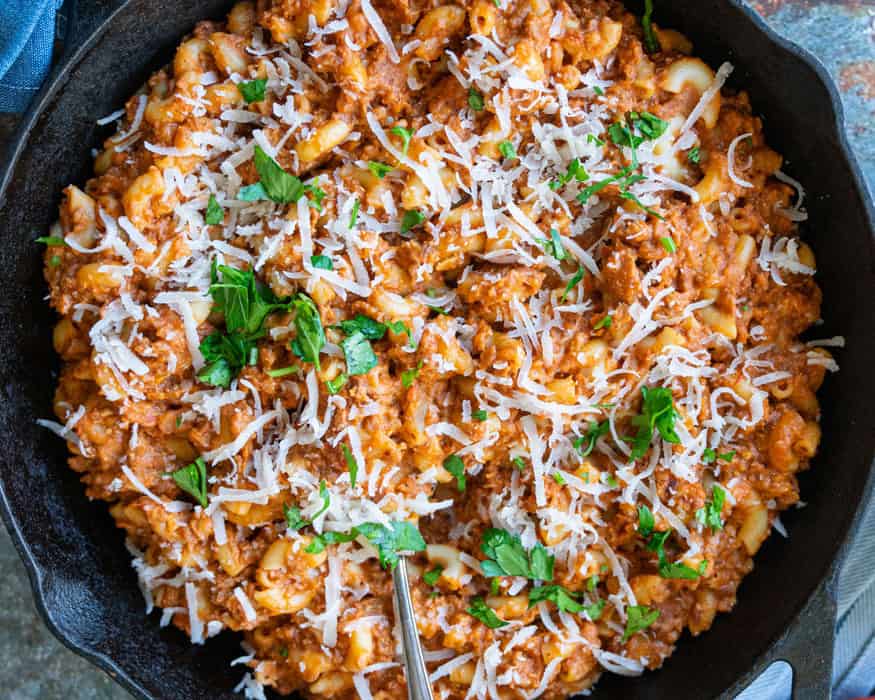 Cook pasta according to package directions. Rezserve 1 cup of the pasta water, drain pasta. And set both aside.
Meanwhile, in a small sauce pot, place potatoes and carrots and cover with water. Boil carrots and potatoes until they are soft, this should take roughly 10 minutes.
Remove the carrots and potatoes from the liquid and place in a blender, reserve the liquid and set liquid aside.
Meanwhile, in a large skillet over medium-high, heat 1 tbsp olive oil.
Add onions and garlic and cook until soft, about 3-5 minutes, stirring occasionally.
Add the Meatless Farm mince and break up with a spatula. Cook until browned, roughly 5 minutes.
Stir in crushed tomatoes, bouillon cube, paprika, onion powder, garlic powder, mustard, chili powder, black pepper and bring to a boil, and then reduce to a simmer.
Meanwhile, blend potatoes, carrots, ¼ cup soy milk, 1 tbsp oil, ¼ tsp salt, lemon juice, and nutritional yeast until very smooth. Add reserved cooking liquid 1 tbsp at a time, as necessary until you reach a cheese sauce consistency.
Fold the pasta into the beefy mixture and add the cheesy potato sauce a little at a time until everything combines. Add more reserved liquid, as necessary to create a creamy sauce.
Add your favourite vegan cheese shreds on top if you want, and garnish with parsley.
Calories:
556
Fat:
19g
Trans fat:
0g
Carbohydrates:
63g
Sugar:
6g
Fiber:
10.1g
Protein:
27.3g
Cholesterol:
0mg
Recipe by
The Edgy Veg
at https://www.theedgyveg.com/2020/01/22/healthy-cheeseburger-macaroni-skillet-dairy-free-vegan/