Easy Healthy Recipes | Veganuary Recipe Inspiration VEGAN

Happy New Year Veggies!
With a brand new year now upon us, we once again have the opportunity to approach life in a healthier way. Paying tribute to Veganuary (Vegan + January), I have rounded up a selection of nutritious and healthful vegan recipes by my favourite vegan and vegetarian bloggers. This round up includes meal ideas through the day, snacks and desserts. There is definitely no compromise on taste and deliciousness here. Being vegan has never been easier and more flavourful. There is no excuse not to try these recipes this Veganuary. It's time for a New You! Don't forget to tag us on the Instagram photos of recipes you make!! @edgyveg
Now, starting with the most important meal of the day…
BREAKFAST
Chocolate Peanut Butter Overnight Oats

This super easy and delicious breakfast is perfect to prep the night before for a speedy grab and go meal in the morning. With chocolate as the main ingredient, it's packed full of protein and will leave you feeling fuller for longer. Get my recipe here. 
Banana Split Smoothie (Vegan, Dairy-Free, Gluten-Free)

Don't be fooled by this smoothie's dessert-like appearance, it's actually a very healthy breakfast option! This recipe was put together by Lauren Kelly Nutition, and you can get the full recipe here.
Cinnamon Apple Noodle Breakfast Bowl With Candied Nuts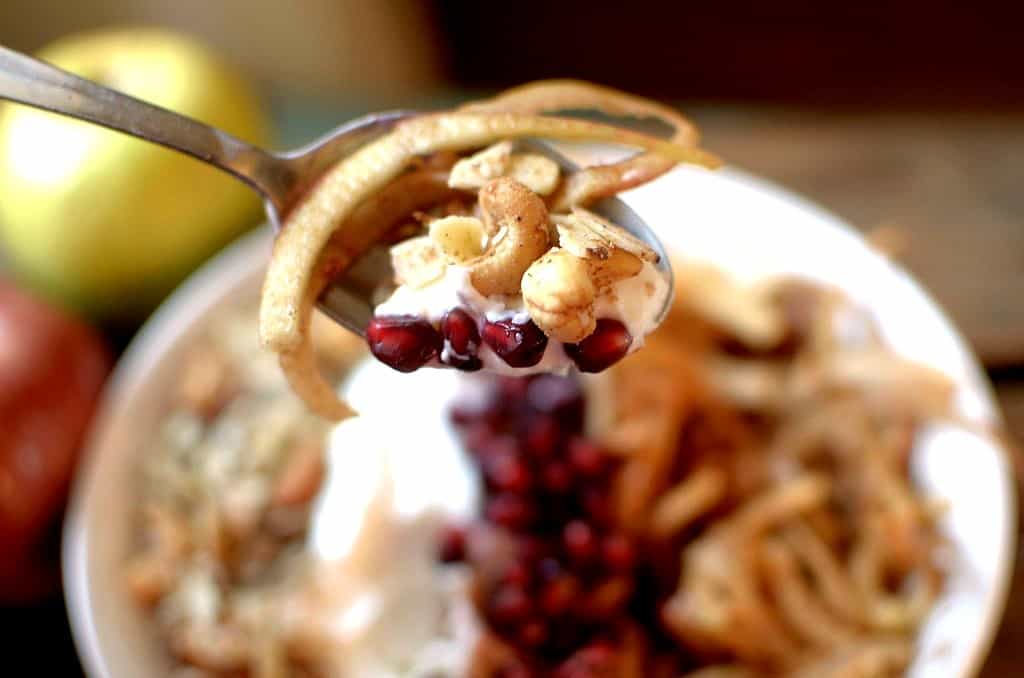 This simple recipe makes for a great breakfast that is gluten-free and grain free, with very little prep time. It requires a spiralizer for making the apple zoodles. Pair it with coconut yogurt to keep this dish vegan. Get this recipe by Athletic Avocado here.
Raspberry-Oatmeal Breakfast Wedges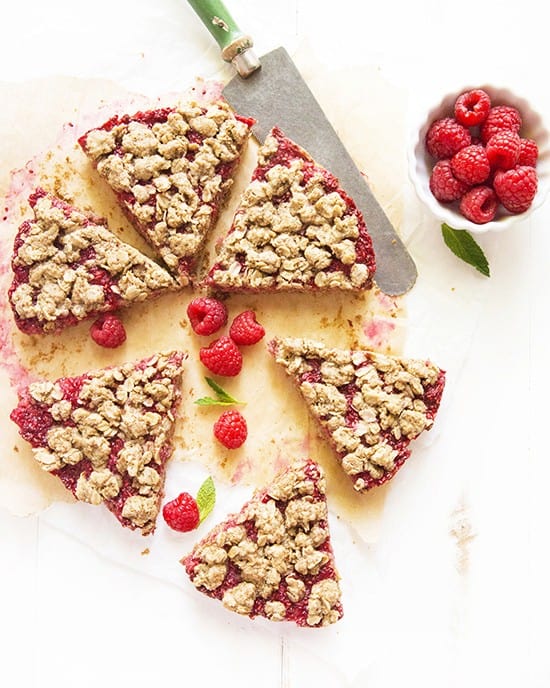 Breakfast pie anyone? If you are gluten intolerant, do not fret, this breakfast can be made gluten-free simply by using certified oats and oat flour. This recipe by A Dash of Compassion also doubles as a great go to snack option as well. Get the recipe here.
Golden Turmeric Smoothie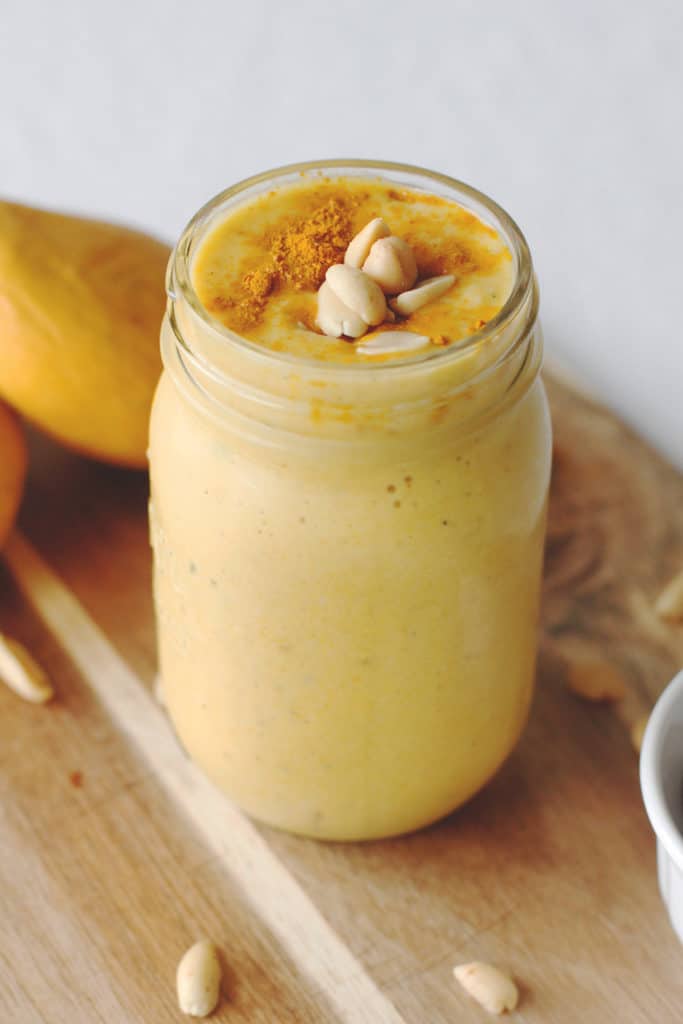 This breakfast smoothie uses turmeric which has incredible health benefits and adds a sunshine like colour. It is a very powerful anti-inflammatory and helps balance mood and blood sugar. This recipe also consists of fresh mangos, pineapple, bananas, soy milk, peanuts and dates. Get the recipe by Two City Vegans here.

MAINS
Easy Vegan Fajitas (Dinner Under 15 Minutes)
This scrumptious fajita recipe is not only great tasting but actually takes only 15 minutes or less to make start to finish (unless you're a slow veggie chopper). Get my recipe here.
5 Minute Cashew Kale Pesto Pasta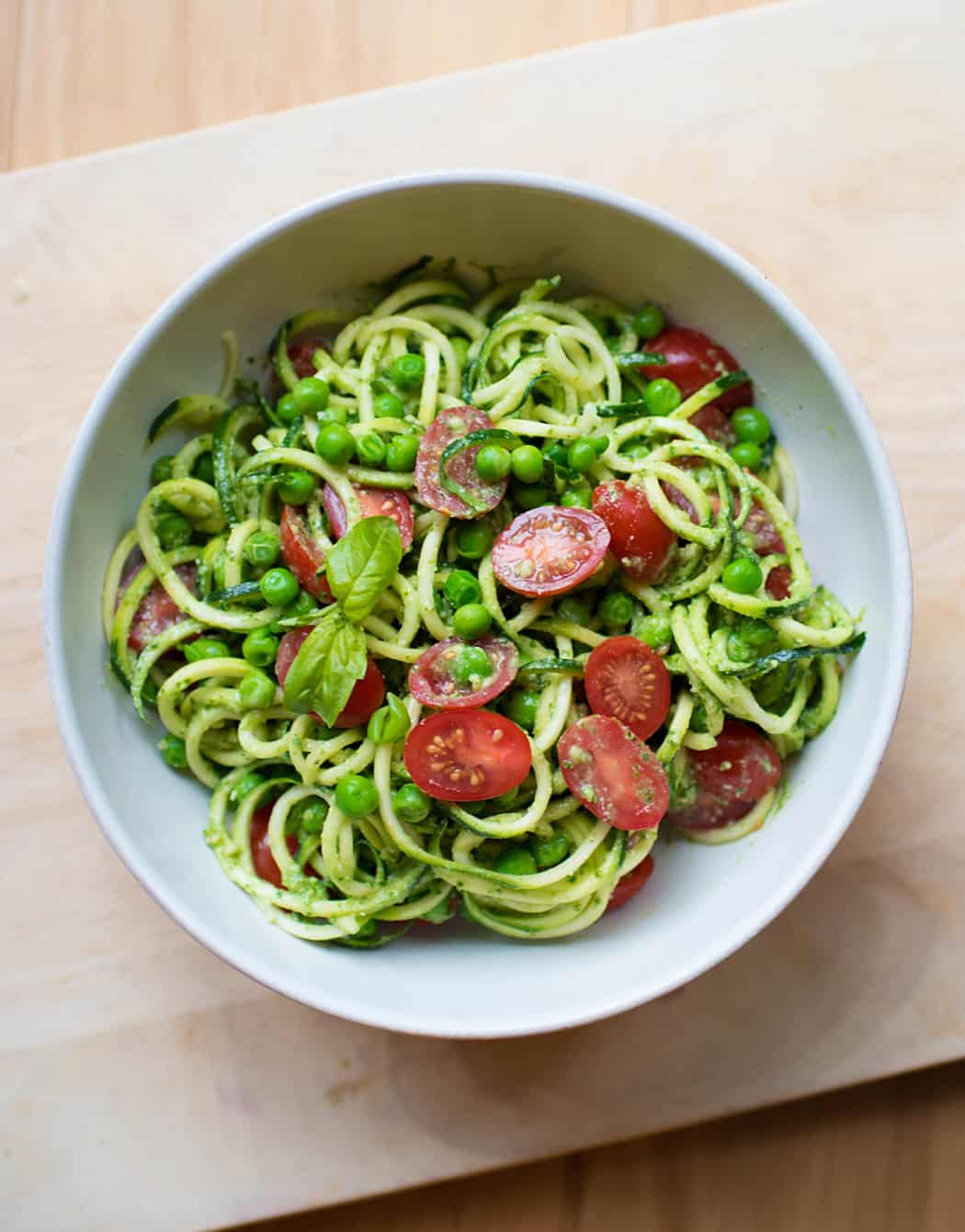 If you are looking for a dinner option that is light and super last to make, this is it. Using zucchini and a spiralizer, this dish cuts all the unwanted carbs, unhealthy cheese and refined flour, while providing the same comfort of a traditional bowl of pasta. Get this recipe over at Carolyn's Pantry here.
Gloriously Golden Red Lentil Dal (Vegan + Gluten-Free)

There is something super comforting about this dish. The aroma of the ingredients (including cumin, cinnamon and coriander seeds) make this meal so pleasant, even before you take your first bite. Get this recipe by Delicious Everyday here.
Vegan Gyros With Jackfruit And Creamy Tzatziki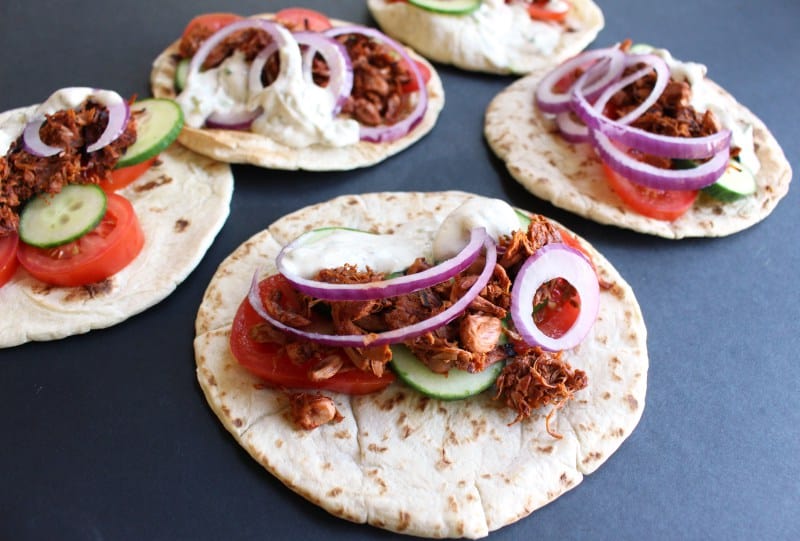 These street-style gyros are so authentic tasting, the non-vegans won't even know that these babies are meatless! Packed with flavour, and super easy to whip us, these gyro recipe by Zena n Zaatar are a great dinner option. You can get their recipe here.
BBQ Tofu And Braised Garlic Kale Bowl With 5-Minute Ranch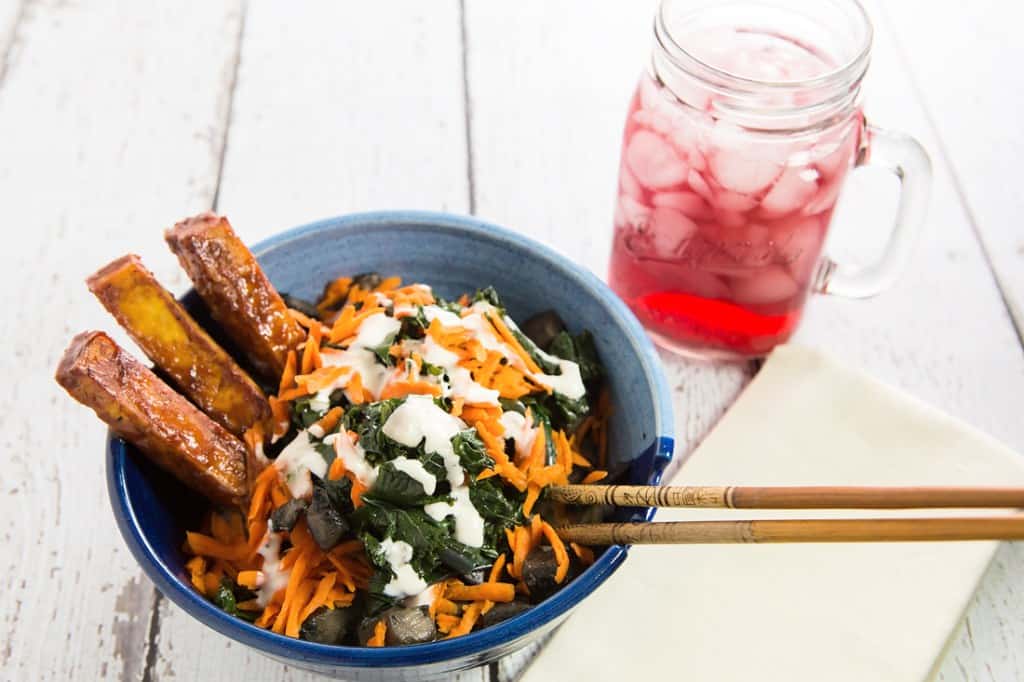 This bowl consists of the good stuff, including a 5 minute vegan ranch dressing recipe (or you could buy vegan ranch dressing and skip this step). The food prep is painless and the results are pleasurable. Get Cheftographer's recipe here.
Thai Soba Noodles Recipe With Peanut Sauce (Vegan + Gluten-Free)

In as little as 5 minute prep time and 10 minutes cook time, you can have the vegan noodle bowl of your dreams. This meal is packed full of sweet Thai flavour and delicious nutrient dense ingredients, you will love it! Get my recipe here.
SIDES
Easy Vegan Egg Fried Rice

Using 3 simple ingredients (rice, chives and tofu), this dish kicks out the traditional egg ingredient, making it a quick and easy vegan go to meal. Get this recipe by The Lazy Broccoli here.
Smashed Potato Vegan Nachos

When I first discovered this recipe by The Crunchy Chronicles, I could hardly contain my excitement. Nachos and smash potatoes united into one scrumptious concoction? Yes please! Find the recipe here.
Quick One-Pot Veggie And Wild Rice Soup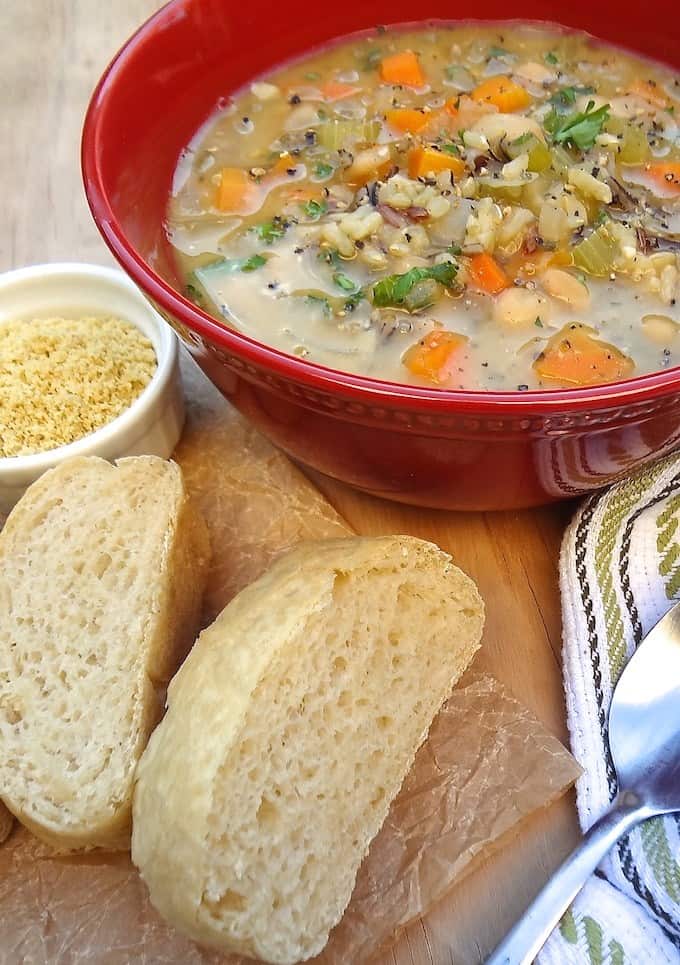 This hardy soup option is both delightful and filling. This recipe by the Where You Get Your Protein blog also comes with instructions for making French bread, a match made in heaven. Get the recipe here.
Vegetarian Breakfast Sausage Patty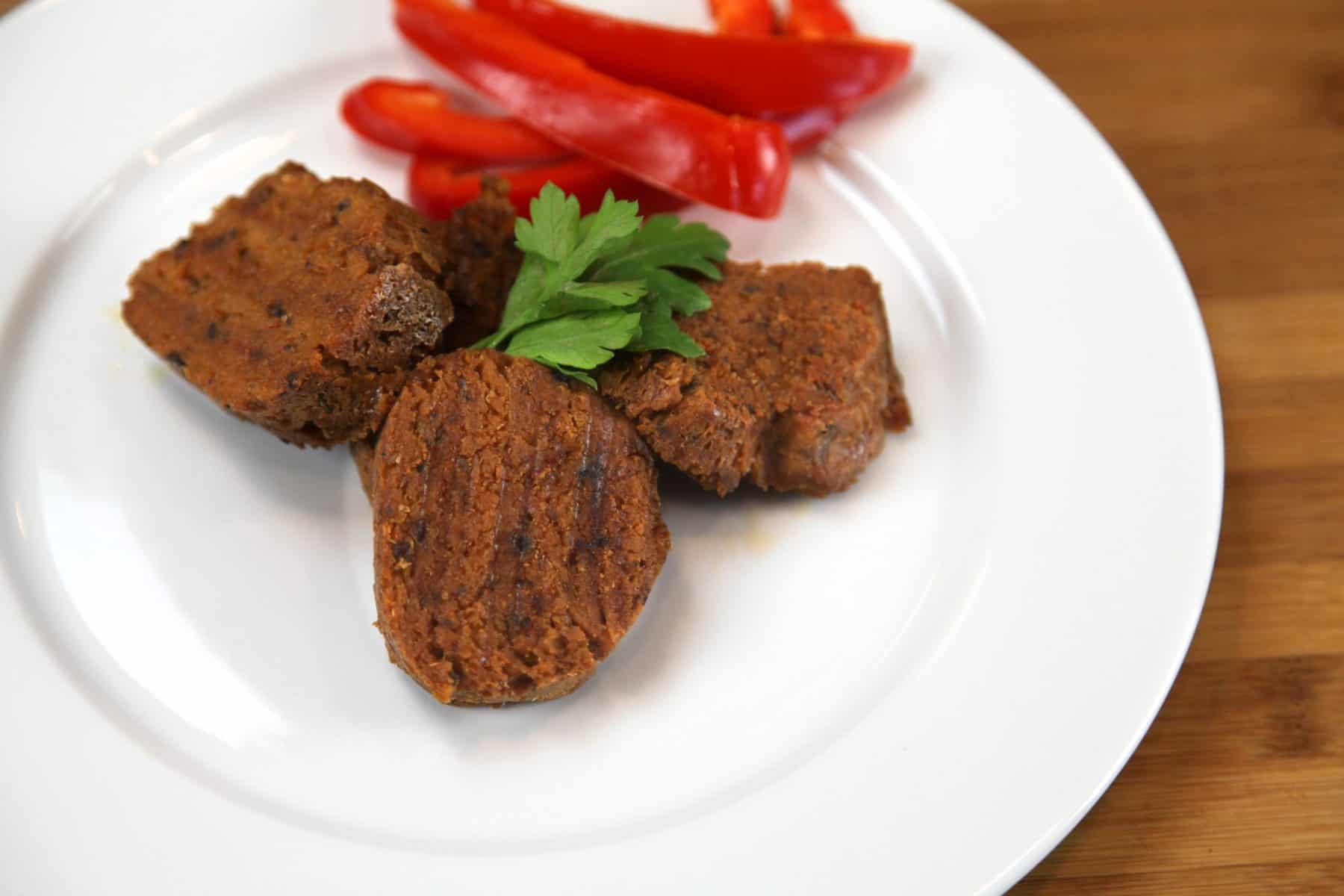 These vegetarian sausage patties are the best you will ever have in your life! Have them for breakfast, or as a side dish with lunch or dinner. Get my recipe here.
Thai Noodle Salad Recipe
This salad is easy tossed together in a matter of minutes, and is the perfect meal to throw all your veggies together with the exotic tastes of Thailand. Get my recipe here.
SNACKS
Vegan Soft Pretzels

These vegan pretzels are super easy and fun to make, and are equally fun to share and eat! Learn how to make your own over at the Broke Foodies blog here.
Homemade Nutella Recipe

Life without nutella is dull. So if you thought that being a healthy vegan meant no more nutella, well rest assured, you can now enjoy this decadent spread once more with my NEW-tella recipe. Get it here.
Creamy Avocado Hummus

This creamy avocado hummus is soy-free, gluten-free, nut-free, dairy-free, and oh so smooth and delicious! You will want to eat this goodness with everything. Make your own by following Yumsome's recipe here.
Spicy Lentil and Potato Croquettes

It's not very often that you will find lentils in a dish other than soup, but these croquettes prove that lentils can be enjoyed creative ways. You can also enjoy them as mini-burger patties. Get this recipe over at My Yellow Apron here.
DESSERTS
Aquafaba Chocolate Mousse – 3 Ingredients (Vegan + Gluten-Free) 
Aquafaba is the liquid found in a can of chickpeas and is usually thrown out. But with the help of a little vegan alchemy, this once valueless liquid can be transformed into vegan chocolate mousse. Get this magical recipe by Vanilla Crunnch here.
Vegan Mocha Cheesecake Bites (Gluten-Free)

These vegan mocha cheesecake bites are to die for. Thank goodness they are designed for portion control, making them a healthy treat to indulge in. Get the recipe by Vegan Huggs over here.
Vegan Chocolate Truffles (Gluten-Free)
These easy vegan and gluten free truffles are decadent and heavenly and use just 2 ingredients. These vegan truffles couldn't be easier, and they are a great base for many different variations. Make your own by following my recipe here.
Matcha Green Tea Ice Cream
Learn how to make vegan green tea ice cream using matcha, coconut milk & cashews. Coconut milk is a high fat milk that makes creamy, delicious ice cream. The cashews again add to the fat content, which will help to ensure that your vegan ice cream does not crystalize like cheap water based ice creams. Learn how to make this matcha green tea by following my recipe here.